Dry Steam Cleaner Revolutionizes Tortilla Manufacturers Sanitation Efforts
Food & Beverage Processing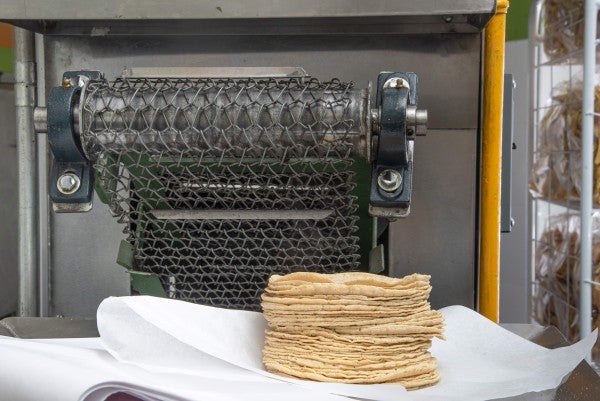 A start-up tortilla manufacturer in Lawrence, New York, was looking for a way to clean their equipment efficiently and effectively in both production and packaging without having to rely heavily on using water.
The Challenge: Since their bakery is located on the second floor with another company directly below them, they are not able to clean using much water as they fear flooding the rooms directly underneath. They tried doing a controlled wet wash with a wet vacuum extracting all the water which resulted in a lot of hard labor hours. The attempt instilled apprehension in the sanitation team as not all the water was able to be successfully controlled and contained.

The Solution: Working with a Goodway Account Manager, they decided to invest in a GVC-36000 dry steam cleaner. The GVC-36000 uses only 7 gallons of water, has no chemicals, and is extremely low in moisture content.
The Result: The GVC-36000 allowed them to clean all their equipment quickly and efficiently without the fear of flooding the floor below.
"We were just days from starting production, and we were desperate for a solution."
Thankfully, the Goodway GVC-36000 steam cleaner arrived just in time. We have been able to save 60 gallons of water per day (1,800 gallons a month and 21,600 gallons a year) and we have been able to eliminate the risk of flooding the floor directly below us."
Paul Skervin
Owner