Cooling Tower Cleaning Checklist: Five Steps to Cleaning a Cooling Tower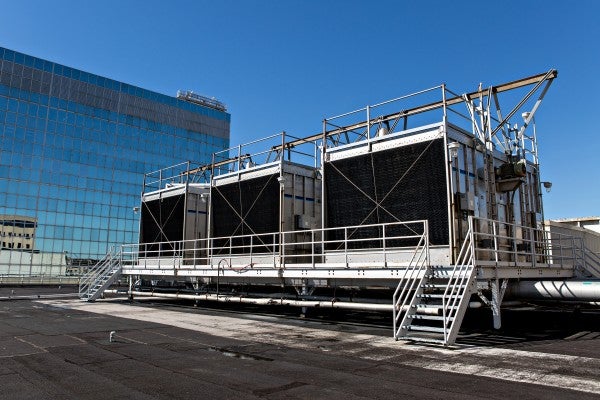 Stamford, Conn. – July 27, 2020 – Building and facility managers are facing the tremendous responsibility of keeping facilities as safe as possible. That includes mitigating and preventing the contamination of cooling towers from dirt, bacteria, and other dangers. While the COVID-19's impact on HVAC systems is still being researched, cooling towers are one of the more common sources for the growth of infectious bacteria, such as Legionella, and can offer near-perfect conditions for viral growth too. 
Proper cooling tower maintenance has been a big concern for building operators and owners in recent years, especially after the introduction of ASHRAE Standard 188-2015. Even though the role cooling towers play in the spread of COVID-19 isn't clear, the Center for Disease Control and Prevention indicates bacteria, such as Legionella, can grow and spread in untreated water systems such as cooling towers. As shuttered facilities begin to open up again – or in some cases remain dormant – it's even more important from both safety and financial asset perspective to make sure routine maintenance is conducted.
Goodway Technologies is sharing tips on protecting and maintaining cooling towers that will decrease energy costs, improve efficiency, extend the lifespan of equipment, and assist with safety measures. 
"We realize the heightened responsibility that companies are facing, and cooling tower maintenance is an especially important piece of HVAC system maintenance and protecting the health of your occupants," said Tim Kane, CEO of Goodway Technologies. 
The frequency and intensity of cleaning cooling tower systems should be directed by your overall HVAC maintenance plan or local statutes. In New York City, for example, cooling towers require inspection - and often cleaning- on a quarterly basis. This is designed to mitigate the risk of Legionella outbreaks, but also has the effect to increase system efficiency. 
A practical solution includes tiered maintenance plans, where the facility shuts down only portions of cooling towers and related equipment at a time to maintain some level of operation while maintenance is cycled. Here are some additional best practices when it comes to cooling tower maintenance.
Five Steps to Proper Cooling Tower Maintenance 
Inspect towers at least monthly
Sediment, scale, and slime can lead to buildup and help Legionella grow and thrive. Regular inspections will help determine when to schedule a cleaning
Clean Cooling Tower Basin & Surfaces
If sediment is visible, the basin needs to be cleaned, and cooling tower vacuums make it easier to remove contaminants without shutting down or draining your system. 
Descale Cooling Tower Fill
The tower fill provides the perfect environment for bacterial growth, especially Legionella. A descaler will dissolve the scale and mineral deposits, that Legionella likes to hide in, leaving the surface ready for cleaning.
Clean The Cooling Tower Fill
A cooling tower fill cleaner will remove dirt and debris and inhibit the growth of other bacteria when utilized in conjunction with appropriate biocides.
Disinfect the Cooling Tower
Cooling towers can be a dangerous breeding ground for bacteria, which makes it important to reduce the nutrients available for Legionella growth. BioSpray® Tower can kill 99.9% of Legionella pneumophila and is on the EPA list of disinfectants for use against SARS-COV-2 when applied properly on hard non-porous surfaces. It offers a labor-saving, no-rinse formula. Protocols for the disinfection of Legionella are well defined by the Occupational Safety and Health Administration, the Centers for Disease Control and Prevention, and the U.S. Environmental Protection Agency.
Important Step: Secure the Right Equipment
Before you start, take the time to assess your current maintenance solutions. The right equipment can make the job easier and decrease total downtime. Cooling tower cleaning doesn't have to be a lengthy, labor-intensive process anymore. From cooling tower vacuums and tower fill cleaners to cleaning solutions and descalers, Goodway has new, simpler options to efficiently clean towers without shutting down the system. 
Visit the website to learn more about Goodway's complete line of cooling tower maintenance products or call 1-800-333-7467. Goodway also has a free, on-demand webinar on "Preventative Maintenance for Cooling Tower Systems."
About Goodway Technologies
Founded in 1966, Goodway Technologies has been delivering better maintenance solutions for more than 50 years. Goodway Technologies provides innovative maintenance solutions for a wide variety of industries including commercial HVAC, food and beverage processing, power generation, and manufacturing. Over the decades, Goodway has worked with our customers to create better solutions for tube cleaning systems, industrial vacuums, cooling tower maintenance systems, dry steam solutions, descaling systems, coil cleaning products, and practically everything else for the care and maintenance of HVAC systems. Further information is available at www.goodway.com. Goodway is recognized as an ISO 9001:2015 certified company.