TFC-JR Portable Cooling Tower Fill Cleaner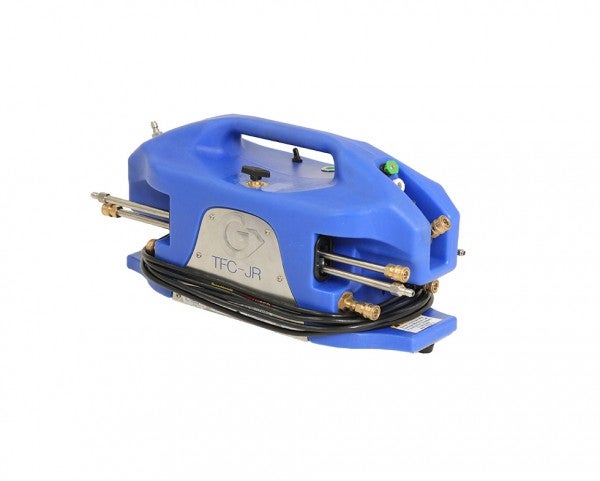 Stamford, Conn – July 16, 2020 –  Goodway Technologies, the leader in quality HVAC and facility maintenance equipment, announces the launch of the TFC-JR, a portable solution for cleaning cooling tower fill. The small and lightweight chemical applicator is simple to use ideal for contractors and higher volume users.
The new product is an addition to the current line of cooling tower fill cleaners. The popularity of the original all-in-one version among facility managers prompted a review to see if contractors could benefit from more portable solutions.  The TFC-JR is explicitly designed for HVAC and other industrial contractors that demand portability, and industrial strength. The system is designed to effectively help clean tower fill as part of a complete maintenance program. Use it to apply ScaleBreak®-Gel, Goodway's patented descaling gel for scale deposits; TowerShine®, which lifts and removes dirt debris from cooling tower fill; and BioSpray®-Tower; an EPA approved disinfectant for use on hard, non-porous surfaces to kill bacteria like Legionella. Simply attach the chemical dip tube to one of these cleaners, connect the wants and correct nozzles, and begin the application.
"Implementing a regular cooling tower maintenance program is key for the safety of cooling towers, and paying special attention to cooling tower fill is important, especially controlling scale, which can be detrimental to your process cooling system," says Tim Kane, president, and CEO of Goodway Technologies. "Scale deposits can provide surface areas for bacteria, such as Legionella, and other harmful contaminants to flourish and grow. They also impact efficiency and can damage equipment, leading to higher operating expenses."
In recent years, there has been an increase in guidelines when it comes to taking the proper steps to reduce health risks. ASHRAE released the ASHRAE/ANSI 188-2015 specifications, which established minimum legionellosis risk management requirements for building water systems. One of the requirements is the proper cleaning and disinfection of towers.
The TFC-JR helps to address these health risks and improve overall cooling tower performance. When combined with Goodway's CC-400, users have an innovative system to remove scale, debris, and bacteria deposits from cooling tower fill and other surfaces.
Features of the TFC-JR include:
Lightweight, compact design

35 lbs.

12" high x 9.5" wide x 24" deep

Heavy-duty construction

Easy-to-use, no training required

Applies ScaleBreak-Gel and BioSpray-Tower quickly and uniformly

Includes extension wands, nozzles, and 25' hose

On-board accessory storage
For more information on Goodway's complete line of HVAC and facility maintenance equipment, visit www.goodway.com or call 1-800-333-7467.
About Goodway Technologies
Founded in 1966, Goodway Technologies has been delivering better maintenance solutions for more than 50 years. Goodway Technologies provides innovative maintenance solutions for a wide variety of industries, including commercial HVAC, food and beverage processing, power generation, and manufacturing. Over the decades, Goodway has worked with our customers to create better solutions for tube cleaning systems, industrial vacuums, cooling tower maintenance systems, dry steam solutions, descaling systems, coil cleaning products, and practically everything else for the care and maintenance of HVAC systems. Further information is available at www.goodway.com. Goodway is recognized as an ISO 9001:2015 certified company.