Air Duct Cleaning | Important Maintenance Element for Cruise Ships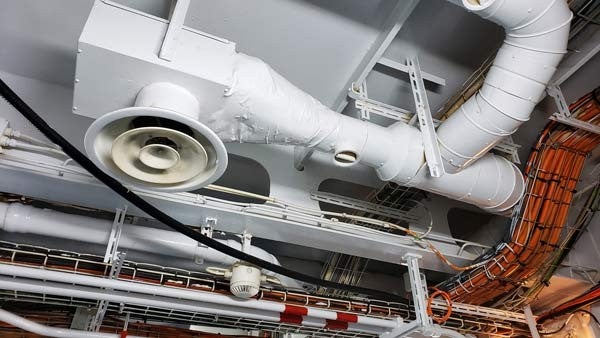 Stamford, Conn. – June 12, 2023 – Goodway Technologies offers comprehensive air duct cleaning solutions for the maritime and cruise industries which are designed to improve passenger safety, preserve energy efficiency in HVAC systems, and reduce overall maintenance costs.
With hundreds of thousands of passengers traveling on cruises every year, it's essential that all HVAC systems are effectively and regularly cleaned. HVAC systems serve as a likely source of contamination on cruise ships. Maritime HVAC systems require regular cleaning and servicing to ensure they are operating at peak efficiency.
Properly maintained air ducts will ensure that these systems work efficiently and last a long time. Air duct cleaning is essential because it eliminates potential toxins such as mold, bacteria, dust mites, allergens, and debris from the ship's air ducts. This helps keep the air circulating on board clean and healthy, avoiding any potential health risks to passengers and crew. Additionally, regular cleaning can help improve energy efficiency by allowing air to flow more freely through the system, reducing strain on the HVAC systems and potentially lowering fuel costs for ship operators.
Goodway Technologies' air duct cleaning solutions provide a deep, thorough clean of all HVAC components, including ventilation systems, air handlers, heat exchangers, and more. The specialized tools allow users to access every part of the system easily and efficiently, to ensure that all areas are thoroughly sanitized and free from debris or dust build-up.
"Making sure air ducts are clean is a critical part of the maintenance plan for cruise ships and we designed a solution that is powerful, yet compact and portable, to make performing the task even easier," says Tim Kane, President and CEO of Goodway Technologies. "Maintenance personnel can conduct air duct cleaning while passengers are onshore, sustaining their comfort and safety."
Air duct cleaning is essential to maintain optimal air quality and safety onboard any cruise. For more information on the air duct cleaning solutions from Goodway Technologies, or to speak with an expert, visit www.goodway.com.