The combustive power of airborne particles, like dust, is astounding. Explosions of combustible dust can potentially destroy an entire factory. As the 2008 Imperial Sugar refinery catastrophe demonstrated, dust explosions usually follow a similar pattern – a small blast disperses accumulated dust into a cloud, igniting and fueling a powerful chain of secondary explosions. This is why using an Explosion Proof Vacuum matters.
So, what can we learn from accidents like this? If you remove accumulated dust and debris, it can't become airborne, drastically reducing the risk of explosions.
---

 The Occupational Safety and Health Administration (OSHA) in the United States defines combustible dust as "a solid material composed of distinct particles or pieces, regardless of size, shape, or chemical composition, which presents a fire or deflagration hazard when suspended in air or some other oxidizing medium over a range of concentrations. [i]
---
The Implementation of the Combustible Dust National Emphasis Program
Since 2008, the Combustible Dust National Emphasis Program (NEP) has focused on how workplaces create or handle combustible dust. Following a 25-year study by the U.S. Chemical Safety and Hazard Investigation Board that identified 281 explosive dust incidents that resulted in 119 worker deaths and 718 injuries, in response, OSHA launched the Combustible Dust NEP.  As a result of the NEP's aggressive inspection campaign, more than 30,000 facilities in 70 different industries were considered "at-risk." These aggressive standards for combustible dust beg the question – is your plant taking all the precautions to keep safe and pass inspection?
---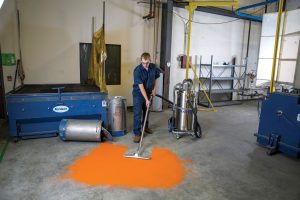 DID YOU KNOW?
 According to OSHA, federal inspectors found over 4900 infractions during combustible dust inspections in the year after the NEP was put in place.
---
Check out our Vacuum Buying Guide here.
TAKE THIS SHORT OSHA QUIZ.
ONLY 100% CORRECT PASSES.[ii]
 Does the facility have separator devices to remove foreign materials capable of igniting combustible dust?
 Are the dust-containing systems (ducts and dust collectors) designed, so that fugitive dust cannot accumulate in the work area?
 Does the dust collector system have spark detection and explosion/deflagration suppression systems? (There are other alternative measures.)
 Are all components of the dust collection system constructed of noncombustible materials?
Why does combustible dust collection matter?
To reduce explosive risks, industries that create industrial dust (aka process dust) greatly benefit from finding the proper explosion-proof vacuum during the manufacturing or production process. In a manufacturing process that includes cutting, drilling, grinding, welding, and sawing, tiny particles are generated; when these particles are not adequately filtered and enclosed, they can be highly hazardous for employees and the manufacturing plant itself.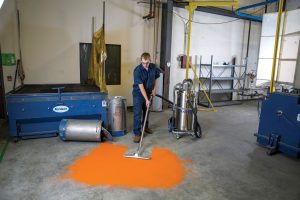 Between 2006 and 2017, 111 incidents of combustible dust caused 66 worker deaths and 337 injuries, according to data collected by the Chemical Safety Board. In many of these incidents, catastrophes occurred during secondary dust explosions. Even if the primary blast is small, it can disrupt your manufacturing plant, stirring up more dust, which can cause a deadly second dust explosion. What can you do to prevent this? This type of accident can be prevented by implementing a cleaning program that removes dust accumulation using an explosion-proof vacuum. For vacuuming in these hazardous environments or collecting dangerous materials such as paint chippings or fine powder within a facility, an industrial vacuum must be certified for use in Class I, Class II, or Class III by the Occupational Safety & Health Administration (OSHA).
OSHA recommends the Three C's for fuel and dust fire avoidance:
Capture dust before it escapes into a work area using adequately designed, installed, approved, and maintained dust collection systems.
Contain dust within the equipment, systems, or rooms built and operated to handle combustible dust safely.
Clean work areas, overhead surfaces, and concealed spaces frequently and thoroughly using safe housekeeping methods to remove combustible dust not captured or contained.
So, how do you choose the correct explosion-proof vacuum for your facility? One recommended approach is to work with your safety director and then match the debris type to the appropriate NEC hazardous class. Then you can research solutions matching those classes.

Understanding NEC Hazardous Classes
Understanding an area's explosion and fire risk is essential for facility maintenance personnel when selecting industrial explosion-proof vacuum cleaners or other power tools. To help with the proper electrical equipment selection, NEC Chapter 5, Articles 500-506, use the class/division/group system to indicate the different risk levels. Some also use a zone/group system based on Articles 505 & 506 of the NEC and developed by the International Electrotechnical Commission. Understanding the NEC classes can be challenging, so Goodway has put together a brief guide to NEC classes to make it easier.
[i] Combustible Dust: OSH Answers. https://www.ccohs.ca/oshanswers/chemicals/combustible_dust.html
[ii] Combustible Dust National Emphasis Program | Occupational …. https://www.osha.gov/enforcement/directives/cpl-03-00-006
Next Steps:
Check out our Vacuum Buying Guide here
View our line of Explosion-Proof Vacuums
Learn more about preventing dust explosions
By now, there's no doubt that you've heard and read about 3D printing. Maybe it's the neighbor down the road making little parts with their system, or you've seen a YouTube video on how it works, or perhaps you've heard of it in manufacturing rapid prototyping.  Well, 3D printing is all of that and more and is one of the fastest-growing areas in global manufacturing. 
Additive manufacturing, also known as 3D printing, has been gaining traction over the past decade as a preferred method of part and product production for both hobbyists and industrial manufacturing companies. It is a very cost-effective way to rapidly produce both simple and complex shapes in a prototyping environment. The materials used range from flexible to rigid and from metals to plastics, with new materials created regularly. 3D printing has given inventors and engineers the ability to move through concepts to create a finalized product in a fraction of the time. In years past, prototyping may have included developing expensive wooden models, or handcrafted resin versions. However, 3D printing is proving to be a more cost-effective method for low-volume manufacturing than standard molding practices, and the sky's the limit in terms of what you can make as there are many shapes you can make on a 3D printer that would not be feasible to make otherwise. 
The Three Most Common 3D Printing Methods: 
FDM (Fused Deposition Modeling): melted plastic is extruded through a hot nozzle to create very thin layers that are printed one at a time to create a 3D print.
SLA (Stereolithography): the part is created by an ultraviolet laser that draws each printed layer in a bath of liquid thermoset resin that solidifies once the laser hits it. The build plate recedes further into the liquid bath to create room for the next layer to be printed. 
SLS (Selective Laser Sintering): the part is created by a high-power laser that sinters either powdered metal or plastics together. The build plate recedes further into the liquid bath to create room for the next layer to be printed. 
The Dangers in 3D Printing
As promising and safe as this technology sounds, there are still some inherent dangers, with the largest being dust explosions. All 3D printing methods produce dust and other small particles that can become airborne quickly, and remain airborne for some amount of time.
Many materials are combustible that may not seem like it at first, such as metals and some plastics, but when those materials are small enough, it does not take a lot to cause them to ignite. For any sort of combustion to take place, there needs to be a fuel source, an ignition source, and oxygen, all of which are often very present in a manufacturing environment. To become explosive, a cloud of dust and some sort of confinement of that dust need to be present. One of the most effective ways to reduce the risk of a dust explosion is using a dust collection system that recirculates the air through filters specifically designed to remove dust. By removing the dust, you have eliminated the fuel source for a dust explosion to take place.
Additionally, and most importantly, is to eliminate the risk of open electrical sparking or exposed electrical current. This is generally accomplished by using specific industrial vacuum systems that remove static and is certified for use with hazardous and explosive materials. In the USA, businesses use the National Electric Code (NEC) designations to identify what systems are approved for what type of flammable materials. It is best to familiarize yourself and your safety personnel with these NEC codes before investigating your specific vacuum options.   Goodway Technologies offers a quick review of NEC codes that you can refer to here and a variety of wet and dry industrial vacuums certified for hazardous and flammable material pickup, in electric and air-powered models.
Powderpart Inc. Dust Explosion of 2013
To give an example of a dust explosion that has happened in an additive manufacturing facility, we will look at the Powderpart Inc. dust explosion in 2013. This dust explosion resulted in the third-degree burn of an employee, and one willful and nine serious violations of workplace safety standards. This explosion occurred due to several reasons including ignoring manufacturer safety instructions, locating ignition and fuel sources too close together, unsuitable electrical equipment and wiring for a high explosion risk location, lack of employee training in explosion dangers, and general lack of awareness of the risks at hand. Accidents usually happen when several mistakes are made, so it is essential to make sure that safety standards are being adhered to. Make sure to identify all hazards, train all personnel in the dangers present, and that danger is identified correctly.
Additive manufacturing has opened a whole new world of possibilities for the manufacturing industry. Still, like all manufacturing, there are risks involved, and it is essential to take the necessary steps to reduce the likelihood of those risks coming to light.  Explosion-proof vacuums can play a big part in providing a safer environment for additive manufacturing. It is also essential to listen to manufacturer recommendations, especially when concerning safety and follow all OSHA guidelines to create a safe working environment for the employees in the additive manufacturing industry.
Next Steps:
Check out Goodway Explosion Proof Vacuums.
Use our Vacuum Buying Guide to find the vacuum for your needs.
Need a HEPA Vacuum? See Goodway's Guide to Selecting a Top Quality HEPA Vacuum