Good sanitation practices are a crucial component of Good Manufacturing Practices (GMP). A commitment to sanitation at all levels of the meat and poultry industry is critical to prevent the spread of foodborne illnesses from infecting food processes and causing significant economic losses. Every year the food safety programs at numerous plants and facilities fail at sanitation and spread infected food across the country, requiring expensive recalls. The Center for Disease Control states that there are over forty-eight million cases of foodborne illnesses that occur in the United States every year. At some level in each of these cases, food sanitation equipment, and practices failed and put the health of citizens in jeopardy.
Innovation in the area of cleaning and sanitation in the meat and poultry market has been slow. The use of hot water, wet steam, and soap-based cleaners and sanitizers have been the status quo for years. And while these products work well to clean wet environments, technological improvements in the packaging, slicing, and other machines have created new areas where "dry" cleaning techniques would be better suited, as well as more portable cleaning solutions.
Steam has been used widely in the meat and poultry market for years. This steam, however, has predominantly been "wet" steam and can include a considerable amount of water by volume. Applications have generally included cleaning and sanitation, and more impactful cleaning like "tenting" of slicers and large equipment. However, due to the "wetness" of the steam, it is not ideal for use where sensitive equipment is susceptible to water damage.
One of Goodway's most popular dry steam products is the GVC-18000 Heavy-Duty Dry Steam Cleaner with Twin Boilers. The GVC-18000 is the newest model of multiple dry steam cleaners that Goodway produces. The GVC-18000 Heavy-Duty Dry Steam Cleaner with Twin Boilers is a compact and maneuverable commercial, heavy-duty dry steam cleaner. It is one of the most powerful dry steam cleaners in its class with an output steam pressure ranging from zero pounds per square (PSI) to 145 PSI. This amount of output power enables the high-power steam cleaner to remove the toughest grease and soils effectively. Steam cleaning sanitation primarily relies on water sprayed at extremely high pressures and temperatures onto equipment surfaces to remove difficult grime and grease build up as well as disinfect and decontaminate the equipment to remove any harmful bacteria and microorganisms. Contamination in the meat and poultry industry poses a constant risk to food manufacturers. The GVC-18000 Heavy-Duty Steam Cleaner doubles down on potential sanitation and hygiene risks with two 2.4-gallon stainless steel tanks. The tanks can be filled while the machine is in operation, and one tank can hold chemical cleaners to mix water and cleaning chemicals for an ultimate disinfecting effect.
The GVC-18000 Heavy-Duty Steam Cleaner also features multiple attachments to include a thirty-three-foot hose with a pistol grip, a one-inch short detail wand, a 20-inch wand, and 40-inch wand with detail lance that enable swift and easy cleaning solutions. Additional attachments include multiple sized stainless-steel brushes and scrubbing brushes.
One of Goodway's upcoming products for food equipment sanitation is the Sanitation Chamber. The chamber provides a simple and effective method to sanitize the equipment and tools utilized during food processing in a modular and easy to use design. This chamber pairs excellently with the other sanitation tools and methods that Goodway offers, such as its GVC-18000 model line of steam cleaning equipment. The sanitation chamber cleans small parts and tools by utilizing steam from Goodway's GVC-18000 high power steam cleaners. Small parts and tools that are placed inside the chamber are completely sanitized using the high-temperature steam, quickly reaching and maintaining temperatures to remove pathogens.  This process offers one of the first and most effective methods to efficiently sanitize small parts and equipment that would otherwise take intensive amounts of effort and time.
Sanitation practices are essential to successful plant operation. They support safe food production practices that protect consumers and ensure plant production and profits. Goodway provides numerous products that increase the effectiveness and ease of decontamination practices. The Sanitation Chamber provides an easy and effective method for sanitizing small parts and tools used in the meat and poultry industry, while the GVC-18000 Heavy-Duty Steam Cleaner is an effective method for cleaning large and plant floor equipment. Combined, these sanitation tools from Goodway are vital elements in combatting the spread of foodborne bacteria and microorganisms.
Next Steps
Check out more information on these products at https://www.goodway.com/industries/food-beverage-processing or contact us today.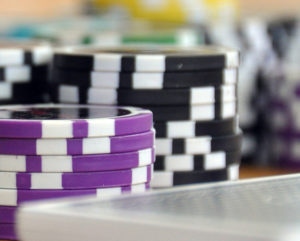 Each year more than 50 million people visit casinos in the United States and play some of the 1 million slot and video game machines across the country. But each time they pull the handle, they're wagering more than just their money; they're wagering their health, too. Thousands of casino visitors come to play every day despite being sick with a cold or the flu. When sick people push a video poker button or pick up the dice, their germs are left behind and transmitted to the next player who might get sick.
Read full blog post

»
The Los Angeles Airport saw 87.5 million passengers pass through in 2018 making it one of the busiest airports in the United States. Keeping a facility this size clean is a complex and ongoing task. In addition to the seemingly endless visible space to clean, the inner workings of the HVAC system cannot be ignored.
Airports terminals are large buildings with complicated HVAC systems that include giant chillers, high-capacity cooling towers, and enormous air handlers. These systems run 24 hours per day, 365 days per year and rarely see any downtime. With near constant operation, an airport HVAC system must undergo routine maintenance to prevent unplanned breakdowns.
Read full blog post

»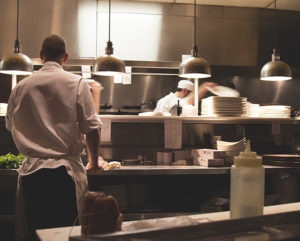 A group of people want to know what it's like to dine in your restaurant. They're looking online at your reviews. They may even send an email or call some of your customers, but they're not hoping to enjoy a meal at your establishment. They want to know how bad things were and they're specifically interested if any diners got sick from an upset stomach. These people are personal injury and food poisoning attorneys and their goal is to find clients who have fallen ill after exposure from unclean restaurants, cafeterias, and kitchens. Class-action lawsuits against restaurants that had norovirus outbreaks are not uncommon. For the victims, settlements can be substantial. For owners, the court rulings can be devastating financially as well as for the business' reputation.
Read full blog post

»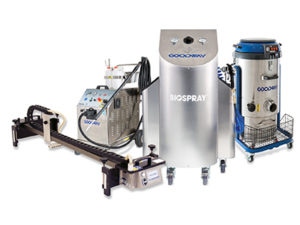 Goodway Technologies is hosting a free webinar, "Cleaning and Sanitation in Nutraceutical, Bar & Confectionery Food Environments" on April 18, 2019 11:00 a.m. EST. The webinar host, Evan Reyes, will discuss trends and legislation affecting sanitation demands such as nutraceutical market growth, increased consumer awareness of food allergens and the additional challenges with FSMA, ready-to-eat (RTE) baked goods, candy and snack bars. Participants will learn about proper cleaning techniques, best practices and available sanitation solutions. There will be a question and answer period at the end of the webinar. Register for the free webinar here.
Read full blog post

»