In the food manufacturing industry, food safety and quality is everything. Not only is it part of good manufacturing practices (GMP), but it's the law. Food and beverage plants work with countless ingredients that can cause public health hazards, from microorganisms hiding in ingredient materials to allergens that cross-contaminate products during packaging processes. Microorganisms and other bacteria can even degrade the shelf life of some foods, creating an inferior product that can hurt your company as a whole.
So how do you prevent cross-contamination and unsafe pathogens or undeclared allergens from entering your food? The final step – sanitation. Food must be produced under sanitary conditions in order to be safe, and manufacturers must ensure sanitation is carried out consistently & effectively.
Risks in Food Manufacturing
The USDA requires all food manufacturing plants to meet a certain standard of cleanliness, which includes proper hygiene and regular sanitizing. Of course, there is a good reason for these regulations: these plants are preparing food for millions of Americans, and one mistake can make many people sick.
Some of the most common risks in the food manufacturing industry (many of which can be prevented with proper sanitation) include the following
Foodborne Illness
Earlier in 2020, the CDC reported 101 cases of salmonella across 17 states. They determined that the cause was contaminated peaches, which had been sold to grocers across the nation.
Regrettably, this story is rather common across the industry and it demonstrates the far reach that a single plant's sanitation habits can have. Because one packing plant in California failed to properly sanitize their facility, their product became contaminated, and people got sick.
Cross-Contamination
According to Food Allergy Research and Education (FARE), an estimated 32 million Americans have some sort of food allergy. These allergies range in type and severity, from a mild rash or itchiness to life-threatening anaphylaxis. Because of this, individuals with allergies must be very careful when choosing foods to buy from the local grocery store — and they need to know with certainty that the things they're eating don't contain the ingredient they're allergic to.
Today's food manufacturing facilities process thousands of products every day. Some plants process a variety of different foods, which means that it's always possible for some cross-contamination between ingredients. However, it's easy to avoid this risk with thorough and diligent sanitization practices and GMP's.
Shelf Instability
Perishable foods like meats, produce, and dairy products already have a limited shelf life — but if they are contaminated by hidden microorganisms or other bacteria, they can become inedible even faster. This is a big problem for food manufacturers, as it can impact product quality and eventually degrade your brand value.
Food that goes bad on the shelf is more likely to contribute to foodborne illness — bringing us right back to our first and most common risk. Clearly, it is essential to maintain high cleaning and sanitation standards throughout any food manufacturing plant, and companies must hold sanitization as a top priority.
Cleaning vs. Sanitizing
The USDA considers proper cleaning and sanitization a prerequisite to the industry's hazard analysis and critical control points (HACCP). Without thorough and consistent cleaning and sanitation, a facility cannot provide safe products to the consumer. Both of these practices are essential — and contrary to what some believe, they are not interchangeable.
What is the difference between cleaning and sanitizing? "Cleaning" refers to the process of removing soil from a surface. This is necessary to have a clean work environment, which can help slow the spread of bacteria or even viruses (which is even more important in the post-COVID work environment.
However, while cleaning removes soils, it doesn't remove what cannot be seen with the human eye — microorganisms – nor does it kill them. This is why facilities must also practice proper sanitizing. "Sanitizing" is the final step of any cleaning process, and it helps kill off any microorganisms that are still lingering on any surface.
If a food manufacturing plant wants to prevent contamination (and they all do), it is absolutely essential to practice effective sanitizing. This means sanitizing surfaces more often and having the right tools at your disposal for an efficient and complete sanitation process.
The Solution
Sanitation should always be the final step in your plant sanitizing procedure, but that doesn't mean you can do it halfway. In fact, food manufacturing companies need to be more fastidious about sanitizing than ever before! They need to have the right tools to eliminate microorganisms — and that means embracing alcohol-based sanitizers.
Alcohol-based sanitizing solutions have antiseptic properties that kill germs quickly and more effectively than plain water or alcohol-free solutions. Using an alcohol sanitizer in your cleaning protocol is one of the best ways to ensure a bacteria-free surface.
Find Your Perfect Solution:
But, of course, you can't simply pick up a bottle of alcohol sanitizer from the drug store. Cleaning Food and Beverage plants requires a more careful approach and specific products. Look for products that are EPA registered food contact sanitations sprays; these require no wiping to effectively sanitize surfaces. Not only will this guarantee that your sanitation is food safe, but it also will cut down your cleaning time, giving you a safe, dry, and sanitary surface faster than other brands. If you use a sanitization system that utilizes a food-safe, quick-drying solution, your sanitation routine can become a quick and painless process that you can easily do each day.
The food manufacturing industry has a great responsibility to provide safe food products to people all over this country. And if you work in one of these facilities, it is up to you to maintain a high standard of cleanliness and sanitation. Not only is the reputation of your brand at risk, but the health and safety of the people who eat your food — sometimes, their very lives — are in your hands.
But if you have the right tools and the right sanitizing solutions, you can ensure clean work stations and safe products every time.
In March 2020, the United States began a series of state shutdowns to help curb the spread of COVID-19. Now, in this state of uncertainty, we may not know what the future will hold but we do know that things in the manufacturing workplace will demand change now.
Masks in public have become more commonplace – and in some establishments, even required. Social groups have gotten smaller as social distancing has also become more normalized. Many companies have embraced working from home to protect employees.
For those who can't work from home – like manufacturing employees and other essential workers – there are countless new safety precautions.
As this global health crisis continues, safety on the manufacturing floor has changed from more than the usual safety glasses and glove PPE to more advanced training and protection. So, how can manufacturers keep their employees safe on the floor? Here are a few essential tips and tools to help you.
Mask Wearing
While epidemiologists and health experts are still learning new things about COVID-19, there is one thing they know for sure: it is highly contagious and spreads via airborne droplets.
When an infected person coughs, sneezes, or even speaks, virus-containing droplets travel into the air where it can infect others. This is why the CDC recommends that all individuals wear masks when near one another.
Masks work by preventing infected people from infecting others as they go about their daily work activities. It is estimated that 20% of infected individuals are asymptomatic (show no symptoms), and this is a straightforward precaution you and your employees can't afford to skip.
Space Employees Six Feet Apart
In addition to mask-wearing, creating separation between people is an essential part of reducing viral transfer risk. Standing six feet apart has been the direction of health experts since the COVID-19 first entered the country.
This is one precaution that's free, easy to do, and critical if you want to keep employees safe. However, it is important to understand this can have impacts on your production floor layout or flow and so some planning and training will be required.
Keeping employees safe on the manufacturing floor will require various safety solutions, often used in tandem. This will require ongoing training and observation to ensure "old" habits don't creep back into workplaces.
Limit Social Exposure with Staggered Shifts
As mentioned, creating additional space in your production areas may sauce unique space challenges.  After all, you only have so much space in your facility, and your pre-COVID workforce wasn't designed to have that much distance between them. The CDC has a recommendation: stagger your employee's shifts.
Staggered shifts are a great way to mitigate the risk of transmission in a busy manufacturing facility. This system guarantees that fewer people will be in the building at any given time, making social distancing much easier.
Staggering shifts can also help relieve congestion in high-traffic areas such as entrances, exits, break rooms, and time clocks. Limiting the time workers spend huddled in groups, waiting to punch in or get some coffee, will also limit the chances of an outbreak at your facility.
While staggered shifts can cause business disruptions and increased costs in the short term, it can help reduce the risk of large scale labor shortages later.
Protect Each Other with Plexiglass Barriers
In the world of manufacturing, it's common for workers to spend all day in one spot, focusing on one task or project. This is an excellent opportunity to introduce another form of transmission protection: plexiglass barriers.
The CDC states that plexiglass barriers (or barriers of any other impermeable material) between workers can be an effective way for manufacturing companies to keep their employees safe on the job. Of course, plexiglass barriers are not a perfect solution – if workers step out from behind the barriers, they can be exposed to the virus. Physical barriers can slow down the assembly process for some manufacturers.
If your company can safely install plexiglass barriers between workers (without affecting your work overall), it is a wise step for preventing the spread of COVID-19. However, like all the other precautions listed here, they work best in conjunction with other safety measures. Make sure workers social distance and wear masks – even behind the glass!
Adopt Proper Sanitation and Disinfection Techniques
Finally, an important and effective way to prevent the spread of COVID-19 in your facility: keep your space cleaned and sanitized!
Regular deep cleaning and disinfecting of industrial shared surfaces, and air ducts in any work building is the proven method to reduce the risk of viral transmission in your facility and between your employees.
Sanitation, disinfection, and proper ventilation have always been important on the manufacturing floor, but it is even more critical now. The EPA claims that indoor spaces are riskier than outdoor ones for the spread of COVID-19, as a lack of proper ventilation can keep the virus locked in with people. Therefore, it is vital to keep your HVAC system clean and in working order to keep your workers safe and healthy.
We've discussed the power of steam frequently on our blog. Many segments of the market around the world have embraced steam cleaning and sanitation for it's immediate, and powerful cleaning performance.
In this post, we'll discuss some of the science behind steam, how high heat, when used properly it can reduce bacteria and viruses inactive in seconds.  Dry vapor steam cleaning is an economical, eco-friendly, and effective form of cleaning, and we're finding that these cleaners are particularly useful to the healthcare, hospitality, and facility management markets.
Read full blog post

»
The Center for Disease Control (CDC) and World Health Organization (WHO) have been responding to the outbreak of a novel coronavirus (COVID-19) that was first detected in China and has now spread to almost all countries across the world.
FDA Stance on COVID-19's Impact on Food and Beverage Production
The Food and Drug Administration has been closely monitoring the COVID-19 virus outbreak and its influence on all the supply chains that the administration oversees. Among a large amount of misinformation that has been spread about the COVID-19 virus, the FDA provides clear guidance on the virus's effect on the food and beverage industry. In a press release dated February 27, 2020 Stephen M. Hahn M.D. Commissioner of Food and Drugs from the Food and Drug Administration states:
"We are not aware of any reports at this time of human illnesses that suggest COVID-19 can be transmitted by food or food packaging. However, it is always important to follow good hygiene practices (i.e., wash hands and surfaces often, separate raw meat from other foods, cook to the right temperature, and refrigerate foods promptly) when handling or preparing foods." The beverage production industry falls under the same guidelines for the impact of COVID-19, at this time there are no reports of human illnesses spread through beverage production.[2]
Hygiene Practices for Food and Beverage Production
Although current reporting from the Food and Drug Administration states that the COVID-19 virus has not shown the ability to be transported through food and beverage preparation, it is still important for producers to practice good hygiene and maintenance plans. The food and beverage industry still remains susceptible to foodborne illnesses like the Norovirus, the Hepatitis A virus, Salmonella, and Escherichia coli (E. Coli).
The guidance from the CDC's message on the COVID-19 outbreak was to focus on good hygiene practices when preparing, packaging, and serving food. The greatest risk to the food and beverage production industry from the COVID-19 virus is workers and employees contracting the virus while at work. Outbreaks at manufacturing sites quickly stall production and disrupt supply chains.
Preparing for and Preventing the COVID-19 Virus
As the COVID-19 virus outbreak spreads across the United States, it is important for food and beverage production industries to plan, prepare, and take preventative action now to protect their employees and communities. The following are steps that the officials and health experts at food and beverage companies can take.
Review, update and implement emergency operation plans (EOPs). Emergency operations plans are the standardized practices and drills that facilities plan to enact in the occurrence of significant risk to employees and the community. These emergency operation plans can be either a strict policy or a flexible emergency template. Either way, EOPs are an essential emergency practice that should be verified and even rehearsed in the face of growing COVID-19 virus risk.
Monitoring plan for signs and symptoms of sick personnel. Infected personnel showing up at work is the quickest and most likely way for the COVID-19 virus to spread within food and beverage industry production plants. Companies throughout the industry need to both monitor and prepare plans of action for personnel who exhibit any flu-like symptoms.
Establish procedures for employees who are sick with any illness to self-quarantine. Procedures for employees in each company will be different, and essential personnel should be identified at each facility. In the case of employees exhibiting flu-like symptoms, there needs to be a method to get them into self-isolation or quarantine.
Perform routine environmental cleaning. Plant cleaning, sterilizing, and maintenance procedures should already be in place at the facilities within the food and beverage industry. It may be necessary to increase the frequency and intensity of the maintenance and cleaning plan at plants in order to combat the COVID-19 outbreak.
Create plans to communicate accurate and timely information across the organization. Information and honest reporting of maintenance practices, COVID-19 response plans, and health statistics are the keys to fighting the spreading of the virus and to keeping key personnel informed.
Overall Effect of the COVID-19 Virus
Food and beverage production companies have overall not been spared by the health and economic impact of the COVID-19 outbreak. Volatile stock market response to the virus outbreak has caused financial insecurities while the health impacts of the virus have created the potential for lapses in the manufacturing, production, and distribution aspects of businesses. The Food and Drug Administration has stepped its monitoring and enforcement of regulations aimed at quality control and keeping workers safe. It is the responsibility of leaders in the industry to enact prudent measures to combat the effects of the COVID-19 outbreak.
COVID-19 resources from CDC include:
For more information from the CDC, visit Coronavirus Disease 2019 (COVID-19).
[1] https://www.cdc.gov/coronavirus/2019-nCoV/summary.html
[2] https://www.fda.gov/news-events/press-announcements/coronavirus-covid-19-supply-chain-update
Next Steps:
Read how to Strength Food Safety and Production Efficiency
Check out Goodway's Food & Beverage Processing Cleaning & Sanitation Equipment
Preventing the Spread
University health and administration officials have a responsibility to their students, faculty, and staff to prepare and protect them against the COVID-19 outbreak in the United States. One of the most important steps that a University can take amidst the COVID-19 outbreak or any future outbreaks, is to prepare both formal University policies and practices as well as prepare the University population. Preparation builds resiliency in the wake of the COVID-19 outbreak and is the best prevention method for preventing the spread of the virus amongst students, staff, and faculty.
The COVID-19 virus, formerly identified as 2019-nCoV, was identified as a novel coronavirus not previously seen by public health officials. Despite the commonality of coronaviruses throughout the world and its tendency to cause mild to moderate illness, the World Health Organization has declared the outbreak of COVID-19 as a public health emergency and international concern.[1]
How does the virus spread?
The Covid-19 virus is spread primarily from person-to-person and travels through respiratory droplets that are produced from the mouth or nose when a person coughs or sneezes. The dwell time of these infected respiratory molecules is short, but when they reach the mouth, nose, or eyes of another person they commonly transmit the virus.
Not all viruses spread as quickly as easily as others, for example, the Measles is a virus that spreads extremely easily. The virus that causes COVID-19 is currently able to spread easily and consistently throughout the community, in a spreading method called community spread. Community spread means that people are often infected by the virus seemingly just because they are in an area where another person is infected by the virus.[2]
Community spread often results in people getting infected by the virus without being completely sure how or why they were infected. The ability of the COVID-19 virus to spread through community spread makes the virus a significant risk to people when they are carrying on about their everyday lives and moving between different crowded areas and groups. Universities are particularly at risk of community spread due to the classroom and lecture hall nature of the community of students and faculty.
Who to pay attention to?
The Integrating the Healthcare Enterprise International (IHE) is a global health care initiative lead by healthcare professionals and provides guidance on improving the information sharing of healthcare systems.
IHE, working together with local health departments, has an important role in slowing the spread of diseases like the COVID-19 virus. IHE's efforts will help ensure students, staff, and faculty have safe and healthy environments in which to learn and work. These efforts and communications from IHE are important for University Health and Administration officials to reference and pay attention to when deciding how to react to a global health crisis like the COVID-19 outbreak.
Plan and Prepare: Take steps now to help stop or slow the spread of respiratory infectious diseases, including COVID-19
As the COVID-19 outbreak spreads across the United States, it is important for Universities to plan, prepare, and take preventative action now to reduce the potential for spread across the community.
The following are five steps that a University can take now to both prepare their community for the outbreak and even to slow or stop its spreading.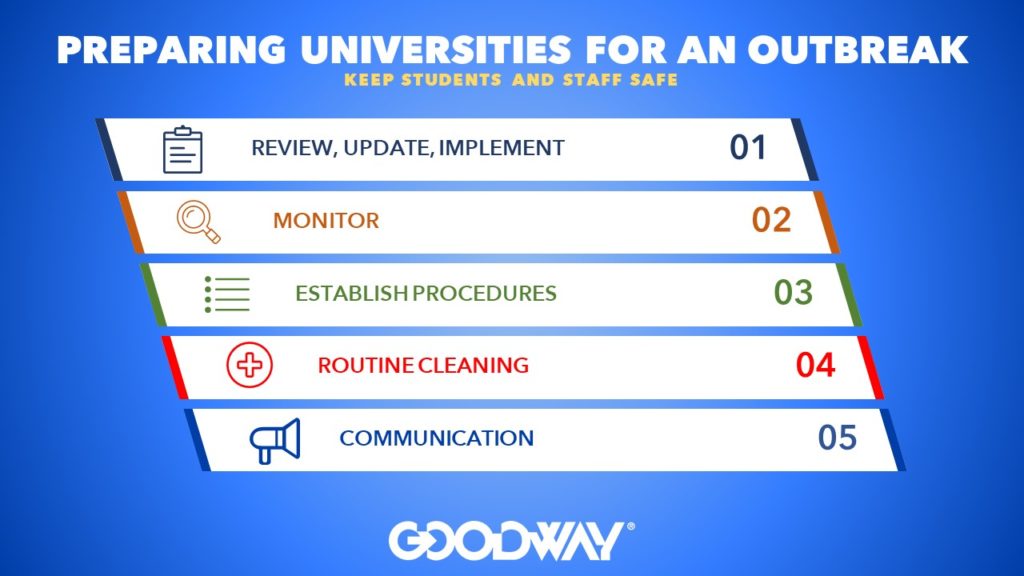 Step 1: Review, update and implement emergency operations plans (EOPs). Emergency operations plans are the standardized fallbacks and drills that Universities plan to enact in the occurrence of significant risk to the University or its personnel. These emergency operations plans can be either a strict policy or a flexible emergency template for a University to use to react. Ether way, EOPs are an essential, emergency fall back that should be verified and even enacted in the face of growing COVID-19 virus risk
Step 2: Monitor and plan for the absenteeism of staff and students. Infected personnel showing up at work or class is the quickest and most likely way for the COVID-19 virus to spread amongst a population. Universities need to both monitor and prepare plans of action for personnel who exhibit any flu-like symptoms at a minimum self-quarantine. Be prepared to evacuate the staff and students. Set up previsions for online learning.
Step 3: Establish procedures for students, staff, and faculty who are sick (with any illness) on campus. Procedures for students and staff will be different, and essential personnel should be identified, but in the case of any person experiencing flu-like symptoms, there needs to be a method to get them into self-isolation or quarantine.
Step 4: Perform routine environmental cleaning. Environmental cleaning measures should already be in place at the university and in response to the COVID-19 outbreak, it may be necessary to increase the frequency and intensity of the maintenance and cleaning plan.
Step 5: Create plans to communicate accurate and timely information to the IHE community. Information and the honest reporting of health statistics is the key to fighting the spreading of the virus and to keeping experts informed. University health officials should reach out to organizations like the IHE and establish a line of communication before the COVID-19 outbreak reach their communities.
[1] https://www.ecolab.com/pages/coronavirus
[2] https://www.cdc.gov/coronavirus/2019-ncov/about/transmission.html