Student filled hallways are right around the corner. Normally, this time of year means schoolyards filled with happy, playing kids, ready to begin a new school year with old friends and new…
But of course, we all know by now that 2020 is no normal year.
Instead of happy kids filing into the classroom, this year's students are starting school with the lingering fear of COVID-19. Students, parents, and teachers are venturing into a unique educational experience, with distance learning and new classroom protocols changing everyone's routine. And even these new protocols could change at any moment; earlier this month, a Georgia high school that had planned to proceed with in-person instruction was forced to close after students and staff tested positive for the coronavirus.
If your child's school is currently teaching online, it may feel like this bizarre education system will never go away. Rest assured, things will return to normal – but when they do, we all will be a little more cautious about the world around us.
Hygiene tips like thorough hand washing and avoiding large groups are already becoming common knowledge, and (given that we all know the coronavirus can linger in the air) it's only natural that air quality will become a greater cause for concern in the post-COVID world. Therefore, Facility managers of schools will need to start paying attention to the air quality in their schools.
Why Air Quality Matters
The U.S. Environmental Protection Agency (EPA) has long been talking about the importance of indoor air quality, otherwise known as IAQ. Most of us spend much of our time indoors, be it at school, in the office, or in our own homes. While we may feel safe and comfortable in these spaces, they harbor an unfortunate secret: indoor air quality is over 2-5 times more polluted than the air outside!
When there are too many pollutants in an indoor space, people can experience adverse health effects. In fact, conditions like cough, eye irritation, and even Legionnaire's disease can be attributed to poor air quality.
IAQ is particularly important in the classroom setting. Children spend an average of 1,000 hours in the classroom each year. In that time, they can breathe in a horrifying number of pollutants and volatile organic compounds. Air pollutants can trigger short-term health problems like headaches, coughs, and allergies, as well as chronic conditions like asthma, which affects 1 in 13 children today.
In addition to the health problems that come along with poor air quality, research shows that IAQ has a direct impact on our students' academics. A 2015 Harvard study found that office workers scored higher on cognitive function tests when they were tested in environments with better IAQ. This study suggests that poor air quality is literally dampening our cognitive abilities! If you want students to perform at their very best, their classrooms absolutely must have clean air.
This body of evidence should be enough to convince everyone that IAQ is important, but the need becomes even more immediate when we factor in COVID-19. While the jury is still out on whether aerosol transmission (tiny particles of the virus that hang in the air after an infected person coughs, sneezes, or speaks) can cause a COVID-19 infection, it is clear that this form of transmission is something we should protect against. After all, countless other viruses – measles, influenza, and COVID-19's cousin SARS – have been proven to spread through HVAC systems and indoor air. Protecting our students and school staff means making our indoor air quality a top priority.
If a classroom has good indoor air quality, the students will be less likely to get sick, more likely to be safe from COVID-19, and have greater cognitive function overall. The answer is clear: schools MUST work to improve their IAQ.
What Determines Your School's Air Quality?
Before you can improve the air quality in your school or classroom, you have to understand the factors that contribute to poor air quality. There are some factors that aren't easy to control, such as:
Outdoor pollution
Pet dander brought in by students/staff
Nanoparticles from shampoos, disinfectants, lotions, etc.
Unfortunately, it is nearly impossible to keep all pollutants out of your classroom. However, you can control the one factor that has the greatest impact on IAQ: your classroom's ventilation.
Many classrooms today operate out of old buildings that allow for little air exchange with the outside world. As a result, the air in the classroom is poorly ventilated, allowing mold, mildew, and other nasty particles to grow throughout the ductwork. The best way to improve a classroom's overall air quality is to clean out the ducts and maintain the building's HVAC system, as this will keep the school nicely ventilated with clean air.
Improve IAQ in Your School
So, how do you go about cleaning a school's air ducts? There are three main ways to sanitize your HVAC systems and get your vents looking like new.
1. Vacuum Your Ducts
Too often, dust and debris (such as particles from outside) settle in your air ducts, contaminating the air in your classroom forever after. The best way to get rid of these pollutants is with a good vacuuming. This process requires two types of vacuums:
A negative air machine, which cleans the ducts while preventing contamination of the space
A portable HEPA vacuum, which clean small surfaces like coils, drips pans, and other areas
Attach the negative air machine directly to your air duct and use it to remove the bulk of the dust from the duct. Then, clean up any residual debris with the HEPA vacuum. Just like that, your dust will be dust-free.
2. Kill Mold in the Venting System
If your HVAC system has mold or mildew, you may need a duct fogger to wipe out all that nasty growth. Foggers atomize a chemical (such as a mold control product) and spray it throughout your air ducts, allowing it to reach every corner and effectively kill any mold or mildew in your ductwork. Of course, if you do want to clean your classroom air ducts with a fogger, make sure you pick up a heavy-duty machine, like our AQ-FG Portable Chemical Fogger.
3. Use Safe Chemicals to Eliminate Contaminants
Once your air ducts are completely clean, you'll want to make sure they stay that way. To do this, you'll need to apply some chemicals that keep mildew, bacteria, and other microorganisms from growing.
According to the National Air Duct Cleaners Association (NADCA), there are a variety of chemicals that can be used to clean HVAC systems. These include sanitizers, fungicides, and various detergents. However, it is important to remember that some people may be particularly sensitive to certain chemicals. If you're using a chemical to clean your classroom, always check your chemical labels to ensure the product is safe for use around children. Like our BIOSPRAY-TOWER is an EPA registered disinfectant kills 99.9% of Legionella pneumophila and germs when correctly applied to hard, nonporous surfaces.
With the right tools and a little know-how, you can ensure that your classroom's air ducts are clean and ready for your next class. And best of all, investing in your classroom air quality will ultimately help your students improve their health and their academic performance.
Next Steps:
Check out our AQ-FG Chemical Fogger
Complete Guide HVAC Maintenance Solutions
Check Your Basic Skills on Duct and Ventilation System Cleaning
Get some tips and tricks on Cleaning Ducts and Ventilation Systems
Indoor Air Quality (IAQ) is a key factor in indoor environmental health. According to the Environmental Protection Agency (EPA), the average American spends 93% of their life indoors. This time could be at work, at home, or anywhere in between. With that much time indoors people are susceptible to the effects of indoor air pollution. This is a wide definition that can run from airborne dust and allergens to bacterial problems, to VOC's or chemicals in the air. Groups that typically are most in danger of poor IAQ are the young, the elderly, and the chronically ill suffering from respiratory or heart disease, but with that much stuff in the air, are any of us safe?. To improve indoor air, most HVAC  systems, when properly sized and maintained, are set up to avert illness by eliminating airborne microbial contaminants, mostly through effective filtering. When there is inadequate ventilation, improper humidity, and exposure to contaminant sources in a building, the health of the IAQ is compromised. As a business and facility building owner or manager, working to achieve a healthy building for occupants is essential.
As it relates to the current pandemic crisis, many are questioning what role HVAC systems and good IAQ have in our overall health. We can only look to the scientific community for answers. 
Epidemiological studies have shown that buildings previously occupied by individuals infected or colonized with MRSA, VRE, or Acinetobacter baumannii are at a significant risk of acquiring these organisms from previously contaminated environmental sites. (Dancer et al. 2006, Boyce et al. 1997, Huang et al. 2006, Denton et al. 2005)
Building factors or pollution in buildings that are most frequently associated with respiratory health effects include:
Presence of moisture, water damage, and microbiological pollutants.

Animal and other biological allergens

Combustion byproducts such as nitrogen dioxide.

Moisture or dirt in HVAC systems.

Low ventilation rates.

Formaldehyde.

Chemicals in cleaning products.

Outdoor pollutants or vehicle exhaust.
IAQ in your building
According to OSHA, when you have poor indoor air quality inside your home it can cause headaches, fatigue, concentration problems, skin rashes, and eye, nose, throat, lung irritation, and chronic health problems such as asthma. EPA states that your indoor air is likely 2 to 5 times more polluted than the air outside. To keep indoor air quality inside a building in top shape, is it important to control the building's humidity. The EPA recommends a range of 30-50% humidity in your space. Bacteria and viruses thrive and circulate through poorly maintained building ventilation systems, as with Legionnaires' disease. Damp, humid air can increase the survival rate of viruses indoors. While keeping humidity down helps slow the process of mold, proper ventilation helps keep the air floor uncontaminated. Using a system with filters can help remove biological contaminants. When air is stagnant air disease is more likely to spread.  The EPA has created a Building Air Quality Guide: A Guide for Building Owners and Facility Managers. 
With all the uncertainty of the current climate, it is important to take care of the things you can control, like your indoor air quality. Clean, maintained HVAC systems will help prevent the spread of many environmental health issues. To keep HVAC Systems healthy regular maintenance is essential. 
A good place to start to achieve a healthy environment at work and home is ASHRAE's article on Good IAQ Practices. 
Next Steps:
Check your basic skills on duct and ventilation system cleaning
Read: Better HVAC IAQ with Copper?
Get some tips and tricks to cleaning ducts and ventilation systems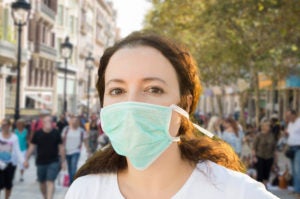 Are companies responsible for reduced outdoor air quality caused by infected or dirty cooling towers? As it stands, citizens have no legal expectation of clean air. With urban pollution rising and environmental litigation becoming a viable option, however, businesses need to think twice about the outside impact of poorly maintained cooling systems.
Urban Issues
Pollution in metropolitan centers has been on the rise for decades. Now, citizens and watchdog groups are taking action in hopes of improving outdoor air quality. It's a significant concern; as noted by the World Health Organization (WHO), outdoor air pollution contributes to 6.7 percent of all deaths.
Read full blog post

»