Monitoring air quality is rapidly shifting from the realm of mere research to more practical applications as HVAC companies look for ways to ensure that both indoor and outdoor air quality levels aren't negatively impacted by a new installation or repair. This rising priority should come as no surprise: Medical News Today notes that air pollution is now a leading stroke risk factor, while ACHR News points out that a large-scale bi-partisan energy bill could have serious impacts on how HVAC units are installed and evaluated. Bottom line? It's not just what's inside a heating or cooling unit that counts. To stay ahead, companies need a way to effectively quantify HVAC air quality.
Indoor Issues
Managing indoor air quality is now the focus of startups like Airviz, a Carnegie Mellon University spinoff — its "Speck" device is designed to report the parts per million of certain 2.5-micron size particles which could pose a threat to human health. In a recent MIT Technology Review piece, for example, author Simson Garfinkel describes the Speck detecting a rise of PM2.5 particles in his home, such as those released by cooking oil, which are in turn linked to diseases like asthma, autism and even ADHD. In fact, the WHO says that four million deaths worldwide are caused by poor indoor air quality conditions; conditions that quickly reached worrisome levels when Garfinkel's family was simply frying eggs.
Read full blog post

»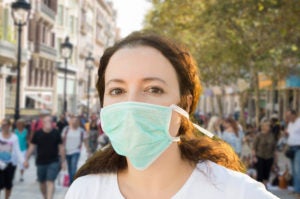 Are companies responsible for reduced outdoor air quality caused by infected or dirty cooling towers? As it stands, citizens have no legal expectation of clean air. With urban pollution rising and environmental litigation becoming a viable option, however, businesses need to think twice about the outside impact of poorly maintained cooling systems.
Urban Issues
Pollution in metropolitan centers has been on the rise for decades. Now, citizens and watchdog groups are taking action in hopes of improving outdoor air quality. It's a significant concern; as noted by the World Health Organization (WHO), outdoor air pollution contributes to 6.7 percent of all deaths.
Read full blog post

»