The combustive power of airborne particles, like dust, is astounding. Explosions of combustible dust can potentially destroy an entire factory. As the 2008 Imperial Sugar refinery catastrophe demonstrated, dust explosions usually follow a similar pattern – a small blast disperses accumulated dust into a cloud, igniting and fueling a powerful chain of secondary explosions. This is why using an Explosion Proof Vacuum matters.
So, what can we learn from accidents like this? If you remove accumulated dust and debris, it can't become airborne, drastically reducing the risk of explosions.
---
DID YOU KNOW?
 The Occupational Safety and Health Administration (OSHA) in the United States defines combustible dust as "a solid material composed of distinct particles or pieces, regardless of size, shape, or chemical composition, which presents a fire or deflagration hazard when suspended in air or some other oxidizing medium over a range of concentrations. [i]
---
The Implementation of the Combustible Dust National Emphasis Program
Since 2008, the Combustible Dust National Emphasis Program (NEP) has focused on how workplaces create or handle combustible dust. Following a 25-year study by the U.S. Chemical Safety and Hazard Investigation Board that identified 281 explosive dust incidents that resulted in 119 worker deaths and 718 injuries, in response, OSHA launched the Combustible Dust NEP.  As a result of the NEP's aggressive inspection campaign, more than 30,000 facilities in 70 different industries were considered "at-risk." These aggressive standards for combustible dust beg the question – is your plant taking all the precautions to keep safe and pass inspection?
---
  DID YOU KNOW?
 According to OSHA, federal inspectors found over 4900 infractions during combustible dust inspections in the year after the NEP was put in place.
---
Check out our Vacuum Buying Guide here.
TAKE THIS SHORT OSHA QUIZ.
ONLY 100% CORRECT PASSES.[ii]
 Does the facility have separator devices to remove foreign materials capable of igniting combustible dust?
 Are the dust-containing systems (ducts and dust collectors) designed, so that fugitive dust cannot accumulate in the work area?
 Does the dust collector system have spark detection and explosion/deflagration suppression systems? (There are other alternative measures.)
 Are all components of the dust collection system constructed of noncombustible materials?
Why does combustible dust collection matter?
To reduce explosive risks, industries that create industrial dust (aka process dust) greatly benefit from finding the proper explosion-proof vacuum during the manufacturing or production process. In a manufacturing process that includes cutting, drilling, grinding, welding, and sawing, tiny particles are generated; when these particles are not adequately filtered and enclosed, they can be highly hazardous for employees and the manufacturing plant itself.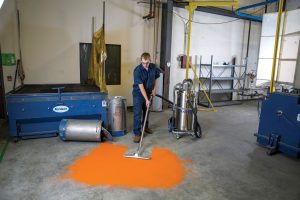 Between 2006 and 2017, 111 incidents of combustible dust caused 66 worker deaths and 337 injuries, according to data collected by the Chemical Safety Board. In many of these incidents, catastrophes occurred during secondary dust explosions. Even if the primary blast is small, it can disrupt your manufacturing plant, stirring up more dust, which can cause a deadly second dust explosion. What can you do to prevent this? This type of accident can be prevented by implementing a cleaning program that removes dust accumulation using an explosion-proof vacuum. For vacuuming in these hazardous environments or collecting dangerous materials such as paint chippings or fine powder within a facility, an industrial vacuum must be certified for use in Class I, Class II, or Class III by the Occupational Safety & Health Administration (OSHA).
OSHA recommends the Three C's for fuel and dust fire avoidance:
Capture dust before it escapes into a work area using adequately designed, installed, approved, and maintained dust collection systems.
Contain dust within the equipment, systems, or rooms built and operated to handle combustible dust safely.
Clean work areas, overhead surfaces, and concealed spaces frequently and thoroughly using safe housekeeping methods to remove combustible dust not captured or contained.
So, how do you choose the correct explosion-proof vacuum for your facility? One recommended approach is to work with your safety director and then match the debris type to the appropriate NEC hazardous class. Then you can research solutions matching those classes.

Understanding NEC Hazardous Classes
Understanding an area's explosion and fire risk is essential for facility maintenance personnel when selecting industrial explosion-proof vacuum cleaners or other power tools. To help with the proper electrical equipment selection, NEC Chapter 5, Articles 500-506, use the class/division/group system to indicate the different risk levels. Some also use a zone/group system based on Articles 505 & 506 of the NEC and developed by the International Electrotechnical Commission. Understanding the NEC classes can be challenging, so Goodway has put together a brief guide to NEC classes to make it easier.
[i] Combustible Dust: OSH Answers. https://www.ccohs.ca/oshanswers/chemicals/combustible_dust.html
[ii] Combustible Dust National Emphasis Program | Occupational …. https://www.osha.gov/enforcement/directives/cpl-03-00-006
Next Steps:
Check out our Vacuum Buying Guide here
View our line of Explosion-Proof Vacuums
Learn more about preventing dust explosions
In the food manufacturing industry, food safety and quality is everything. Not only is it part of good manufacturing practices (GMP), but it's the law. Food and beverage plants work with countless ingredients that can cause public health hazards, from microorganisms hiding in ingredient materials to allergens that cross-contaminate products during packaging processes. Microorganisms and other bacteria can even degrade the shelf life of some foods, creating an inferior product that can hurt your company as a whole.
So how do you prevent cross-contamination and unsafe pathogens or undeclared allergens from entering your food? The final step – sanitation. Food must be produced under sanitary conditions in order to be safe, and manufacturers must ensure sanitation is carried out consistently & effectively.
Risks in Food Manufacturing
The USDA requires all food manufacturing plants to meet a certain standard of cleanliness, which includes proper hygiene and regular sanitizing. Of course, there is a good reason for these regulations: these plants are preparing food for millions of Americans, and one mistake can make many people sick.
Some of the most common risks in the food manufacturing industry (many of which can be prevented with proper sanitation) include the following
Foodborne Illness
Earlier in 2020, the CDC reported 101 cases of salmonella across 17 states. They determined that the cause was contaminated peaches, which had been sold to grocers across the nation.
Regrettably, this story is rather common across the industry and it demonstrates the far reach that a single plant's sanitation habits can have. Because one packing plant in California failed to properly sanitize their facility, their product became contaminated, and people got sick.
Cross-Contamination
According to Food Allergy Research and Education (FARE), an estimated 32 million Americans have some sort of food allergy. These allergies range in type and severity, from a mild rash or itchiness to life-threatening anaphylaxis. Because of this, individuals with allergies must be very careful when choosing foods to buy from the local grocery store — and they need to know with certainty that the things they're eating don't contain the ingredient they're allergic to.
Today's food manufacturing facilities process thousands of products every day. Some plants process a variety of different foods, which means that it's always possible for some cross-contamination between ingredients. However, it's easy to avoid this risk with thorough and diligent sanitization practices and GMP's.
Shelf Instability
Perishable foods like meats, produce, and dairy products already have a limited shelf life — but if they are contaminated by hidden microorganisms or other bacteria, they can become inedible even faster. This is a big problem for food manufacturers, as it can impact product quality and eventually degrade your brand value.
Food that goes bad on the shelf is more likely to contribute to foodborne illness — bringing us right back to our first and most common risk. Clearly, it is essential to maintain high cleaning and sanitation standards throughout any food manufacturing plant, and companies must hold sanitization as a top priority.
Cleaning vs. Sanitizing
The USDA considers proper cleaning and sanitization a prerequisite to the industry's hazard analysis and critical control points (HACCP). Without thorough and consistent cleaning and sanitation, a facility cannot provide safe products to the consumer. Both of these practices are essential — and contrary to what some believe, they are not interchangeable.
What is the difference between cleaning and sanitizing? "Cleaning" refers to the process of removing soil from a surface. This is necessary to have a clean work environment, which can help slow the spread of bacteria or even viruses (which is even more important in the post-COVID work environment.
However, while cleaning removes soils, it doesn't remove what cannot be seen with the human eye — microorganisms – nor does it kill them. This is why facilities must also practice proper sanitizing. "Sanitizing" is the final step of any cleaning process, and it helps kill off any microorganisms that are still lingering on any surface.
If a food manufacturing plant wants to prevent contamination (and they all do), it is absolutely essential to practice effective sanitizing. This means sanitizing surfaces more often and having the right tools at your disposal for an efficient and complete sanitation process.
The Solution
Sanitation should always be the final step in your plant sanitizing procedure, but that doesn't mean you can do it halfway. In fact, food manufacturing companies need to be more fastidious about sanitizing than ever before! They need to have the right tools to eliminate microorganisms — and that means embracing alcohol-based sanitizers.
Alcohol-based sanitizing solutions have antiseptic properties that kill germs quickly and more effectively than plain water or alcohol-free solutions. Using an alcohol sanitizer in your cleaning protocol is one of the best ways to ensure a bacteria-free surface.
Find Your Perfect Solution:
But, of course, you can't simply pick up a bottle of alcohol sanitizer from the drug store. Cleaning Food and Beverage plants requires a more careful approach and specific products. Look for products that are EPA registered food contact sanitations sprays; these require no wiping to effectively sanitize surfaces. Not only will this guarantee that your sanitation is food safe, but it also will cut down your cleaning time, giving you a safe, dry, and sanitary surface faster than other brands. If you use a sanitization system that utilizes a food-safe, quick-drying solution, your sanitation routine can become a quick and painless process that you can easily do each day.
The food manufacturing industry has a great responsibility to provide safe food products to people all over this country. And if you work in one of these facilities, it is up to you to maintain a high standard of cleanliness and sanitation. Not only is the reputation of your brand at risk, but the health and safety of the people who eat your food — sometimes, their very lives — are in your hands.
But if you have the right tools and the right sanitizing solutions, you can ensure clean work stations and safe products every time.
In March 2020, the United States began a series of state shutdowns to help curb the spread of COVID-19. Now, in this state of uncertainty, we may not know what the future will hold but we do know that things in the manufacturing workplace will demand change now.
Masks in public have become more commonplace – and in some establishments, even required. Social groups have gotten smaller as social distancing has also become more normalized. Many companies have embraced working from home to protect employees.
For those who can't work from home – like manufacturing employees and other essential workers – there are countless new safety precautions.
As this global health crisis continues, safety on the manufacturing floor has changed from more than the usual safety glasses and glove PPE to more advanced training and protection. So, how can manufacturers keep their employees safe on the floor? Here are a few essential tips and tools to help you.
Mask Wearing
While epidemiologists and health experts are still learning new things about COVID-19, there is one thing they know for sure: it is highly contagious and spreads via airborne droplets.
When an infected person coughs, sneezes, or even speaks, virus-containing droplets travel into the air where it can infect others. This is why the CDC recommends that all individuals wear masks when near one another.
Masks work by preventing infected people from infecting others as they go about their daily work activities. It is estimated that 20% of infected individuals are asymptomatic (show no symptoms), and this is a straightforward precaution you and your employees can't afford to skip.
Space Employees Six Feet Apart
In addition to mask-wearing, creating separation between people is an essential part of reducing viral transfer risk. Standing six feet apart has been the direction of health experts since the COVID-19 first entered the country.
This is one precaution that's free, easy to do, and critical if you want to keep employees safe. However, it is important to understand this can have impacts on your production floor layout or flow and so some planning and training will be required.
Keeping employees safe on the manufacturing floor will require various safety solutions, often used in tandem. This will require ongoing training and observation to ensure "old" habits don't creep back into workplaces.
Limit Social Exposure with Staggered Shifts
As mentioned, creating additional space in your production areas may sauce unique space challenges.  After all, you only have so much space in your facility, and your pre-COVID workforce wasn't designed to have that much distance between them. The CDC has a recommendation: stagger your employee's shifts.
Staggered shifts are a great way to mitigate the risk of transmission in a busy manufacturing facility. This system guarantees that fewer people will be in the building at any given time, making social distancing much easier.
Staggering shifts can also help relieve congestion in high-traffic areas such as entrances, exits, break rooms, and time clocks. Limiting the time workers spend huddled in groups, waiting to punch in or get some coffee, will also limit the chances of an outbreak at your facility.
While staggered shifts can cause business disruptions and increased costs in the short term, it can help reduce the risk of large scale labor shortages later.
Protect Each Other with Plexiglass Barriers
In the world of manufacturing, it's common for workers to spend all day in one spot, focusing on one task or project. This is an excellent opportunity to introduce another form of transmission protection: plexiglass barriers.
The CDC states that plexiglass barriers (or barriers of any other impermeable material) between workers can be an effective way for manufacturing companies to keep their employees safe on the job. Of course, plexiglass barriers are not a perfect solution – if workers step out from behind the barriers, they can be exposed to the virus. Physical barriers can slow down the assembly process for some manufacturers.
If your company can safely install plexiglass barriers between workers (without affecting your work overall), it is a wise step for preventing the spread of COVID-19. However, like all the other precautions listed here, they work best in conjunction with other safety measures. Make sure workers social distance and wear masks – even behind the glass!
Adopt Proper Sanitation and Disinfection Techniques
Finally, an important and effective way to prevent the spread of COVID-19 in your facility: keep your space cleaned and sanitized!
Regular deep cleaning and disinfecting of industrial shared surfaces, and air ducts in any work building is the proven method to reduce the risk of viral transmission in your facility and between your employees.
Sanitation, disinfection, and proper ventilation have always been important on the manufacturing floor, but it is even more critical now. The EPA claims that indoor spaces are riskier than outdoor ones for the spread of COVID-19, as a lack of proper ventilation can keep the virus locked in with people. Therefore, it is vital to keep your HVAC system clean and in working order to keep your workers safe and healthy.
As a manufacturing company, we are always excited when Manufacturing Day comes around. This past year in Manufacturing has been unlike any other we have faced. As with our fellow manufacturers, COVID-19 disrupted the production line in ways that forced new procedures into effect. This change had to happen fast to ensure safety and productivity. As we reflect on this past year, we want to take the time to share with you some fun background on manufacturing, show you who we really are, and why we all love what we do here.
What is MFG Day?
Manufacturing Day is a time to show the world the importance of manufacturing and to spread knowledge to inspire the next generation of makers. We are pleased to open our doors (virtually) to show young creators how intriguing the world of manufacturing can be. 
The U.S. manufacturing industry is faced with a shortage of highly skilled creators to fill the jobs our country needs. In fact, by 2028, the U.S. will need to fill 4.6 million manufacturing jobs
The top priorities of Manufacturing Day as listed by the Manufacturing Institute are:
Change the perception of careers in manufacturing to reflect its true status as the most advanced, high-tech industry in the country.

Re-establish the U.S. as the global leader of manufacturing education.

Advocate for education and job training policies that strengthen the U.S. manufacturing workforce.
Did you know?
That, on average, a job in manufacturing pays more than $84,000 a year in salary and benefits? Simply put, modern manufacturing is the path to a secure career and future.
Who are we?
Goodway Technologies is a global manufacturer and marketer of industrial maintenance solutions for commercial HVAC, facility management, manufacturing, power generation, maritime, and other industrial applications. Simply put, we make solutions to help people get their jobs done efficiently, effectively, and safely. For over 50 years we have manufactured and shipped from the bustling Stamford, CT. 
Do What You Love
Here at Goodway, we love what we do. As you walk down the production line benches you will see Goodway creators hard at work. When asked why they like working as a manufacturer the number one answer was satisfaction. The satisfaction that a creator gets at the end of the day because they created something with their hands is undeniably powerful. Here at Goodway creating goes one step further; the solutions being created helps keep the world safe. Whether those solutions are for a dirty cooling tower that helps keep occupants safe from Legionella or a surface sanitizer system that helps keep business up and running safely. But we are not all work and no play. Not a day goes by with a little fun. The production floor is filled with classic pop and rock ballads that can be heard being sung throughout. The benefit to being a smaller manufacturing company is that here, from the veterans who have been here for more than 25 years to the newbies who have just started out, we are a family. 
Next Steps:
By now, there's no doubt that you've heard and read about 3D printing. Maybe it's the neighbor down the road making little parts with their system, or you've seen a YouTube video on how it works, or perhaps you've heard of it in manufacturing rapid prototyping.  Well, 3D printing is all of that and more and is one of the fastest-growing areas in global manufacturing. 
Additive manufacturing, also known as 3D printing, has been gaining traction over the past decade as a preferred method of part and product production for both hobbyists and industrial manufacturing companies. It is a very cost-effective way to rapidly produce both simple and complex shapes in a prototyping environment. The materials used range from flexible to rigid and from metals to plastics, with new materials created regularly. 3D printing has given inventors and engineers the ability to move through concepts to create a finalized product in a fraction of the time. In years past, prototyping may have included developing expensive wooden models, or handcrafted resin versions. However, 3D printing is proving to be a more cost-effective method for low-volume manufacturing than standard molding practices, and the sky's the limit in terms of what you can make as there are many shapes you can make on a 3D printer that would not be feasible to make otherwise. 
The Three Most Common 3D Printing Methods: 
FDM (Fused Deposition Modeling): melted plastic is extruded through a hot nozzle to create very thin layers that are printed one at a time to create a 3D print.
SLA (Stereolithography): the part is created by an ultraviolet laser that draws each printed layer in a bath of liquid thermoset resin that solidifies once the laser hits it. The build plate recedes further into the liquid bath to create room for the next layer to be printed. 
SLS (Selective Laser Sintering): the part is created by a high-power laser that sinters either powdered metal or plastics together. The build plate recedes further into the liquid bath to create room for the next layer to be printed. 
The Dangers in 3D Printing
As promising and safe as this technology sounds, there are still some inherent dangers, with the largest being dust explosions. All 3D printing methods produce dust and other small particles that can become airborne quickly, and remain airborne for some amount of time.
Many materials are combustible that may not seem like it at first, such as metals and some plastics, but when those materials are small enough, it does not take a lot to cause them to ignite. For any sort of combustion to take place, there needs to be a fuel source, an ignition source, and oxygen, all of which are often very present in a manufacturing environment. To become explosive, a cloud of dust and some sort of confinement of that dust need to be present. One of the most effective ways to reduce the risk of a dust explosion is using a dust collection system that recirculates the air through filters specifically designed to remove dust. By removing the dust, you have eliminated the fuel source for a dust explosion to take place.
Additionally, and most importantly, is to eliminate the risk of open electrical sparking or exposed electrical current. This is generally accomplished by using specific industrial vacuum systems that remove static and is certified for use with hazardous and explosive materials. In the USA, businesses use the National Electric Code (NEC) designations to identify what systems are approved for what type of flammable materials. It is best to familiarize yourself and your safety personnel with these NEC codes before investigating your specific vacuum options.   Goodway Technologies offers a quick review of NEC codes that you can refer to here and a variety of wet and dry industrial vacuums certified for hazardous and flammable material pickup, in electric and air-powered models.
Powderpart Inc. Dust Explosion of 2013
To give an example of a dust explosion that has happened in an additive manufacturing facility, we will look at the Powderpart Inc. dust explosion in 2013. This dust explosion resulted in the third-degree burn of an employee, and one willful and nine serious violations of workplace safety standards. This explosion occurred due to several reasons including ignoring manufacturer safety instructions, locating ignition and fuel sources too close together, unsuitable electrical equipment and wiring for a high explosion risk location, lack of employee training in explosion dangers, and general lack of awareness of the risks at hand. Accidents usually happen when several mistakes are made, so it is essential to make sure that safety standards are being adhered to. Make sure to identify all hazards, train all personnel in the dangers present, and that danger is identified correctly.
Additive manufacturing has opened a whole new world of possibilities for the manufacturing industry. Still, like all manufacturing, there are risks involved, and it is essential to take the necessary steps to reduce the likelihood of those risks coming to light.  Explosion-proof vacuums can play a big part in providing a safer environment for additive manufacturing. It is also essential to listen to manufacturer recommendations, especially when concerning safety and follow all OSHA guidelines to create a safe working environment for the employees in the additive manufacturing industry.
Next Steps:
Check out Goodway Explosion Proof Vacuums.
Use our Vacuum Buying Guide to find the vacuum for your needs.
Need a HEPA Vacuum? See Goodway's Guide to Selecting a Top Quality HEPA Vacuum