The EPA recommends cleaning air ducts whenever there is a rodent/insect infestation, mold growth, or if the ducts are clogged with dust and debris.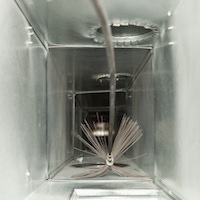 Airborne particles can be released from dirty ducts and contaminate a HVAC system, or if moisture gets into the system mold can grow, and mold spores may be released into the air. In those situations, it's crucial to have your facility's ducts cleaned.
Dirty ducts can become a breeding ground for mold spores, bacteria and other particles, which can lead to poor indoor air quality.
Read full blog post

»