Data centers represent a unique challenge to building managers. The stacks of servers require large amounts of energy to constantly run, while also emanating large amounts of heat into the room. The challenge is keeping energy costs low in a building while running a high energy-consuming, heat-producing data center at peak performance. As a building manager of a large data center, it is inevitable that the energy costs for cooling the building are likely the largest out of pocket cost each month. Despite the high cost of cooling, many building managers don't focus enough on conducting proper planned maintenance of their HVAC systems. In order to save a significant amount in monthly energy expenses and long-term equipment bills, building managers should make a business-focused new year's resolution to create or revive their planned maintenance schedule for HVAC.
According to the American Society of Heating, Refrigerating, and Air Conditioning (ASHRAE) the standard data center requires room conditions to be between 18 and 27 degrees Celsius (64 to 81 degrees Fahrenheit), with a dew point between -9 and 15 degrees Celsius, and relative humidity of 60 percent. The climate, heat output, building construction and makeup of the data center are just some of the numerous variables that make maintaining a room within those conditions both difficult and costly. The heat output of a data center is proportional to the combined amount of computing output and data storage capabilities of the center and likewise, the interior climate conditions inside a data center affect the efficiency of data transfer and server operation. When the HVAC system servicing a data center struggles to maintain internal climate conditions it is at the detriment of both the performance of the servers inside the center as well as the energy consumption of the building.
Maintaining an efficient and healthy HVAC system performance is one of the best approaches to counteracting potentially expensive data center costs. This level of system maintenance can be difficult depending on the demand put on the HVAC system. The interior climate demands in a data center are stringent and they require year-round HVAC performance, but they are also consistent. Unlike human-occupied spaces in a building that can have varying cooling demands, the heat output of a data center is relatively constant. The consistency of the heating load inside a data center provides a unique opportunity for building managers and plant owners to optimize their system to fit the needs of the data center while requiring the least amount of energy to run.
Planned maintenance of the HVAC system serving a data center is a crucial aspect of building management. Periodically scheduled cleanings of system components pay significant dividends in energy savings for an HVAC system. Chillers, coils and other components become clogged with material over time, reducing efficiency and drastically increasing costs.
A hydronic HVAC system or large chilled water system with a significant buildup of limescale and other water formed deposits will have to work significantly harder to maintain the room conditions of a data center. Scale deposits attach to the chiller tube walls, cooler tower piping, and other water-filled components of Hydronic and chilled water systems and reduce the heat exchange properties of the system, as well as the cross-sectional area available for fluids to flow through. This ultimately requires more energy for heat transfer and more power to propel the fluid through the system. Even a small-scale buildup inside pipes can require significantly more energy to cool a space. Additionally, for large HVAC spaces with constant use, a buildup of limescale can degrade the same components of and hydronic and chilled water HVAC systems, drastically reducing their effectiveness and decreasing their usable life.  Large data centers require the greatest cooling effort, and degradations will cause losses in the tens of thousands of dollars. Building managers can calculate their true cost of HVAC scale by using one of the descaling calculators at goodway.com/resources/calculators.
For systems where scale is not the issue, like Packaged HVAC system or RTU's, scheduling the cleaning of coils is essential to maintain optimal temperatures. Wasted energy can cost between $1,000 and $3,700 per unit. Dirty coils can diminish heat transfer and increase operating temperatures and pressures. The importance to wash and flush both sides of the coils can be the difference between a data center overheating and shutting down or maintaining proper temperature and continuous power. Solutions, like the ones from Goodway, are specifically designed to clean coils. Just as cleaning the coils of such units the maintenance of cleaning the condensate drainage is consequential. Clogged condensate drain lines prevent water and other liquids from effectively moving out of the unit which can in time cause damage to the unit and surrounding area.
A comprehensive preventative maintenance plan is the single greatest method to minimize efficiency losses throughout the year. If building managers don't already have a plan in place to maintain the efficiency and effectiveness of the HVAC system cooling their data center, they should implement one immediately. Maintenance plans can easily be synchronized with the calendar so that starting with the new year each maintenance plan becomes a new year's resolution for HVAC efficiency. Setting a new year's resolution is an effective way of making a permanent change for the future, and for a data center, a permanent change to regularly scheduled maintenance can produce savings throughout the life of the system. For specific problems such as system descaling, there are simple solutions such as Goodway's ScaleBreak Liquid Descaler. Goodway's line of ScaleBreak products safely dissolve mineral deposits inside your system components quickly and safely. The ScaleBreak Liquid Descaler is a low cost and effective method for achieving your new year's resolution to carry out system maintenance.
Next Steps
Check out more information on these products at goodway.com/accessories/descaling-chemicals-accessories.
Sales of energy-efficient heat pumps for homes and businesses continue to rise as consumers seek out HVAC equipment that cost less to operate and has a minimal environmental impact. Most heat pumps transfer heat between the outside air and the building interior. As outside air temperatures drop in the winter, the atmosphere holds less heat that can be used to heat the inside of the building. Therefore, the lack of heat energy in the atmosphere during the winter makes air-to-air heat pumps ineffective in the coldest parts of the country. However, ground-source heat pumps (GSHP's), also called geothermal heat pumps, are systems that do not depend on the air temperature for heat transfer.
Read full blog post

»
Armed with long rods and brushes, early boiler cleaners toiled for hours scraping off combustion debris from a boiler's fireside and scooping out waterside sediment exposed to all sorts of deadly ash and contaminants. Fortunately, for modern day technicians the days of long sticks and brushes are gone and new inventions keep soot and debris out of their lungs and off their faces. However, the basic problems of boiler soot and scale haven't gone away.
Read full blog post

»
In 1970, the year Congress enacted the Occupational Safety and Health Act (OSH Act), nearly 14,000 workers were killed on the job in the United States. Over the next ten years the Occupational Safety and Health Administration (OSHA) established regulations for workplace safety, inspection procedures, and limits on harmful materials in the workplace. OSHA's policies were developed and implemented throughout the 1970s and by the 1980s, the positive effects of the agencies work were apparent. By 1989, the number of workplace fatalities averaged 6,359 per year down more than 50% from 1970. In 2017 fatalities had dropped even further to 5,147. In states where written injury and illness prevention programs (IIPP) are mandated by state law, research indicates those states had workplace fatality rates as much as 32 percent below the national average. The establishment and enforcement of safety regulations have saved tens of thousands of lives.
Read full blog post

»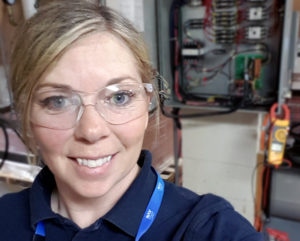 We asked Red Seal Journeywoman Liz Sandwith of Black & McDonald to answer 4 quick questions about her experience working in the HVAC industry. Read on to learn the universal reasons why she loves the world of HVAC and get her unique perspective as a woman working in this industry.
Read full blog post

»