A combination of legislation and trends are changing cleaning and sanitation in the bakery & snack food industry. To help participants navigate the changes, Goodway Technologies is hosting a free webinar "Cleaning and Sanitation in Bakery & Snack Food Manufacturing: A Changing Landscape"  on Wednesday, January 9, 2019 at 11 a.m. EST.  The webinar host, Evan Reyes, will discuss how the Food Safety Modernization Act's (FSMA) heightened emphasis on cleaning and sanitation has changed the food and beverage landscape. Trends that are affecting sanitation, such as increased consumer awareness of food allergens and the additional challenges with ready-to-eat (RTE) baked goods, candy and snack bars will also be discussed. Participants will learn about proper cleaning techniques, best practices and available sanitation solutions. There will be a question and answer period at the end of the webinar. Register for free for the webinar here.
Evan Reyes currently serves as National Account Manager for Goodway Technologies, a global sanitation equipment provider, where he specializes in helping customers in the food and beverage industry strengthen their quality and food safety programs through the introduction of new cleaning and sanitation technologies.
Don't miss this important webinar!
Next Steps: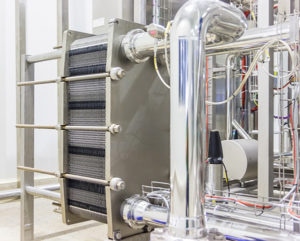 Have you ever ironed a pair of dark pants only to have small white flakes fall out of the iron's steam holes and make white streaks across your clothes? This is especially a problem in older irons that have never been cleaned. Your iron is in many ways like a commercial steam boiler. After a long time making steam, a boiler can clog up with white flakes and get trapped in the boiler system. This white buildup in both the steam iron and the boiler is a layer of calcium and other minerals called scale, or sometimes limescale. As the water evaporates, the minerals in the water don't turn into steam when the machine is in use; they are left behind to form scale inside the equipment.
As annoying as those little white flakes are for your dark pants, imagine what those deposits do to the heating elements of large industrial equipment like boilers and heat exchangers. On some equipment, the scale buildup can be inches thick. An inch, or even a much thinner layer of scale is more than an annoyance, it's a serious maintenance problem that diminishes system efficiency, reduces heat transfer, and increases operating costs. Just like maintaining and cleaning your steam iron, facility managers have to do the same for their heat exchangers and boilers.
Read full blog post

»
"[B]rewing is 90 percent cleaning and 10 percent paperwork" according to experts at Craft Brewing Business. This statement is no surprise to the thousands of craft brewers across the country who depend on clean brewing systems to produce high quality beers. If their beer tastes bad, they go out of business. But a clean brewing system means more than just good tasting beer. Keeping contaminated beer away from the consumer is also a public health issue.
The Federal Food Safety Modernization Act (FSMA) signed into law in 2011, now gives the United States Food and Drug Administration (FDA) jurisdiction in breweries. In the interest of protecting the public, the FDA will come and inspect your brewery for cleanliness and adherence to federal food production regulations.
Read full blog post

»
Recently, we identified two of the key trends shaping the food and beverage industry:  The elimination of waste and improved sustainability. Now, we'll discuss another game changer: technology in food safety, which just so happened to be on everyone's mind at this year's Food Safety Summit.
Google the phrase "food recall", or browse #recall on Twitter, and you'll be flooded with mentions of the latest food safety lapses. One of the most recent, an E. coli outbreak linked to romaine lettuce has caused several deaths and 197 sick in 35 states.
Read full blog post

»
As anyone in the food processing business knows, FSMA law has been driving many of the changes in the industry the past few years. However, as always, consumer-driven trends are also impacting the industry. Recently, Forbes highlighted five trends that are defining the food industry. In addition to wanting more healthy and local food, many consumers are focused on eliminating waste in the food ecosystem. So it's no wonder more food producers are seeing value in working more efficiently and effectively to conserve resources. Today, more scientists, farmers, and food producers are testing and implementing sustainable food production methods. Here are some of the more popular methods:
Read full blog post

»