The Center for Disease Control (CDC) and World Health Organization (WHO) have been responding to the outbreak of a novel coronavirus (COVID-19) that was first detected in China and has now spread to almost all countries across the world.
FDA Stance on COVID-19's Impact on Food and Beverage Production
The Food and Drug Administration has been closely monitoring the COVID-19 virus outbreak and its influence on all the supply chains that the administration oversees. Among a large amount of misinformation that has been spread about the COVID-19 virus, the FDA provides clear guidance on the virus's effect on the food and beverage industry. In a press release dated February 27, 2020 Stephen M. Hahn M.D. Commissioner of Food and Drugs from the Food and Drug Administration states:
"We are not aware of any reports at this time of human illnesses that suggest COVID-19 can be transmitted by food or food packaging. However, it is always important to follow good hygiene practices (i.e., wash hands and surfaces often, separate raw meat from other foods, cook to the right temperature, and refrigerate foods promptly) when handling or preparing foods." The beverage production industry falls under the same guidelines for the impact of COVID-19, at this time there are no reports of human illnesses spread through beverage production.[2]
Hygiene Practices for Food and Beverage Production
Although current reporting from the Food and Drug Administration states that the COVID-19 virus has not shown the ability to be transported through food and beverage preparation, it is still important for producers to practice good hygiene and maintenance plans. The food and beverage industry still remains susceptible to foodborne illnesses like the Norovirus, the Hepatitis A virus, Salmonella, and Escherichia coli (E. Coli).
The guidance from the CDC's message on the COVID-19 outbreak was to focus on good hygiene practices when preparing, packaging, and serving food. The greatest risk to the food and beverage production industry from the COVID-19 virus is workers and employees contracting the virus while at work. Outbreaks at manufacturing sites quickly stall production and disrupt supply chains.
Preparing for and Preventing the COVID-19 Virus
As the COVID-19 virus outbreak spreads across the United States, it is important for food and beverage production industries to plan, prepare, and take preventative action now to protect their employees and communities. The following are steps that the officials and health experts at food and beverage companies can take.
Review, update and implement emergency operation plans (EOPs). Emergency operations plans are the standardized practices and drills that facilities plan to enact in the occurrence of significant risk to employees and the community. These emergency operation plans can be either a strict policy or a flexible emergency template. Either way, EOPs are an essential emergency practice that should be verified and even rehearsed in the face of growing COVID-19 virus risk.
Monitoring plan for signs and symptoms of sick personnel. Infected personnel showing up at work is the quickest and most likely way for the COVID-19 virus to spread within food and beverage industry production plants. Companies throughout the industry need to both monitor and prepare plans of action for personnel who exhibit any flu-like symptoms.
Establish procedures for employees who are sick with any illness to self-quarantine. Procedures for employees in each company will be different, and essential personnel should be identified at each facility. In the case of employees exhibiting flu-like symptoms, there needs to be a method to get them into self-isolation or quarantine.
Perform routine environmental cleaning. Plant cleaning, sterilizing, and maintenance procedures should already be in place at the facilities within the food and beverage industry. It may be necessary to increase the frequency and intensity of the maintenance and cleaning plan at plants in order to combat the COVID-19 outbreak.
Create plans to communicate accurate and timely information across the organization. Information and honest reporting of maintenance practices, COVID-19 response plans, and health statistics are the keys to fighting the spreading of the virus and to keeping key personnel informed.
Overall Effect of the COVID-19 Virus
Food and beverage production companies have overall not been spared by the health and economic impact of the COVID-19 outbreak. Volatile stock market response to the virus outbreak has caused financial insecurities while the health impacts of the virus have created the potential for lapses in the manufacturing, production, and distribution aspects of businesses. The Food and Drug Administration has stepped its monitoring and enforcement of regulations aimed at quality control and keeping workers safe. It is the responsibility of leaders in the industry to enact prudent measures to combat the effects of the COVID-19 outbreak.
COVID-19 resources from CDC include:
For more information from the CDC, visit Coronavirus Disease 2019 (COVID-19).
[1] https://www.cdc.gov/coronavirus/2019-nCoV/summary.html
[2] https://www.fda.gov/news-events/press-announcements/coronavirus-covid-19-supply-chain-update
Next Steps:
Read how to Strength Food Safety and Production Efficiency
Check out Goodway's Food & Beverage Processing Cleaning & Sanitation Equipment
Good sanitation practices are a crucial component of Good Manufacturing Practices (GMP). A commitment to sanitation at all levels of the meat and poultry industry is critical to prevent the spread of foodborne illnesses from infecting food processes and causing significant economic losses. Every year the food safety programs at numerous plants and facilities fail at sanitation and spread infected food across the country, requiring expensive recalls. The Center for Disease Control states that there are over forty-eight million cases of foodborne illnesses that occur in the United States every year. At some level in each of these cases, food sanitation equipment and practices failed and put the health of citizens in jeopardy.
Innovation in the area of cleaning and sanitation in the meat and poultry market has been slow. The use of hot water, wet steam, and foaming cleaners and sanitizers have been the status quo for years. And while these products work well to clean wet environments, technological improvements in the packaging, slicing, and other machines have created new areas where "dry" cleaning techniques would be better suited, as well as more portable cleaning solutions.
Steam has been used widely in the meat and poultry market for years. This steam, however, has predominantly been "wet" steam and can include a considerable amount of water by volume. Applications have generally included cleaning and sanitation, and more impactful cleaning like "tenting" of slicers and large equipment. However, due to the "wetness" of the steam, it is not ideal for use where sensitive equipment is susceptible to water damage.
One of Goodway's most popular dry steam products is the GVC-18000 Heavy-Duty Dry Steam Cleaner. It is one of the most powerful dry steam cleaners in its class utilizing dry steam (about 5% moisture level) to remove difficult grime and grease build up as well as sanitize equipment, eliminating harmful bacteria and microorganisms. Contamination in the meat and poultry industry poses a constant risk to food manufacturers.
One of Goodway's upcoming products for food equipment sanitation is the Sanitation Chamber. The chamber provides a simple and effective method to sanitize the equipment and tools utilized during food processing in a modular and easy to use design. This chamber pairs excellently with the other sanitation tools and methods that Goodway offers, such as its GVC-18000 model of steam cleaning equipment. Small parts and tools that are placed inside the chamber are sanitized using the high-temperature steam, quickly reaching and maintaining temperatures to remove pathogens.  This process offers one of the first and most effective methods to efficiently sanitize small parts and equipment that would otherwise take intensive amounts of effort and time.
Sanitation practices are essential to successful plant operation. They support safe food production practices that protect consumers and ensure plant production and profits. Goodway provides numerous products that increase the effectiveness and ease of cleaning and sanitation practices.
Next Steps
Check out more information on these products at https://www.goodway.com/industries/food-beverage-processing or contact us today.
Dust explosions are a serious danger that facility managers must be aware of in many industries including power generation and food processing. Even powders like flour or sugar can become a hazard in certain environments. Download this infographic to learn 10 tips to help prevent dust explosions.
Read full blog post

»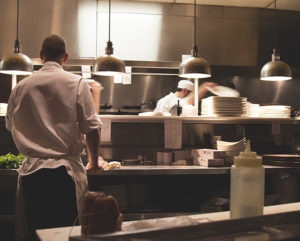 A group of people want to know what it's like to dine in your restaurant. They're looking online at your reviews. They may even send an email or call some of your customers, but they're not hoping to enjoy a meal at your establishment. They want to know how bad things were and they're specifically interested if any diners got sick from an upset stomach. These people are personal injury and food poisoning attorneys and their goal is to find clients who have fallen ill after exposure from unclean restaurants, cafeterias, and kitchens. Class-action lawsuits against restaurants that had norovirus outbreaks are not uncommon. For the victims, settlements can be substantial. For owners, the court rulings can be devastating financially as well as for the business' reputation.
Read full blog post

»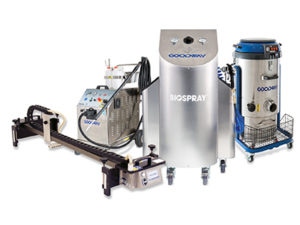 Goodway Technologies is hosting a free webinar, "Cleaning and Sanitation in Nutraceutical, Bar & Confectionery Food Environments" on April 18, 2019 11:00 a.m. EST. The webinar host, Evan Reyes, will discuss trends and legislation affecting sanitation demands such as nutraceutical market growth, increased consumer awareness of food allergens and the additional challenges with FSMA, ready-to-eat (RTE) baked goods, candy and snack bars. Participants will learn about proper cleaning techniques, best practices and available sanitation solutions. There will be a question and answer period at the end of the webinar. Register for the free webinar here.
Read full blog post

»