What can you, as the facility maintenance manager, do about limescale? Limescale and other water formed deposits can cause major loss of efficiency, increased operating costs, and minimize the life expectancy of capital equipment. But first, as a Facility Manager, how can you tell if your HVAC system is suffering from limescale build-up?
Signs of Increased Cost from Scale Buildup
Some of the symptoms will be gradual because limescale deposits build up over time. But small changes in equipment efficiencies can be a sign of limescale growth. Here are some additional signs that show you need to tackle your limescale problem:
Rising operational costs (including tube or pump failures or the chiller shutting down due to high head pressure)
Increased equipment downtime
Progressively growing heating and cooling energy costs
Poor equipment (boiler, chiller, heat exchanger, or tower) performance, including high head pressures or pump reading more elevated than usual
Rising operational costs
If your HVAC gas or electric bill is rising with no change in facility operational hours, there's a good chance you've got limescale problems. Scale deposits can lead to significant increases in energy costs by reducing the heat transfer surface on both cooling (chiller) and heating (boiler) systems. Consequently, more energy is required to achieve the same level of heating or cooling when limescale fouling is impeding the energy coefficients. Also, the reduction in pipe diameter means your pumps work harder to move the same amount of fluid. This not only increases electricity costs but may lead to premature pump failure. Increased fuel costs mean increased building operating and maintenance costs, which affect the profitability of your business.
Some key findings on the costs of scale are:
Energy consumption is increased up to 11% for just 1/16-inch of scale, according to the American Society of Plumbing Engineers
Equipment failure rates increase due to scale
Scale often necessitates the use of chemicals to counter hard water use. Detergent usage increases by 2-4% percent per 1,000 gallons of water.
Increased equipment downtime
When left to build up inside HVAC components, scale deposits will eventually require removal for the equipment to function. Depending on the amount of build-up, the equipment may experience downtime for days or weeks. This downtime quickly cuts into the operational capability of a building, and if all HVAC systems serving a building are down, the building may have to cease operation entirely until the problem is fixed.
Preventing equipment downtime is one of the most significant concerns of facility managers, yet some may not realize that they need to practice correct preventative maintenance plans on their systems to prevent downtime. Naturally, all equipment will experience some sort of downtime for maintenance, but when equipment downtime sharply increases for cleaning, it may be evidence of a larger scale build-up problem.
Progressively increasing heating and cooling energy costs
Progressively increasing heating and cooling costs can be a reliable indicator of scale build-up inside HVAC components affecting the performance and efficiency of HVAC systems. This is especially true when heating and cooling costs increase despite a relatively stable period of climate and building usage.
Facility managers are certainly in tune with the energy costs that a building accrues. Energy costs are often one of the most significant operations and maintenance budget items that a facility manager is concerned about. If patterns of rising heating and cooling costs show a decline inefficiency, it may be time to clean the system entirely of scale build-up.
Poor equipment performance
Poor equipment performance – like on boilers, chillers, heat exchangers or cooling towers – is often first noticed by monitoring the key performance indicators of your systems. Things like the pump and head pressures should be monitored daily to identify baselines. This way, any disparency can quickly indicate scale issues.
Scale build-up inside the boiler, chiller, heat exchanger or cooling tower may be causing the lack of performance out of the system. Poor equipment performance will not only deliver inadequate heating or cooling results but also end up costing many multiples of the maintenances costs for replacement.
Preventing Scale Build Up
There are different methods for removing limescale build-up. These methods generally fall into two categories chemical and mechanical.
A combination of water treatment programs along with chemical or mechanical descaling is necessary to keep scale in check.
Chemical descalers are fluids which react with the calcium carbonate, sulfate or silica build-up to break it down and flush it out of the system.
Mechanical include using rotary tube cleaning or projectile-based systems to remove scale deposits mechanically. They work to remove the mineral deposits plaguing the tubes of HVAC chillers, fire or water tube boilers, heat exchanger tubes/coils and condenser tubes.
To slow the scale accumulation, water treatment solutions are often employed. Depending on the chemistry of your water source, a water treatment company will come up with the right treatment solution for your boiler or cooling tower. Regular tests and checks are essential to ensure the water is receiving the correct dosage of treatment chemicals. However, no chemical treatment will prevent scale deposits entirely, and so vigilant monitoring of system performance is required.
Next Steps:
If you haven't been taking preventive action against HVAC limescale, today is an excellent time to start. It is never too late to begin, and you may be amazed by the results you will achieve. While there are many different options on the market today, choosing the right solution for your system is essential.
Get started by maintaining a daily logbook of your system parameters like head pressures, pump pressures, etc. The set up an annual or biannual maintenance cleaning program. This will help you get a handle on your scale problem. Next, get guidance from a reputable descaler manufacturer so you can make the right choices for addressing scale in your facility. With their expertise and products, soon your facility will realize lower running costs and a more efficient HVAC system.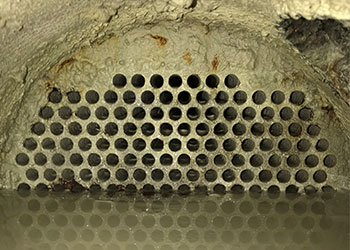 Scale or limescale is caused by mineral deposits in water becoming adhered to pipes, pumps and other hydronic system components. This adhesion is a natural occurrence when water is heated or cooled. Even the best-treated water contains scale deposits, however raw water deposits, including those from well and other underground sources, lakes, and ponds can contain significant levels of minerals, also known as "hard water". In fact, over 80% of the continental USA has moderate to hard water.  Scale build-up that is caused by hard water can have numerous adverse effects on the systems and components that come in contact with the water. It is important for owners, operators, and facility managers to not only pay attention to excessive scale build-up but to also have a response and maintenance plan for removing the scale.
The first general approach to maintaining scale build-up is the use of mechanical tools and practices to remove scale build-up. There are multiple techniques and practices that fall under mechanical scale removal. Primarily, mechanical scale removal involves removal utilizing machines or machinery to physically remove the scale build-up from system components. For chillers, boilers and other heat exchange equipment, Goodway offers numerous excellent products that mechanically remove scale buildup from machine and system components. The RAM-4 Chiller Tube Cleaner is one of many varying capacity tube cleaners that, when paired with an appropriate brush, effectively cleans tough scale deposits in chillers, condensers, evaporators, absorption machines, and other heat exchangers.
When mechanical tools are not enough to rid scale, a chemical scale remover can be a great tool to safely, efficiently and effectively remove scale. Chemical scale removal is a generally more passive approach to system and component maintenance, where a chemical solution is flushed through the interior piping and components of a system and reacts with mineral scale build-up to remove and cleanse the system.
Chemical scale removal can be conducted in a number of ways but is most effective when the chemical is pumped through the interior piping and connections of a system. One such system that is effective on larger industrial HVAC and process machinery is the GDS-100-BV is Scale Removal System. When paired with ScaleBreak®, Goodway's advanced descaling solution, the system quickly and effectively removes the scale leaving system operating at optimal efficiency. In fact, in many instances systems will operate at an efficiency higher than when first installed. Read how in this case study.
Plant maintenance managers need to understand both mechanical and chemical descaling options and how they apply to the equipment in their plant. Deciding between either method can be difficult, but there are a few key factors that managers can focus on to make their choice. These deciding factors for managers include upfront cost and lifecycle cost, effective fit for their intended use, the amount of money saved in operating and the extension of the usable lifetime of the serviced equipment, and any regulatory guidelines pertaining to the equipment needed to be maintained.
Goodway offers two excellent features on its website to assist managers with deciding which method of descaling equipment to purchase and utilize. Managers who are considering implementing a new maintenance plan or changing their current one should consult with the experts at Goodway and utilize the tools they have for making these difficult decisions.
The first feature on their site is their cost calculator. This cost calculator can break down the cost data for numerous types of equipment to include boiler, chiller, and cooling tower descaling equipment. Utilizing this calculator provides an excellent insight into the potential savings and best-fit equipment for different types of industrial equipment. The second decision-making tool that Goodway offers is their buyer guide, which provides key information and articles about descaling technologies, with further information on key factors to consider when choosing maintenance equipment.
Next Steps:
Watch our webinar on Scale: Why You Have It, What It Does and How to Descale Safely and Effectively.
Watch our webinar on Industrial Descaling: Challenges and Benefits.
See Instructions for Cleaning Brazed Plate & Gasketed Heat Exchangers with ScaleBreak.
See Goodway ScaleBreak® featured in Canadian Facility Management & Design.
Read up on Goodway Descaling Solutions For MULTISTACK® Chillers
Listen to this Podcast: Descaling Large Equipment brought to you from HVAC SCHOOL.
For building systems like boilers, cooling towers, and heat exchangers that use water to transfer heat, the buildup of mineral deposits and scale inside the equipment is a normal part of the operation. Over time the scale layer gets so thick that heat cannot transfer efficiently through the equipment causing substantial system losses and potential equipment breakdowns. The only way to get the efficiency back is to either mechanically or chemically remove the scale from the equipment, and at this level of scale buildup, a chemical was the only viable option.
For one Operation's Shift Supervisor at a municipal water power generation plant, routine descaling of several large plate heat exchangers was cumbersome and a burden. As he says,
"We usually just opened the heat exchanger up and cleaned it with power washers. That worked, but it was very labor-intensive. We were interested in an easier way to remove scale buildup" Having already been introduced to Goodway's time-saving tube cleaning equipment, he called his local sales rep for a way to improve the labor-heavy descaling work.
"Our Goodway sales rep sent us a brochure on the GDS-100 descaling system and I did some research. The product seemed like it might apply to our work and could save labor costs by not having to open up the heat exchanger. The setup looked easy and we had never tried a recirculating system, so we decided to test it out."
The GDS-100 is a portable "clean-in-place" (CIP) descaling system that pumps descaling liquid through industrial hydronic equipment to dissolve mineral scale deposits, into a liquid suspension to be flushed out. The descaling system is built on wheels making it easy to roll to the work area and once it's running, the descaler can be left to do the work while the technicians take care of other things.
The power plant maintenance team put the GDS-100 to the test. They filled it with ScaleBreak® Liquid Descaler to see how the system would handle a heavily scaled plate heat exchanger. "We decided to let the GDS-100 circulate for a full 24 hours to see if it could clean it. When it was done we opened up the heat exchanger and found that it did an effective job at cleaning out the scale." The team immediately knew this was a product that would help them be more efficient.
"Labor savings are a huge benefit of this machine. I can set this up in two hours and just let it run unmanned by itself. We don't have to open the heat exchanger for inspection each time we clean because we've already tested and know it works. The gaskets stay intact and remain inside the exchanger and we don't have to struggle to put them back. Manual cleaning is very labor-intensive when you don't have the benefit of the circulation system. We can see the labor savings right away."
The savings from the GDS-100 goes beyond labor. The efficiency of the heat exchanger improved immediately after it was descaled. When scaled, the heat exchangers at the power plant were only showing a temperature drop of 4 or 5 degrees. But after being descaled with the GDS-100, the heat exchangers were giving 8 to 9-degree temperature differences – nearly a 100% improvement. The team told us that they were getting efficiencies they hadn't gotten in a long time.
Fast setup, reduced labor costs, and improved efficiency make the GDS-100 and ScaleBreak® Liquid Descaler the choice for maintenance managers everywhere. The team at the municipal power plant is spreading the news of their success. "We've taken photos and sent them around to our other facilities to show them the results." We love to make our customers more successful. Let us show you our entire line of products to make you and your equipment more efficient and work better.
In recent years (data available to 2017), the United States saw significant improvements in air quality across the entire country. All of the major pollutants decreased in concentration over the study period including sulfur dioxide (SO2) down 79%, nitrogen dioxide (NOx) down 35%, and PM2.5 particles down 41%. The United States achieved these reductions through new environmental legislation, enforcement of existing laws like the Clean Air Act, and the advancement of pollution control technologies all while the nation's economy grew and industrial capacity expanded.
As identified in an Environmental Protection Agency (EPA) report, a major source of air pollution is the burning of fossil fuels in industrial factories or boilers for power generation. The EPA warns that residuals from burning coal (coal ash) are "one of the largest types of industrial waste generated in the United States." Burning coal is an inherently dirty process and federal limits restrict the concentrations of SO2, NOx, and PM2.5 discharged to the atmosphere. Modern boiler design and pollution reduction technologies are available so that plants can provide heat or electrical power at reasonable costs while still being compliant with environmental regulations.
Pollution control in coal-fired boilers can occur at all stages of the combustion process: pre-combustion, during combustion, and post-combustion.
Pre-Combustion
The selection of fuel to burn in the boiler is the first opportunity to reduce flue gas contaminants. For example, natural gas burns cleaner than fuel oil, medical waste, or biomass and produces the least amount of pollutants in its flue gas. Natural gas is considered a low-nitrogen fuel and yields very little NOx as a by-product of combustion. Also, as the EPA notes in its technical bulletin on controlling NOx that "natural gas is desulfurized before it is sent in a pipeline. Therefore, natural gas has almost no sulfur, essentially no impurities, and no ash."
During combustion
The moment fuel and air ignite presents an opportunity to fine-tune the stoichiometry of the combustion process and the by-products of that reaction. With flue gas recirculation (FGR) a portion of the flue gas is sent back to the combustion chamber diluting the oxygen level of the combustion air, reducing the core flame temperature. The reduced temperature lowers the NOx level in the flue gases to below 20%. Cleaver-Brooks describes FGR as "the most effective and popular low NOx technology for firetube and watertube boilers. "
A fluidized bed recirculation (FBR) boiler burns crushed coal, wood or other low-grade fuels sitting on a sand bed within the boiler fireside. Combustion air is blown up through the bottom of the sand bed and mixes with the fuel on top of the sand where combustion occurs. This boiler design results in a fast mix of air and fuel and encourages rapid heat transfer. The burning environment gives a cleaner burn with reduced quantities of NOx and SO2 in the flue gases. SO2 emissions can be reduced further by introducing pulverized limestone into the combustion chamber. Sulfur in the flue gasses reacts with the limestone to form gypsum that, when separated from the fly ash, can be used to make other saleable products.
Post-Combustion
Coal ash leaving the combustion chamber can be captured and particulate pollutants removed before being released to the atmosphere.
One method for capturing fine particles like PM2.5 is to pass boiler flue gases through an electrostatic precipitator (ESP). With an ESP the flue gas flows across high-voltage wires that electrically charge fine particles suspended in the gas. The charged particles are attracted to a collection electrode, such as a series of metal pipes or plates, and accumulate on the electrode surface. ESP's remove more than 95% of PM2.5 particles from coal flue gas and more complex ESP systems have removal efficiencies approaching 99%. To maintain such high levels, the collection electrodes should be cleaned per the manufacturer's recommendations to minimize the thickness of fly ash buildup on the surface.
Cyclonic or cyclone fly ash separators (not to be confused with a cyclone furnace) are another method to remove fine particles from coal boiler flue gas. A cyclone separator works by blowing flue gasses against the interior wall of a cylindrical vessel. The gas enters the vessel near the top and circulates inside like a tornado. The centrifugal forces of the rotating flue gas push the fine particles to the outside of the "tornado." The particles hit the interior surface and fall to the bottom to be collected while clean flue gas exits the vessel at the top. Although the efficiency of a cyclone separator may reach 90%, they are rarely used alone to meet EPA standards for particulate discharge. Most cyclone separators are used in conjunction with other technology like an FBR boiler to achieve the desired particulate concentrations. The clean flue gas can be analyzed to provide insight into the overall efficiency of the boiler and heat transfer processes inside.
The EPA's 2018 report Our Clean Air summarizes things nicely, "The U.S. leads the world in having clean air and a strong economy due to implementation of the Clean Air Act and technological advancements from American innovators." The power industry, pollution control manufacturers, and the EPA have a strong record of working together to create reliable electrical power while reducing atmospheric contaminants and improving the quality of the air we .
Power plant maintenance involves not only cleaning the boilers and chimneys, but servicing the heat exchangers, chillers, and condensers throughout the facility. In fuel storage areas, vacuums and power tools need to have explosion-proof motors to protect people from the dangers of coal and wood dust. Goodway offers a variety of power plant maintenance technologies that are safe and easy for technicians to use in any area of the plant.
Armed with long rods and brushes, early boiler cleaners toiled for hours scraping off combustion debris from a boiler's fireside and scooping out waterside sediment exposed to all sorts of deadly ash and contaminants. Fortunately, for modern day technicians the days of long sticks and brushes are gone and new inventions keep soot and debris out of their lungs and off their faces. However, the basic problems of boiler soot and scale haven't gone away.
Read full blog post

»