Food Safety: FSMA Rules And How Dry Steam Can Help
Environmental pathogen and allergen control is a vital part of everyday safety and product quality management in food processing facilities. According to the CDC, about 48 million people in the U.S. (1 in 6) get sick, 128,000 are hospitalized, and 3,000 die each year from foodborne diseases. Most of these illnesses and deaths are preventable using technologies like dry steam. How do you ask? Proper cleaning and sanitation programs, including strong sanitation standard operating procedures (SSOP).
What are environmental pathogen and allergen control?
During food production, it is vital to control the type and volume of environmental pathogens in the environment. This is done by using cleaning and sanitizing techniques, like dry steam, that reduce pathogen loads to acceptable levels. The same exists within allergen control, although the levels of allergens remaining are much stricter and regulated by FDA guidelines. Check out the seven major rules for safety in the food supply chain below.
The FSMA and Food Safety: Why Does It Matter?
Since the FDA Food Safety Modernization Act (FSMA) was signed into law on Jan. 4, 2011, it has provided specific oversight and application of cleaning and sanitation methods that have delivered better public health protection by strengthening the food safety system. What makes this so significant? Everyone has to eat, and as trends in U.S. consumer behaviors move towards more processed or partially processed foods, production must evolve with it. Before the food even reaches the store shelf or table, it will have been through many different productions, processing, and packaging systems, all of which require specific cleaning and sanitation procedures.
The Seven Major Rules
Throughout many different points of the supply chain, the FSMA has seven major rules to ensure the safety of consumers:
DISCOVER RULE-FOLLOWING SOLUTIONS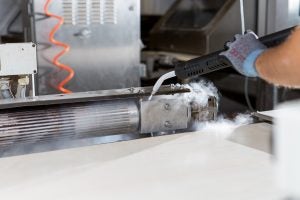 How Can Modern Dry Steam Cleaning Technologies Help You Achieve Optimal Safety?
Manufacturers and food producers are constantly looking for the latest technology to meet and exceed FSMA guidelines and requirements. One of the most innovative and disruptive technologies in the last decade introduces "dry" steam technology. Dry steam has been superheated to deliver the benefits of steam (removes oils, allergens, kills bacteria, etc.) but with only 5%-10% moisture content. It makes it ideal for cleaning production surfaces, especially in water-sensitive and "dry clean only" environments.
With dry vapor steam cleaning, you don't need to use chemicals to clean equipment. Additionally, it leaves equipment dry and ready for immediate use because of the cleaning method's low moisture content. Substances such as stubborn grease, oil, dirt, and other residues can be cleaned from all kinds of surfaces, even small holes, and crevices, with only water and without any need for chemicals.
  Dry vapor steam dissolves oils, fats, sugars, oils, and more without harsh scrubbing.
In food and beverage processing facilities, dry vapor steam cleaning is a great solution to dissolve grease, oils, or other types of residues on stoves, hoods, burners, vents, and even ceilings. Steam is excellent for cleaning small parts, tubes, switches, sensors, moving parts, or areas that can't be reached with wiping. Machines like our commercial vapor steam cleaner with vacuum make it easy to sanitize and clean at the same time.
  The steam process can sanitize machinery, conveyor belts, and packaging equipment while reducing changeover times, in some cases eliminating changeovers.
With dry vapor steam cleaning on conveyor belts, it's not necessary to dismantle parts or, in some cases, even to stop production. Steam delivers amazing labor-saving technology by decreasing sanitation time and increasing productivity with faster changeovers. Learn more about our fixed brushless belt cleaning solutions.
Bottom line? Steam is the solution you've been looking for to use in your cleaning and sanitation procedures.
NEXT STEPS:
See all our Food & Beverage Processing Cleaning & Sanitation Equipment
Book a FREE onsite demonstration
Read about How One Confectioner Saved Over $79K in Indirect Labor Costs with steam