Women In HVAC: The Journey Into The Trade
Did you know that just 1.7% of the HVACR industry workforce are women? 
Goodway Technologies and HVAC School are excited to talk with some of these women and highlight their work. A couple of things we're committed to developing more within the industry include, but are not limited to:
1. Communicating our support to women everywhere who want to join the trades
2. Finding practical ways to help increase the 1.7% of women working in the HVACR field
Today we're sharing the experiences of Roselynn Sharman from Lawrenceville, GA. so please take a glimpse below of her journey into HVAC:
Life looked bleak for Roselynn. She was out of a job and had made choices that in retrospect she would do oh so differently now.

What was next? What did her future hold? She felt stuck. She was bold enough to look at the troubles that were before her and realize that she was exactly where she was because of the choices that she had made along the way.
Consequences are a very real thing.
But it was time for a change. It was time to get gritty and do what needed to be done to make a fresh start. 
Without a job and without an active driver's license, Roselynn aka "Rosie" was desperate. She hopped on her bicycle and looked around town for businesses who were hiring and began filling out applications. She broadened her job choices to anywhere that was local and currently hiring, hoping that something would be the right fit and open a new window of opportunity. 
She knew how limited she was at this time; just the fact that wherever she worked would need to be commutable by bicycle was a challenge in and of itself.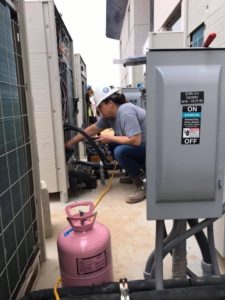 One day not long after placing her job applications, Rosie passed a building with a sign reading "J R  Hobbs Co." (a mechanical and air-conditioning contractor). The name rang a bell, she remembered she had gone to ZipRecruiter and filled out an application for a Warehouse Distribution Associate at this particular HVAC company online. While she hadn't gotten a response back via email, she thought to herself, "What if going in-person and being straightforward and upfront about her current situation would lend itself a more positive outcome?"

Rosie realized she had nothing to lose by being courageous and making an in-person move. 

"Do what makes you uncomfortable, do what you're scared to do. You just might surprise yourself."- Roselynn Sharman

She decided to face her fears and try once more at J R Hobbs Co. She walked into the front office, introduced herself and talked with the lady in HR, and lo and behold she found herself having an in-person interview just moments later. 
The tables turned in Rosie's favor.
J R Hobbs Co. in Lawrenceville, GA  hired Rosie as a Distribution Associate in their warehouse. Rosie took this opportunity seriously. She dug her heels in and worked as hard and smart as she could. She learned about all the different parts of the warehouse. Fellow employees took the time to explain with her how the parts worked in the field.

After 6 months' time, Rosie proved that she wanted to learn. That she could work hard. That she was in this for the long haul.

Rosie got her driver's license back and not long afterward was asked if she would want to move on and get more training in the field. She would have the opportunity to learn about VRV systems and how to install, maintain and troubleshoot them.
While this made Rosie feel good, it also felt overwhelming and outside of her field of expertise.

If we step back in time a little bit here, we will see that Rosie had very little personal experience in anything mechanical or trades oriented.

In fact, Rosie had been a successful Cosmetologist for 18 years. Not exactly in the same genre of fields as the HVACR Trade.

She remembers being around her dad who owned an auto parts store in Tallahassee, Florida when she was a child. Her mom was often found working on projects and remodeling their home. Even her brothers had some experience in construction and trade-related jobs, but she had never put forth interest as a child into any of these categories.

But as she was working in the warehouse at J R Hobbs Co. and forming friendships with other employees in the field, she was beginning to realize that HVAC work was interesting indeed, and it might very well be a viable and rewarding career for her.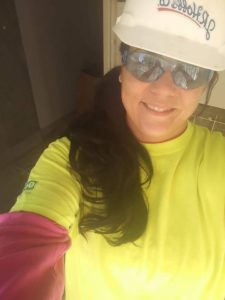 When given the idea to start working in the field as a tech, Rosie declined; she had grown in confidence in her warehouse position and she felt limited and insecure by the fact that she had zero tools on hand to even start in the field, so using that as an excuse she waved off the new position dismissively.

Shortly after this conversation, her boss asked her to come to his office. She walked through the door and upon entering saw that an entire set of new hand tools was lying on the table.

As if to say: We believe in you. We want good things for you. Join us.

Along with the support of her significant other and the company, Rosie accepted her new position with anticipation and began more in-depth training on VRV systems.

Life had taken some unexpected turns and Rosie was unduly grateful and once again committed to working and learning in this new trade. Rosie has now been in HVAC for over 4 years and is currently VRV Foreman/Superintendent at J R Hobbs Co. who serves the Atlanta area market as well as the Southeastern United States area for VRV systems.

We hear so often in the trades that one of the most rewarding aspects of HVACR is the diversity in the work itself as well as the non-stop requirement to be a problem solver. Rosie also adds to that by saying how rewarding it is to get on a job site and see things get completed from start to finish while working with exactly what you have on hand, sometimes having to be creative and build problem-solving techniques with each new project. 
"I love being a part of the entire installation process on a large project and afterward, driving past an apartment complex knowing I was in every single one of the 400+ apartments at one point or another servicing the equipment."
When asked if she would do anything differently in her career path, Rosie simply wishes she had started HVAC earlier in life. While it's possible to learn new things at any time, she says it has been a bit challenging to begin a whole new set of skills in her late 30's. Having said that, Rosie looks forward to being a part of the continued learning and training/managing of the many VRV projects that come to fruition with J R Hobbs Co.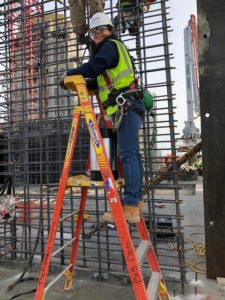 Goodway Technologies and HVAC School are committed to helping create and share more of these success stories. The HVACR trade is building in both strength and diversity and we want to be a part of the future growth for both men and women who choose HVACR. We believe that when individuals and companies join forces and support one another, great things will happen.
Written and compiled by:
Leilani Orr
HVAC School Contributor/Editor
www.hvacrschool.com