Legionnaires Mandatory Testing: Is Your State Next?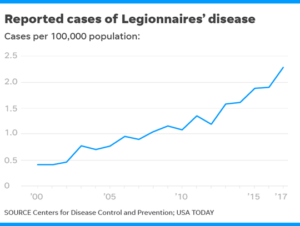 Legionnaires disease is atypical pneumonia caused by a specific type of bacteria infecting the lungs. According to the CDC, each year, between 8,000 and 18,000 people are hospitalized with Legionnaires disease in the United States. [i] These cases are primarily from occupants of buildings with complex central air conditioning systems such as office buildings, hotels, and hospitals who breathe in aerosolized water containing the Legionella bacteria.
Signs of Legionnaires disease can remain hidden until they infect building occupants, and it is ultimately the responsibility of the building owner and management to protect occupants from infection. Some states across the country have adopted laws and regulations enforcing mandatory testing on buildings for signs of Legionnaires disease. In response to these regulations, and the general responsibility that building owners owe to their occupants, Legionnaires disease can best be prevented by creating and enforcing highly detailed and systematic water safety plans for buildings.
Where to Target Legionnaires Disease
The Legionella bacteria thrive in aquatic systems under particular conditions. Cooling towers used in industrial cooling systems, evaporative coolers, and hot water systems are the most important – and most obvious – location for a maintenance plan to target.
Cooling towers are often part of central air-cooling systems for large buildings that spread recycled and fresh air throughout the structure. Cooling towers have been found to cause almost half of the recorded outbreaks and the most outbreaks explicitly associated with the Legionnaires disease. If left unchecked, cooling towers can become a deadly health hazard when they support vital domestic and industrial water systems, heating, ventilation, and air condition systems.
How To Prevent Legionnaires Disease in Your Cooling Towers
The best method for preventing Legionnaire bacteria contamination in cooling towers is an aggressive cleaning plan paired with training, monitoring, and testing periodically throughout the year. OSHA suggests that Cooling towers should be cleaned and disinfected at least twice a year; before the initial start-up of the cooling season and after shut-down in the fall.[ii] Systems with heavy biofouling or high Legionella bacteria levels may require additional cleaning (see the Outbreak Response page for more information).
When system components and especially cooling towers go out of service for a period of time, it is critical for maintenance staff to seize the opportunity to clean the component or tower thoroughly. When new equipment is installed, it is vitally important that the new systems are cleaned and disinfected. Construction material residue can contribute to Legionella bacteria growth in new systems and equipment.
When cleaning cooling towers, it is critical that maintenance personnel follow specific steps and procedures to ensure the safe removal of bacteria-laden material, and possible disinfection of the surrounding surfaces. The two most vital safety steps to complete at the very beginning of the process are to shut off the cooling tower and to provide the proper protective equipment to the workers who are performing the cleaning. Once the cooling tower is off and maintenance workers are properly outfitted, the maintenance crew should start with the manual removal of mud, silt, and debris from the cooling tower basin. The Goodway CTV-1501 TowerVac® is a popular choice for industry professionals. Once the debris has been removed, any visible limescale deposits should be removed from the cooling tower fill using an acidic gel compound and spraying system. Finally, the disinfection of all exposed hard non-porous surfaces can be completed.
States Leading the Example
New York is leading the way in the regulation and fights against the prevalence of Legionnaires bacteria. According to the New York law, any building owner with a cooling tower is required to register their tower. All cooling towers on the New York State Cooling Tower Registry must be maintained and update registries every 90 days if the tower is operational.[iii]
Florida has made steps to follow New York along the path to policy, preventing the spread of Legionnaires disease. Florida Senator Joe Gruters, R- Sarasota introduced SB 1190, which is intended to protect the public from Legionnaires disease contracted from cooling towers by requiring owners to regularly clean, maintain, treat, sample, and report results. If a cooling tower contains Legionella growth, it must be reported to the health department, possibly requiring a public notification.
The decision of these two states to have mandatory testing for Legionnaire bacteria indirectly mandates the need for businesses to have comprehensive maintenance and prevention plans. Though these laws at first glance may seem to be added trouble for businesses, by regulating compliance, they are protecting business owners from severe outbreaks from occurring. Any severe outbreak that happened would be significantly more financially detrimental to property owners than the cost of running a maintenance plan.
Solutions for Targeting Legionella Build Up
Reducing and preventing Legionnaire disease requires strict adherence to a maintenance plan. Numerous companies and building owners have already developed the right policies and procedures, but it is essential for those remaining to improve. Goodway has multiple tools and equipment that can help you establish and maintain a maintenance plan. Some of the tools that Goodway offers include a BioSpray Tower cooling disinfectant, the CTV-1501 Cooling Tower Vacuum, installing the cooling tower water fill station, utilizing the cooling tower filter system, and the cooling tower fill cleaner.
[i] Legionellosis – United States, 2000—2009. Morbidity and Mortality Weekly Report, 60(32), 1083-1086 (2011).
[ii] https://www.osha.gov/dts/osta/otm/otm_iii/otm_iii_7.html
[iii] https://www.health.ny.gov/environmental/water/drinking/legionella/cooling_towers.htm
Next Steps:
Watch our webinar on Cooling Towers.
Read more on Quick and Easy Removal of Cooling Tower Fill Deposits.
Discover all Goodway's Cooling Tower Cleaning Products.
Problems with Scale, General Fouling, and Bacteria in your Cooling Towers? Get Tips & Tricks.