Keeping Your University Safe From COVID-19
Preventing the Spread
University health and administration officials have a responsibility to their students, faculty, and staff to prepare and protect them against the COVID-19 outbreak in the United States. One of the most important steps that a University can take amidst the COVID-19 outbreak or any future outbreaks, is to prepare both formal University policies and practices as well as prepare the University population. Preparation builds resiliency in the wake of the COVID-19 outbreak and is the best prevention method for preventing the spread of the virus amongst students, staff, and faculty.
The COVID-19 virus, formerly identified as 2019-nCoV, was identified as a novel coronavirus not previously seen by public health officials. Despite the commonality of coronaviruses throughout the world and its tendency to cause mild to moderate illness, the World Health Organization has declared the outbreak of COVID-19 as a public health emergency and international concern.[1]
How does the virus spread?
The Covid-19 virus is spread primarily from person-to-person and travels through respiratory droplets that are produced from the mouth or nose when a person coughs or sneezes. The dwell time of these infected respiratory molecules is short, but when they reach the mouth, nose, or eyes of another person they commonly transmit the virus.
Not all viruses spread as quickly as easily as others, for example, the Measles is a virus that spreads extremely easily. The virus that causes COVID-19 is currently able to spread easily and consistently throughout the community, in a spreading method called community spread. Community spread means that people are often infected by the virus seemingly just because they are in an area where another person is infected by the virus.[2]
Community spread often results in people getting infected by the virus without being completely sure how or why they were infected. The ability of the COVID-19 virus to spread through community spread makes the virus a significant risk to people when they are carrying on about their everyday lives and moving between different crowded areas and groups. Universities are particularly at risk of community spread due to the classroom and lecture hall nature of the community of students and faculty.
Who to pay attention to?
The Integrating the Healthcare Enterprise International (IHE) is a global health care initiative lead by healthcare professionals and provides guidance on improving the information sharing of healthcare systems.
IHE, working together with local health departments, has an important role in slowing the spread of diseases like the COVID-19 virus. IHE's efforts will help ensure students, staff, and faculty have safe and healthy environments in which to learn and work. These efforts and communications from IHE are important for University Health and Administration officials to reference and pay attention to when deciding how to react to a global health crisis like the COVID-19 outbreak.
Plan and Prepare: Take steps now to help stop or slow the spread of respiratory infectious diseases, including COVID-19
As the COVID-19 outbreak spreads across the United States, it is important for Universities to plan, prepare, and take preventative action now to reduce the potential for spread across the community.
The following are five steps that a University can take now to both prepare their community for the outbreak and even to slow or stop its spreading.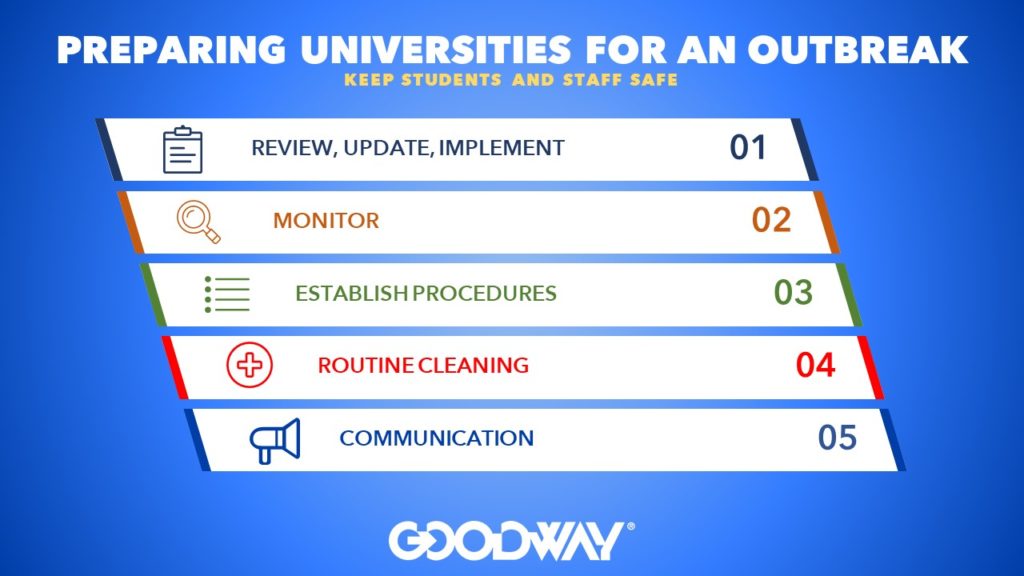 Step 1: Review, update and implement emergency operations plans (EOPs). Emergency operations plans are the standardized fallbacks and drills that Universities plan to enact in the occurrence of significant risk to the University or its personnel. These emergency operations plans can be either a strict policy or a flexible emergency template for a University to use to react. Ether way, EOPs are an essential, emergency fall back that should be verified and even enacted in the face of growing COVID-19 virus risk
Step 2: Monitor and plan for the absenteeism of staff and students. Infected personnel showing up at work or class is the quickest and most likely way for the COVID-19 virus to spread amongst a population. Universities need to both monitor and prepare plans of action for personnel who exhibit any flu-like symptoms at a minimum self-quarantine. Be prepared to evacuate the staff and students. Set up previsions for online learning.
Step 3: Establish procedures for students, staff, and faculty who are sick (with any illness) on campus. Procedures for students and staff will be different, and essential personnel should be identified, but in the case of any person experiencing flu-like symptoms, there needs to be a method to get them into self-isolation or quarantine.
Step 4: Perform routine environmental cleaning. Environmental cleaning measures should already be in place at the university and in response to the COVID-19 outbreak, it may be necessary to increase the frequency and intensity of the maintenance and cleaning plan.
Step 5: Create plans to communicate accurate and timely information to the IHE community. Information and the honest reporting of health statistics is the key to fighting the spreading of the virus and to keeping experts informed. University health officials should reach out to organizations like the IHE and establish a line of communication before the COVID-19 outbreak reach their communities.
[1] https://www.ecolab.com/pages/coronavirus
[2] https://www.cdc.gov/coronavirus/2019-ncov/about/transmission.html