Women In HVAC: Q & A With Liz Sandwith RSE
on July 16, 2019 (last updated:
March 10, 2020
) in
HVAC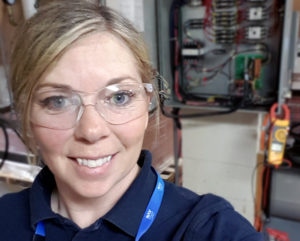 We asked Red Seal Journeywoman Liz Sandwith of Black & McDonald to answer 4 quick questions about her experience working in the HVAC industry. Read on to learn the universal reasons why she loves the world of HVAC and to get her unique perspective as a woman working in this industry.
1.  How long have you worked in HVAC?
I made a career change in 2014 and went to school in 2014/2015. I started my apprenticeship in June 2015 and completed it in February 2019 and am a Red Seal Journeywoman (the very first and currently only one so far in my province for Refrigeration/Air Conditioning Technician). I have worked in Commercial/Industrial HVAC for the same company since 2015.
2. Why do you love what you do?
I love the sense of accomplishment when I repair something!! I love being up on roofs and seeing views that only a very few people get to see. I love being an example to my sons of what a woman can accomplish when she puts her mind to something and breaking stigmas. I also love the financial freedom that this trade gives me. Pay equity is important (I work for a National Unionized company).
3.  As we talked about in our post Women in HVAC women are severely underrepresented in the HVAC industry. Do you have any advice for women thinking about getting into the field?
If at all possible see if you can shadow someone for a little while as a helper to make sure you want to commit to training. It's not an easy job, lots of stress and responsibility, you work in all kinds of weather and are on call at times. Shadowing really made me understand how hard the job is and also how rewarding it can be and just to make sure heights/ladders and things like that don't bother you. Then don't let anyone stand in your way. Women are different than men, yes, but we are strong and capable!!
4. Did you have any woman mentors in the field?
No, I didn't have any women mentors but there are lots of ladies killing it on social media and more and more groups supporting women in trades in many cities. Most women in trades are willing to mentor and help out other women. I have been very fortunate to have many contacts in the HVAC world in my city and have worked alongside lots of men that are very supportive and have been my mentors.
To see some of Liz's work follow her on Instagram @lizsandwith.