Boiler Cleaning, a Routine but Crucial Part of Facility Management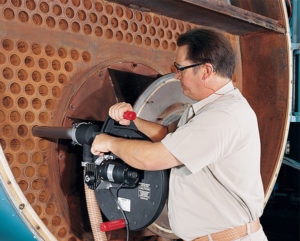 Boilers are built for a very specific reason: to provide heated water or steam using the least amount of energy, for the lowest cost, with little to no downtime. The facility manager's job is simple and summed up in Cleaver-Brooks' boiler efficiency guide; "Routine inspections and preventative maintenance will pay for themselves in keeping boiler efficiency up and fuel costs down." Unfortunately, maintenance staff sometimes take boilers for granted and forget that, just like any piece of HVAC equipment, a boiler needs maintenance, cleaning, and tuning. Without regular service, boiler performance diminishes and breakdowns become more frequent.
As scale accumulates on the boiler's waterside from lack of cleaning, heat transfer through the tubes is limited. resulting in temperature spikes within the tube walls that lead to metal fatigue and tube damage. According to the Case Studies for Engineering Failure Analysis' study on boiler tube failure in power plants, "[t]emperature shoot up above specification is the most common reason of failure for boiler tubes. The reason is either scale formation on internal and/or external surfaces under prolonged exposure at elevated temperature or non-uniform steam flow through partially blocked tubes. Internal scale formation reduces heat transfer rate across tube wall. "
Before the tubes fail, boiler performance will gradually deteriorate, sometimes for years, wasting thousands of dollars in extra fuel as the boiler runs longer to produce needed heat. Johnston Boiler Company has an excellent chart showing the extra boiler fuel costs with each fractional inch of scale buildup. Just a 1/32" layer of scale means an additional 8.5% increase in fuel burned by the boiler. Using Goodway Technologies boiler efficiency calculator, facility managers can calculate how much the built-up scale costs their company each year in extra fuel and lost efficiency. Looking at a 200 HP boiler using No. 2 oil, if the boiler runs 8,000 hours per year with a medium level of calcium scale, the boiler loses 5% of its efficiency costing a whopping $69,091 in additional energy per year! The money saved from descaling the boiler could pay for another maintenance engineer.
Luckily, descaling a boiler costs only a fraction of what the building loses in fuel and efficiency. The patented GDS-15-PH scale removal system with pH analyzer makes descaling easy and efficient. The GDS-15-PH's fifteen-foot circulation hoses connect easily to boilers and the integrated pump draws descaling chemicals directly from the onboard storage container. There is no need for the operator to stand by, continuously check the pH, or to monitor the descaling progress. Once the unit is turned on, the technician can leave to do other work. The GDS-15-PH's onboard computer analyzes the return pH and injects additional chemicals as needed. When the cleaning is finished, the neutralized waste water can be safely poured down the drain in most cases, but check your municipality rules first.
Soot laden boilers have even more dangerous consequences than just poor operation. Bryan Boilers Installation and Operating Service Manual for their forced draft steam boilers cautions "[i]f either soot or condensation is apparent [in the combustion tubes], a boiler service technician should be consulted. The presence of soot indicates poor combustion and possibly hazardous boiler operation. Failure to do so may result in fire, explosion potential, or asphyxiation. A combustion test and burner adjustments should be undertaken at once."
An article by The National Board of Boiler and Pressure Vessel Inspectors provides several examples of how accumulated soot from inadequate combustion air caused carbon monoxide poisoning in maintenance staff. Soot accumulation inside your boiler is a serious issue, but is mitigated with proper tuning and preventative maintenance including cleaning the tubes. When boiler fire tubes are severely fouled, technicians need a cleaning system that allows for removing soot and scale without loose ash escaping into the room and covering everything including the workers. One of the easiest ways to get boiler tubes clean is with Goodway's RAM-4X-KIT Heavy-Duty Turbine Firetube Boiler Cleaning System. The RAM-4X-KIT includes the RAM-4X machine with a powerful 1HP motor that rotates a flexible shaft tipped with a cleaning tool. The flexible shaft is fed down the boiler tube scraping away combustion contaminants as it travels. The cleaning kit includes an integrated vacuum that draws out loose debris so soot is contained within the system instead of blowing into the mechanical room. The RAM-4X and GCT-540 Soot Vacuum are wheel mounted to make it easy to move between boilers, reducing setup time and giving more time for maintenance personnel to clean and move on to other tasks.
Neglecting your facility's boiler can mean higher fuel usage/cost, greater wear and tear on the equipment, and a possible health and safety risk to technicians in the mechanical room. The cost of annual descaling and tube cleaning is small compared to the price of a major boiler repair or the inconvenience to tenants when they don't have heat. Goodway offers total cleaning solutions for any size or type of boiler to keep your buildings warm and running efficiently.
Next Steps