Women in HVAC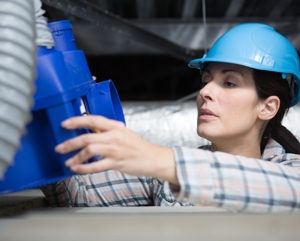 The U.S. economy added 263,000 new jobs in April 2019 bringing unemployment down to 3.6%, its lowest level since 1969. The unemployment rate for women was even lower at 3.4%, down more than half since 2010. Part of the growing economy is the HVAC industry, one of the strongest sectors in the U.S. market.
According to industry newsletter theNews, HVAC mechanic and installer jobs are expected to grow 15 percent through 2026, much faster than the average for all occupations. With much of the current workforce to retire in the next ten years, this means good paying, open positions are available to those with the right qualifications. Companies unable to fill positions will often increase wages to attract skilled candidates rather than leave jobs vacant for long period of time. Economist Gad Levanon, speaking on the shortage of blue collar workers and the rising wages, tells Forbes Magazine that, "Compared to a few years ago, blue-collar workers are now much more likely to have a job they are satisfied with and experience rapid wage growth."
But even with rising wages and plentiful jobs, less than 2% of all HVAC technicians are women. Overcoming the stereotype that the HVAC industry is just for men may be the toughest challenge in reaching this untapped demographic group. Women in the HVAC industry report high levels of job satisfaction and stability as well as almost unlimited opportunities for overtime along with the fulfillment of helping customers solve problems.
Susan Kirkland, president, Packard Inc. speaking to theNews about the opportunities for women in the heating and cooling field said, "If women just realized the opportunities available here, they can absolutely help solve the problem [of labor shortages]." "Right now, we have an aging industry. We need to do more to recruit young talent, and I think women, especially today, are looking for strong career opportunities." "Once you're in, you never leave because it is such a welcoming industry," she said. "The opportunities are just endless here."
Leading the effort to attract women to the HVAC industry are two influential organizations: Women in HVACR and Women of HVAC. Women in HVACR has regional chapters, national meetings, and sponsors mentorship and educational programs for women already in or considering careers in the HVAC industry. The Women of HVAC offers support and guidance for women looking to HVAC as a career. Their website features video success stories and links to help aspiring female technicians find HVAC schools and jobs in their area.
"It's a very rewarding career and you can take it anywhere," said Deni Jackson of McMurray Cooling and Heating sharing her experience on The Women of HVAC website. In the video testimonial by Sandra Garza, Owner of SG Heating and Cooling Services, she tells her story of starting in the refrigeration service business and overcoming customer doubts about a woman in the industry. "More women should be in the HVAC field because it's not a man's field. It's a field. It's a great field." Sandra says this with the confidence and satisfaction that comes from working hard and rising from entry-level technician to business owner.
Major equipment manufacturers and industry groups see the benefits of having women enter the HVAC workforce as well. SMACNA, a sheet metal trade organization with chapters throughout the world, established the Women in Construction Leadership Council. The Council's mission is to "inspire women at all levels to make greater contributions and achieve leadership roles through recruitment, mentorship, education, and recognition to strengthen the sheet metal and mechanical industry."
Lennox dealers in Wisconsin created Women in Lennox Leadership with a goal to provide "a network of support for professional and personal development in the HVAC industry" and to "serve as a guide to help foster integrity and leadership for women within the workplace and within their family."
The industry offers an amazing diversity of careers in addition to equipment installers and service technicians, women make up a growing number of duct installers and pipefitters responsible for mechanical systems in some of the country's largest building projects. One person who can take credit for increasing the role of women in the construction trades is Leah Rambo, Director of Training for SMART Local 28 in New York City. Rambo's career as a sheet metal worker started in 1988 and after ten years working in the field, she was appointed as a full-time instructor for Local 28. Rambo continued to excel and in 2011, was chosen as the Director of Training, the first woman to hold the position. She inherited an apprenticeship program with only 3% female membership, but under her leadership, that number has climbed to 13% introducing a whole new group of women to sheet metal work.
A booming economy, a dynamic industry, and companies actively seeking to bring women to work mean the opportunities for women in HVAC have never been better. Heating installations, cooling repair, pipefitting, sheet metal, and the whole variety of jobs associated with keeping buildings comfortable are plentiful for women looking for interesting and long-term careers. As the number of women in the field grows so does the number of mentors and leaders ready to take enthusiastic women and make them the next leaders of the HVAC industry.
Next Steps