Casino Maintenance: From Surface Sanitation to the HVAC System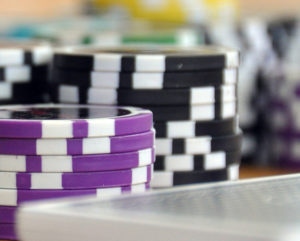 Each year more than 50 million people visit casinos in the United States and play some of the 1 million slot and video game machines across the country. But each time they pull the handle, they're wagering more than just their money; they're wagering their health, too. Thousands of casino visitors come to play every day despite being sick with a cold or the flu. When sick people push a video poker button or pick up the dice, their germs are left behind and transmitted to the next player who might get sick.
Harrah's Cherokee Casino in North Carolina was hit with two viral outbreaks including a norovirus that left more than 250 people ill. Norovirus, sometimes called stomach flu, is a highly contagious virus that causes vomiting and diarrhea in people of all ages. Norovirus spreads by person-to-person contact, contact with stool or vomit of an ill person, or by touching objects that have been in contact with an ill person. Norovirus outbreaks spread quickly and last for weeks.
These outbreaks could have prevented if the casinos had more robust cleaning and disinfecting programs. With a no-rinse surface sanitizer like Goodway's BioSpray® D2 along with the powerful atomizing machine BioSpray®-10 Surface Sanitation System, virtually any hard surface in the casino can be sanitized. Door handles, buffet spoons or casino chips can all be sprayed and made safe for customers. BioSpray® D2 can even be used in the coffee shops, kitchens and restaurants to sanitize food contact surfaces.
The touchable surfaces in the casino can also be contaminated by what is deep inside the casino's HVAC system. Dirty coils, slimy drain pans, and wet ductwork collect dust and mold that get blown down the ductwork and into the occupied space. Mold spores from the HVAC system can regenerate anywhere in the casino triggering coughing and respiratory infections.
The HVAC systems for larger casinos likely include multiple chillers, heat exchangers, and cooling towers. Since most casinos operate 24/7, the HVAC equipment works harder than typical commercial equipment necessitating an even more thorough maintenance program to not only work efficiently but provide air that is comfortable and safe for customers. Large amounts of outside air mixed with smoke, dust, or other indoor contaminants encourage mold and bacteria growth within the system. Moldy and germ-laden HVAC equipment makes occupants sick and drives customers away to other, more comfortable casinos.
Let's focus on how HVAC maintenance in even one part of the system can have a big impact. For example, cleaning the condenser coils is necessary for proper operation of the heat rejection side of the HVAC system and clean evaporator coils are needed to keep inside air fresh and flowing freely. Using Goodway's CoilPro®, High Flow Coil Cleaning System combined with the high powered CoilVac® vacuum, staff can perform all of the necessary coil maintenance tasks with one, portable machine. Large pieces of debris can be vacuumed off the coil or out of the drain pan with CoilVac®. The CoilPro® system loaded with a biodegradable cleaner like CoilShine® washes away biofilms, slime, smoke residue, and caked on dust on even the thickest and most neglected coils. The result is a clean and efficient evaporator coil that cools air without contributing to customer illness, in addition to saving on energy costs and equipment lifespan.
Maintenance teams should have the proper tools to limit equipment downtime and keep customers on the gaming floor. The right tools, especially for maintaining critical equipment protects casino employees and customers from illnesses and protects managers and owners from potential litigation. Goodway's line of chiller and boiler tube cleaning systems and coil cleaning systems lets facility managers team with one company to provide cleaning systems throughout their buildings.
Thousands of people pass though casinos each day, some bring their germs to share with others and some customers get sick from improperly maintained HVAC equipment. Don't gamble with your customer's health. Contact Goodway Technologies to find out how we can help keep your entire casino clean, fresh, and functioning efficiently.
Next Steps