Surface Sanitation in Restaurants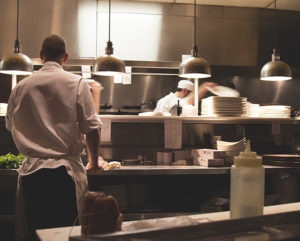 A group of people want to know what it's like to dine in your restaurant. They're looking online at your reviews. They may even send an email or call some of your customers, but they're not hoping to enjoy a meal at your establishment. They want to know how bad things were and they're specifically interested if any diners got sick from an upset stomach. These people are personal injury and food poisoning attorneys and their goal is to find clients who have fallen ill after exposure from unclean restaurants, cafeterias, and kitchens. Class-action lawsuits against restaurants that had norovirus outbreaks are not uncommon. For the victims, settlements can be substantial. For owners, the court rulings can be devastating financially as well as for the business' reputation.
Norovirus is spread when fecal germs pass from a contaminated surface and enter a person's body usually through the mouth. The CDC describes norovirus as "a very contagious virus that causes vomiting and diarrhea." "You can get norovirus from having direct contact with an infected person, consuming contaminated food or water and touching contaminated surfaces and then putting your unwashed hands in your mouth."
More than eighty percent of norovirus outbreaks can be traced to restaurants, cafeterias and banquet facilities putting restaurants owners and kitchen cleaners front and center in the fight to stop norovirus outbreaks. Fortunately, when proper food handling and cleaning procedures are in place, norovirus can be killed and outbreaks prevented.
Regular sanitizing procedures must be in place to kill the viruses and bacteria deposited on hard surfaces around the kitchen or restaurant and avoid the illnesses that hurt customers and put restauranteurs at risk. The U.S. Department of Health and Human Services recommends to "[c]lean and disinfect food preparation equipment and surfaces." For large kitchens or food processing facilities disinfecting the preparation areas by hand is likely too time consuming and if done hastily reduces the effectiveness of the disinfection. A commercial sanitation system like the Goodway BioSpray®-10 can save up to 50% on application time vs wipes or pumps, reducing the time it takes to disinfect the kitchen and food processing areas. The sanitation system uses a CO2 canister to propel the disinfectant onto hard surfaces so there is no need to plug the BioSpray-10 into an electrical outlet. The cleaner is portable and can be easily rolled around the kitchen, seating area, hand washing locations, toilets, etc… Anywhere norovirus or any other germs are lurking, the BioSpray-10 can get there.
Norovirus outbreaks in restaurants reported on the news usually describe an immediate closure and sanitation of the entire restaurant. Sanitizing is clearly the way to clean up from a norovirus outbreak and to prevent continued transmission. But it begs the question, could the illnesses, and possibly the resulting lawsuit, have been avoided had the proper sanitizing procedures been in place? Ironically, a law firm with "considerable experience in the area of food safety litigation" answers the question. Their website states that "[r]estaurants and other food service locations should routinely sanitize all food prep counters, utensils, cooking equipment and environmental surfaces with a…solution approved by the EPA."  Biospray-D2 is an EPA registered, hospital-grade disinfectant that kills a multitude of viruses and bacteria including Norovirus, Influenza, Staphylococcus Aureus, Escherichia Coli and Salmonella Typhimurium. There is no need to premix Biospray-D2; it's ready to use in the Biospray-10 cleaning system right out of the bottle. Biospray-D2 can be safely applied to food contact surfaces in restaurants, cafeterias, and beverage production facilities. Viruses and germs on hard surfaces are killed seconds after application (kills 99.9% of bacteria on non-food contact surfaces in 10 seconds and kills 99.999% of bacteria on food contact surfaces in 60 seconds). There is no need to rinse the product.
Kitchens and food prep areas are not the only places in restaurants that harbor bacteria and viruses making customers ill. A Today Show article listing the germiest places in a restaurant notes that tables, chairs, and menus all carry harmful bacteria. But each of these "germy" items, as well as other areas in the building like bathrooms and waiting areas, can be disinfected with the Biospray-10 system. When food service or production has stopped, staff can quickly disinfect the entire facility including utensils, glasses, menus, tables, chairs, toilets, etc… so the next group of customers is protected from germs brought in earlier.
The food service business is fraught with challenges including how to approach proper cleaning and sanitation, both on food contract surfaces and non-food contact surfaces. Proper procedures can help kill germs before they make people sick and prevent the transmission of bacteria and stomach flu. Portable and easy to use surface sanitation systems with powerful disinfecting sprays from Goodway make the fight against illness winnable, reducing the risk of widespread sickness, litigation and reputation damage.
Next Steps