Special Considerations for Cleaning HVAC Equipment on Rooftops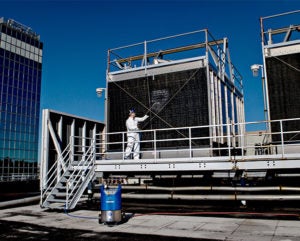 When architects and engineers design a new building, the location of mechanical equipment is always an important consideration. In most cases, HVAC system components like ductwork and piping are installed so building occupants cannot see them. Ductwork is run above the ceiling, piping in chases, and equipment is usually installed on the roof out of sight and out of mind. Out of sight, is good for aesthetics, but for the technicians that have to keep roof mounted HVAC equipment maintained, out of mind can make their work harder.
Servicing roof-mounted equipment is more dangerous than servicing equipment at ground level because there is always the risk of dropping tools from the roof or falling off the building. Even with fall protection and railings, accidents do happen during HVAC maintenance.
In addition, serving roof-mounted units often means longer set up and clean up. As such, technicians need access to light and compact maintenance equipment. When the tools and machines used for service are small and light, setup time is minimized and more time is spent maintaining equipment not dragging things on and off the roof. Once the maintenance equipment is in place on the roof, staff have to be careful not to trip over hoses and power cords that could have deadly consequences.
As with every piece of air conditioning equipment, the condensers installed on roofs and rooftop package units have preventative maintenance tasks required to keep them functioning correctly. For condenser and evaporator coil cleaning, Goodway Technologies makes the job easy with their CC-100 Backpack CoilPro®. Weighing only 25 pounds dry, technicians can slip on the backpack and navigate up to hard to reach HVAC equipment. If you need to fill the water reservoir before going up the ladder, even with 2 ½ gallons of water and 1 ½ quarts of coil cleaner the CoilPro is still only 50 pounds. The machine uses a 12V rechargeable battery and an integral water and chemical tank so there are no power cords or water hoses to trip on making this a truly portable and safe cleaning system. Add CoilShine® Coil Cleaning solution in the chemical hopper and coils get cleaner than ever before. Maintenance staff can walk from rooftop unit to heat pump to freezer coil, cleaning as they go without needing to relocate a heavy cleaning machine or stumbling on their tools.
The HVAC systems for larger buildings may include roof-mounted cooling towers. Fully exposed to the elements including bad weather, blowing debris, exhaust fans' discharge, and leaves, cooling towers need frequent service to keep the entire water-cooled system working properly. The dangers of working on a roof are amplified when the equipment requires more than just a spray down of the coils. Cooling tower maintenance is a multi-step procedure that includes descaling, cleaning, and disinfecting the tower interior. These three different maintenance processes potentially need three different sets of tools and equipment. For staff, the time spent mobilizing and demobilizing all of the tools, power washers, and sprayers eats into their service time and with each trip up the ladder, there is the risk of injury. Fortunately, Goodway developed a system that combines descaling, cleaning and, sanitizing in one machine.
With a good balance of power and portability, the Goodway TFC-200 Cleaning System lets technicians perform major cooling tower service cleaning tasks with one machine! The TFC-200 is mounted on wheels for maximum portability and has a footprint of only twenty-seven square inches, making it easy for technicians to work while reducing the risk of stumbling as they negotiate roof edges.
With one compact machine, technicians can descale, clean, and disinfect cooling towers without moving or changing equipment, making roof-mounted cooling tower cleaning safer than ever before. ScaleBreak®-Gel descaler can be used on the fill dissolving very hard and efficiency-robbing scale on contact. TowerShine™ foaming fill cleaner can cut through remaining dirt on the fill. Technicians can use the thirty-six inch extension wands to reach even the deepest corners of very large cooling towers. Goodway's EPA registered disinfectant, BioSpray®-Tower will kill 99.9% of harmful bacteria like Legionella when used as directed on cooling tower hard non-porous surfaces.
HVAC equipment installed on rooftops faces the worst of the outdoor conditions and can be forgotten by building owners. When it's time to perform maintenance on this equipment, technicians encounter the risk of dangers that come from dropping a tool or an injury from a fall. Goodway's line of compact, portable, and powerful cleaning systems makes mobilizing cleaning equipment on a roof easier, so at the end of the day your systems are clean and your service staff get the job done safely.
Next Steps