Surface Sanitation in Hospitality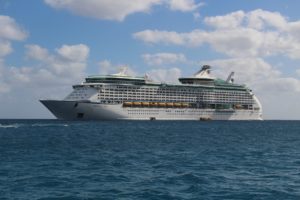 According to Guinness  World Records, The First World Hotel in in Genting Highlands, Malaysia holds the record for the hotel with the most rooms at 7,351. In addition to having a head-spinning number of guest rooms, the hotel also boasts multiple restaurants, shopping, a fitness center, and even its own rail stop. While most resorts are smaller than The First World Hotel, many resorts, cruise ships and hotels do have spaces with various uses under one roof, making cleaning more difficult than a single use facility. Large facilities require multiple teams to clean not only the guest rooms, but any number of gyms and locker rooms, kid's play areas, kitchens and restaurants, snack bars, and spas. Each area has its own cleaning needs from wiping up a spilled drink by the pool, sanitizing children toys in the play area, or making sure the buffet and salad bar don't harbor bacteria.
A fascinating research paper published by Food and Environmental Virology entitled "Use of Hygiene Protocols to Control the Spread of Viruses in a Hotel" documented the spread of viruses between hotel guests, sleeping rooms, and the hotel conference center during a four day experiment. Guests stayed in a small family-style bungalow, called a casita, consisting of four bedrooms each with its own bathroom, a common kitchen, and a living room. The conference center was located on the hotel property and guests attended workshops during the experiment. Cold-like viruses were swabbed onto doors knobs in two of the bedroom/bathroom suites and one door handle and a faucet in the conference center. Guests were told to behave as they normally would and housekeeping staff were instructed to clean the rooms and conference facilities as usual.
After two days the cold viruses swabbed on door handles and the faucet were "detected on fomites (touchable surfaces) throughout the guest rooms, communal areas, and conference center, demonstrating the rapid spread of viruses." It was observed that the sample virus "was transferred from the contaminated hotel room to other hotel rooms within the casita during cleaning by the housekeeping staff".
The guests and housekeepers were then given a "hygiene intervention" plan and taught to use various disinfectants for personal use and as part of the cleaning process. After an additional two days under the hygiene intervention, viral samples thought to be spread by housekeepers were reduced by 87%. By teaching housekeeping staff how to disinfect their cleaning areas, virus transmissions dropped substantially.
Other than guest rooms and conference centers, many hotels have gyms with exercise equipment, weights, locker rooms, showers, saunas and spas. These facilities face additional challenges because the constant presence of sweat, moisture, and heat encourages bacterial growth on many surfaces. To make things worse, the bacteria in these areas are prone to create biofilms, a collection of bacteria that form a slimy film that is often resistant to basic cleaning methods.
Steam rooms, for example, are warm and damp and encourage bacterial growth, biofilms, mold, and mildew. Mold spores can become airborne and circulate throughout the steam and air circulation system risking respiratory infections in the guests. Robin Evans, a dermatologist in Stamford, Connecticut commenting in a Huffington Post article on bacteria in steams rooms said that "[o]ne could readily develop infections on the skin due to these microorganisms including fungal or yeast skin rashes, impetigo or other bacterial infections."
The food service areas at hotels can vary significantly depending on the size of the facility. Smaller hotels may only have a cold breakfast bar, but larger resorts may have multiple full-service restaurants, bars, and buffets serving hundreds of people per day. The National Restaurant Association stresses that "[c]leaning and sanitizing food-contact surfaces is one of the most important steps to prevent foodborne illness". Sanitization of food prep and serving surfaces is stressed because "[p]athogens can spread to food from equipment that hasn't been properly cleaned and sanitized between uses."
Having an indoor children's play area is great for parents who can drop their youngsters off while they go to dinner or swim. Unfortunately, some parents bring children with runny noses and coughs and soon the cold viruses cover all the toys putting other children, parents, and employees at risk of illness. Add in other "bodily fluid incidents" and the play area is a veritable petri-dish swarming with pink eye, upset stomachs, and the common cold. Global News Canada interviewed microbiologist Jason Tetro last year on the microbiological dangers of play areas and discussed the issue of spreading illness through contaminated toys. "'Toys in these settings', Tetro says, 'should be cleaned with disinfectant with a concentration of between 62 and 70 per cent alcohol every day because of it being such a high-traffic area.'"
Sanitizing surfaces is perhaps the most important task housekeeping and maintenance staff can do to prevent viral outbreaks. During cold and flu season especially, cleaners need to move quickly through the facility performing not only their standard cleaning tasks, but also sanitizing areas where germs accumulate and spread.
With all the differing activity types in hotels, cruise ships and resorts, effective sanitation throughout the facility can be achieved with just one cleaning system. Goodway's BioSpray®-10 surface sanitation system using BioSpray®-D2 Sanitizer can be used in guest rooms, gyms, lockers, kitchens, serving areas, and even in the kids play area to kill germs and keep people from getting sick. A team of cleaners armed with Goodway's BioSpray-10 machine can sanitize multiple locations in a short period of time reducing hotel downtime, minimizing guest interruption, and sanitizing more surface area than sanitizing by hand.
BioSpray-10 is light and portable, never needing an electrical connection. The twenty-foot hose lets cleaners set up the machine in a central location and reach from one side of the room to the other. The liquid sanitizer and disinfectant BioSpray-D2 is safe for food contact surfaces without a rinse. The lab calibrated spray-and-shoot technology eliminates wiping which cuts down on cross-contamination risk from soiled rags/towels. Plus the BioSpray system is safe for water-sensitive equipment.
The BioSpray system is a powerful ally in the fight to keep guests well. From food prep surfaces to gym equipment, the hotel can be treated with the same rapid kill surface sanitizer/disinfectant spray, protecting every guest and employee in the building. Keeping guests well with proper sanitization means guests are happier, healthier, and will return to stay again. That's good for the guests and good for the bottom line.
Next Steps