Stopping the Spread of CA-MRSA in Athletic Programs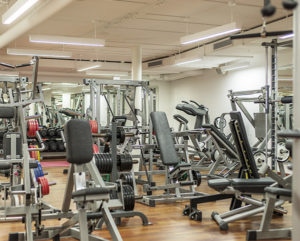 In March 2006 the University of West Virginia's All-Big East point guard Mike Gansey was a busy man. His Mountaineers were preparing for the NCAA basketball tournament and, with the NBA draft a just few months away, Mike was hoping for a future in professional basketball. His prospects for an NBA career were good having been invited to several NBA workouts. In July that year his dream became real and Mike signed with the Miami Heat playing in several Heat summer league games. But the summer games and tryouts left Mike tired and weak, more than just normal fatigue after a hard workout. His conditioned worsened and his knee began forming puss-filled sores that left him bed-ridden for two weeks. Doctors diagnosed Mike with a highly contagious bacterial infection called methicillin-resistant staphylococcus aureus, or MRSA. MRSA is a type of bacteria resistant to many of the antibiotics used to treat most staph infections. The infection in Mike's knee and the weight loss associated with his fight against the sickness likely ended his NBA career before it started. He never played in a regular season NBA game.
For decades MRSA infections remained a problem isolated to hospitals or nursing homes. People with artificial joints, intravenous tubes, or weakened immune systems were most susceptible to the infection. But in the 1990's a strain of MRSA developed outside of healthcare institutions that began infecting the general population, specifically healthy people in close quarters or who had frequent skin-to-skin contact with others. Medical professionals designated this new strain as community-associated MRSA or CA-MRSA. Even with the new designation and increasing infections, to most MRSA remained just an unknown medical acronym. But the 2003 CA-MRSA death of Lycoming College football star Ricky Lannetti brought CA-MRSA infections to the front page and public institutions responded.
CA-MRSA infection rates of healthy individuals are hard to come by, but infection rates of athletes in organized sports are likely much higher particularly in wrestling or football where cuts and close contact are a common occurrence. A New York Times article on MRSA and athletics notes that "professional football players are seven to 10 times more likely than the general public to have MRSA bacteria on their skin." The increased bacteria levels and close physical contact between scraped and sweating players means more infections.
During the 2003 football season, 17 of 107 University of Southern California (USC) football players were diagnosed with CA-MRSA leading school officials to create an aggressive program to reduce the infections. The program, called Training CAMP, was developed based on the CDC's recommendations for MRSA infection control. Training CAMP included guidelines for laundries and showers as well as "spraying treatment tables, taping tables, and weight-training and rehabilitation equipment with disinfectant frequently throughout the day". The program was rigorously followed by coaches, trainers, and players and the following year USC football had only one reported MRSA infection.
The CDC advises that "[c]leaning surfaces with detergent-based cleaners or Environmental Protection Agency (EPA)-registered disinfectants is effective at removing MRSA from the environment." Big training centers like South Carolina's 105,000 square foot indoor practice facility house multiple locker rooms, weight rooms, and workout areas with hundreds of benches, tables, and weight equipment. Each object used by the athletes is a potential source of CA-MRSA infection and should be regularly disinfected.
Goodway's surface sanitation system, BioSpray®, is a stainless steel, nonelectric sprayer that uses a CO2 tank to disperse BioSpray®-D2,  a rapid-kill surface spray that kills 99.999% of all bacteria and viruses including CA-MRSA. The EPA registered hospital-grade disinfectant requires no wipe or rinse after an application. It is fast drying and can be applied quickly to non-porous surfaces like training tables, mats and work benches without athletes needing to wipe away excess or wait for it to dry.
Stopping CA-MRSA infections in school athletic programs should be a high priority for administrators. CA-MRSA bacteria can be eliminated by following the CDC's guidelines for sanitizing and disinfecting surfaces, just as the USC Training CAMP program proved. But controlling the bacteria is only as effective as the willingness of maintenance and athletic staff to implement cleaning procedures and use the proper cleaning systems. Goodway Technologies can help select the right equipment for your facility and the size of your operation to keep the athletes and trainers infection-free.
Next Steps