Mission Critical Cooling: Focus on Data Centers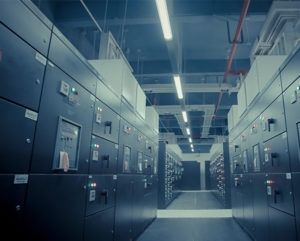 A 2016 report by the Ponemon Institute studied 63 data centers across the United States and calculated that the average cost of a large data center outage is $740,357. That astounding number probably makes IT professionals and data center maintenance staff a little nervous. No one wants to be the person who made a mistake that cost the company $740,357! Businesses that cannot keep data centers online also lose customers, costing the company even more money. Finally, there is the high price to rebuild their reputation and bring customers back. The pressure to keep data centers up and running has never been so high.
From an operations standpoint, keeping data centers online requires the removal of tremendous amounts of server heat from the building. Since data centers are never off, the HVAC equipment cooling these facilities has no time to rest. The air conditioning simply can never turn off. The cooling equipment is manufactured to provide precision cooling because the indoor conditions in a data center must be held to precise temperature and humidity levels. The air conditioning units inside the actual server room are called CRACs (computer room air conditioning) and need to run without failure so the importance of proper maintenance cannot be overstated.
Liebert, one of the most recognized names in CRAC units, notes in their DS Thermal Management System equipment manual that proper "maintenance of the entire system is critical to the life and reliability of the thermal-management units". Liebert also recommends that maintenance staff "periodically consider commercial cleaning of [the] coil surface" of CRAC evaporators and condensers to maintain heat transfer throughout the system. Dirt and grime on coils inhibits the CRAC's ability to move server room heat out of the data center and reject that heat to the outside environment.
To keep heat flowing out of the building, cleaning the CRAC's coils must be done with the proper tools and cleaning products. For outdoor condensing units, maintenance staff may want to invest in a portable coil cleaner like Goodway's CoilPro® CC-400HF – HiFlo® Coil Cleaner. The CC-400HF is easy to move from ground level to the roof allowing staff to clean more equipment during their shift. The long wand on the CC-400HF lets technicians reach through equipment housing to clean both sides of the coils without having to remove all of the access panels.
The CC-140 is perfect for cleaning CRAC indoor evaporator coils and has the option of using plug power or its integral battery. The battery power option is especially useful because using a battery means technicians won't have long extension cord runs across work areas creating a trip hazard. Additionally, the CC-140 can connect to a local water source or draw water from its own tank giving the machine complete portability throughout the building.
Larger data centers may be designed with chillers and heat exchangers for increased cooling capacity and colder indoor temperatures. Over time, the heat transfer tubes within the equipment become fouled with sediment, corrosion, or scale that restricts water flow and decreases heat transfer. The restricted water flow means the pumps work much harder to push water through the tubes and the loss of heat transfer results in longer running times for the chiller compressors. The lack of tube cleaning increases the wear and tear on HVAC equipment, but maintenance staff have tools to keep things clean and running efficiently. For example, the portable and lightweight RAM-4 Tube Cleaner can be used to scour off fouling without damaging the tubes themselves. Water is pumped through the flexible cleaning shaft and pushes out the debris removed from the tubes. Tube cleaning on larger chillers and heat exchangers often requires two people, but the RAM-4's portability and simple operation means even large equipment can be cleaned by one technician.
For the cleaning product itself, a good choice is Goodway's CoilShine® Coil Cleaning Solution made specifically to remove dirt from HVAC coils. CoilShine is an expanding and self-advancing micro bubble foam formula designed to penetrate coil beds removing even deeply embedded debris. It is non-toxic, allowing for safe handling and is safer than acids, or highly caustic cleaners, on coils. CoilShine is designed for use with CoilPro® coil cleaning machines, without having to vacate occupied areas. The cleaner is also biodegradable and can be safely washed down floor and roof drains.
When data center cooling uses water-cooled equipment like cooling towers or fluid coolers, the condenser side of the system has its own special maintenance requirements. Neglected cooling towers clogged with scale and sludge are ticking time bombs and it's only a matter of "when" before that inattention causes the tower to fail. Failure to clean towers adequately can mean overheated data centers, system wide shutdowns, and people losing their jobs.
As such, scale and biofilms that accumulate on precision cooling systems and CRAC units must be removed as part of routine maintenance. The operations manual for Baltimore Air Coil's closed circuit cooling tower and evaporative condenser warns about scale buildup on cooling towers and system performance. "If scale is not controlled, it may continue building on critical components such as the fill and severely impact thermal performance."
Products like ScaleBreak® -Gel Descaler can be applied to cooling towers using a mobile Clean in Place unit such as the TFC-200 Cooling Tower Fill Cleaner. Applying ScaleBreak® -Gel to these components removes the build-up of calcium and other minerals restoring the tower to maximum efficiency.
Unlike scale, the effects of biofilm growth in cooling towers are more than just poor system performance. Biofilms in cooling towers are the breeding grounds for dangerous bacteria like Legionella pneumophila and present a health threat to people working in buildings with infected equipment. To kill these bacteriological hazards, technicians should use a biocide with a strong history of eliminating biofilms in cooling towers. BioSpray® Tower is an EPA registered disinfectant that kills 99.9% of Legionella pneumophila when correctly applied to hard, nonporous surfaces like cooling tower basins or tower housing. BioSpray®Tower is best applied with the TFC-200 mentioned above. The TFC-200 is very versatile and can be used to apply the ScaleBreak® Gel for scale removal as well as BioSpray® Tower for disinfecting. Technicians do not need to setup multiple cleaning machines and that saves time so the tower can be brought back online quicker.
One of the world's largest cooling tower and fluid cooler manufacturers, Marley, notes in its maintenance manuals that any "evaporative-type fluid cooler must be thoroughly cleaned on a regular basis to minimize the growth of bacteria, including Legionella Pneumophila, to avoid the risk of sickness or death." If one of the most respected cooling tower manufacturers warns of serious sickness or death as a result of biofilms, service technicians should take the warning seriously.
Keeping data centers online is a tremendous responsibility and HVAC service technicians play an important behind the scenes role. Because CRAC units and precision cooling systems are such a key element in the operation of data centers, proper maintenance is an absolute must. Suitable coil cleaning tools, effective cleaners and descalers, and the removal of biofilms all contribute to a functioning HVAC system. When the HVAC system works, servers stay cool, data stays online, and customers trust their data company.
Next Steps