Keeping Colds and Flu at Bay in Corporate America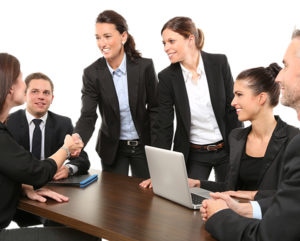 Millions of people suffer each year with the misery of runny noses, coughs, and sleepless, fever-filled nights. In the United States alone, the flu results in $7 billion a year in lost productivity and 17 million missed work days. Pause on that statistic for a moment. Every year the US economy misses out on $7 billion dollars of productivity because people get sick from the flu. It's a staggering number, but facility managers and maintenance supervisors can be the difference between a building where people are healthy and working or sick and sent home.
In addition to the productivity toll, the flu can cause serious complications and even death. The 2017-2018 flu season was one of the worst in history with an estimated 80,000 flu related deaths. Doctors are hopeful this year's flu will not be a repeat of last year. However, in late October the US Center of Disease Control and Prevention (CDC) reported the first pediatric flu death of the season. This sad news is a reminder that the winter flu season has begun and that flu remains a very real public health concern.
Of course, every employee is responsible for doing simple things like getting the flu shot and washing hands. But maintenance staff may be the best overall defense against widespread flu and cold outbreaks in a building. One way to reduce flu germs from spreading around an office is to clean the surfaces people touch. More specifically, staff should disinfect and sanitize which means to use products that kill the flu virus.
The CDC published a very informative article about cleaning and disinfecting to prevent the spread of the flu virus. The article's focus is on germ control in schools, but the advice is equally applicable for commercial office buildings. The article notes "[f]lu viruses are relatively fragile, so standard cleaning and disinfecting practices are sufficient to remove or kill them." When staff are given the proper cleaners and equipment, killing cold and flu germs is not difficult.
A product like Goodway's BioSpray-10 Portable, Cordless Surface Sanitation System with BioSpray® D2 Sanitizer is excellent for killing cold and flu germs in offices because the system can be used throughout the building including bathrooms, cafeterias and break rooms. Not all sanitizing and disinfectants are safe for "food contact surfaces without a rinse", forcing cleaning staff to handle one product for the offices and a different product for other areas. Since BioSpray D2 sanitizer is registered with the EPA and approved for "food contact surfaces without a rinse", more surface area is cleaned during an employee's shift. The no-rinse characteristic of the BioSpray® is key because products that must be rinsed require twice as much labor as no-rinse products.
Similarly, hand applications of sanitizers may be too slow to clean the entire building in a reasonable amount of time and hand wiping or using pump sprayers may cause uneven coverage. However, with Goodway's BioSpray®-10 Portable, Cordless Surface Sanitation System, sanitizer can be applied to surfaces evenly, without repetitive motion or inaccurate coverage. Another time saver with BioSpray® is, it does not need an electrical connection. The labor saved by not having to plug and unplug cleaning equipment means more surface area can be disinfected during the day than with a plugged-in device.
Grainger, one of the world's largest sellers of office supplies and maintenance products has an informative article on their website about flu control in commercial buildings called "Fighting the Flu." The article reinforces the importance of sanitizing to prevent germs from spreading and reminds customers that "companies must focus on facility-wide cleaning strategies that thoroughly disinfect — not just surface clean — key areas". As such, large buildings with multiple conference rooms, lots of breakrooms, or commercial kitchens need a cleaning plan in place. The cleaning plan should be written so as to properly sanitize as many surfaces as possible in the least amount of time.
Severe illness and lost productivity from cold and flu are real concerns for businesses each winter. Billions of dollars are lost every year because of employee sickness, but facility and cleaning staff play a critical role in reducing the spread of germs. Goodway offers effective sanitizing solutions and the equipment needed to keep buildings clean and people working.
Next Steps