There Might Be More in Your Duct System Than Air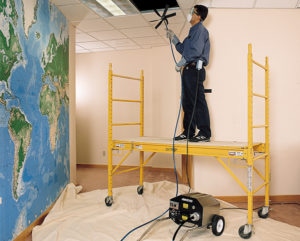 Earlier this year, Forbes Magazine ran a story about working in America and noted that the average American spends 90,000 hours of their life at work. For many of us, that 90,000 hours is spent in a tightly closed building with no open windows and questionable air quality. The indoor air circulates through ductwork most likely installed when the building was constructed many years prior. Indoor air passes though the ductwork blowing by anything sitting inside: dust, mold, maybe even bugs…and then we breathe it in. For poorly maintained or older HVAC systems with clogged filters, disconnected flex duct, or moisture infiltration, indoor air can be some of the worst air we breathe thanks to what's resting in the ductwork.
Few facility managers think their duct systems have breaks or holes, but after years of moving grilles and modifying floorplans to meet changing occupancy there is likely at least one opening or disconnected flex somewhere in the system. Disconnected flex duct, missing duct access doors, or holes left unpatched means any number of unwanted objects can get into the ductwork including bugs and pests. Roaches, moths, lizards, or other creepy-crawlies can make their way into ductwork, breed, and then die. Their droppings and bodies can collect in the duct or even blow out of the vents making people sick.
Even new HVAC systems can risk mold contamination from poor design or improper maintenance. When warm room air blows across the cooling coil in the air handler, moisture is removed from the airstream and drips down the coil. The water collects in a drain pan and flows out of the equipment. In some instances, the air handler fan is set too high and can literally blow condensate off the coil and down into the ductwork soaking internal duct insulation. A more common moisture problem is when the drain pan or condensate line is blocked and water backs up into the air handler spilling into the ductwork or pooling inside the equipment. When standing water mixes with dust or other organic material in the ductwork, mold can begin to grow. If left untreated, the mold can spread through the duct system and, even worse, spores can blow into the occupied space starting mold growth in other parts of the building.
As we discussed in our previous article on what to expect from a duct cleaning company, dead pests and mold growth are top reasons why the EPA suggests cleaning duct systems. Goodway's Duct Cleaner Fogger armed with Mold Control or Duct Fungicide kills mold growth in the entire duct system and on the equipment where the growth may have started. With mold-free and pest-free ducts, occupants will immediately notice a difference in the quality of the indoor air.
When filters are overloaded and not changed on a regular basis, especially filters for the outside air, dust can accumulate on the cooling coils and down the duct system. Over time, that dust can build up to the point where dust is coming out of the supply vents and into the building. This condition may be worsened during modifications to older systems as new branch lines are added to existing duct trunks. Cutting new openings into the older trunk lines stirs up settled dirt that gets blown into the rooms when the system is started-up.
The exhaust duct systems in commercial and industrial facilities are often forgotten since the air is flowing out of the building and not being inhaled by occupants. In very dusty industrial applications particles accumulate on exhaust grilles, in duct elbows and transitions, and even on the exhaust fan itself. Fine dust particles can work their way into the motor and cause the fan to malfunction or, if a spark-proof fan is not installed, the dust can actually ignite and explode.
If no mold is present, but dust and debris in the ductwork are hurting indoor air quality, maintenance technicians should consider a full cleaning of the duct system. Goodway's line of duct cleaning equipment is suitable for a variety of ducts. The AQ-R1500B-60 is ideal for cleaning round or spiral ducts 4″-18″ (100-460mm) and 4″-16″ (100-410mm) rectangular/square in air conditioning, heating, ventilation and exhaust systems. Duct cleaning needs to be done methodically so as not to stir up mold spores or dust and contaminate clean parts of the system. Smart technicians know to use inflatable bladders to isolate sections of duct to keep clean duct clean during the vacuuming.
Dead pests, moisture, mold, smells, and dust–there might be a lot more in your duct system than just air. However, facility managers and building owners do not need to put their tenants or their equipment at risk because of unwelcome pollutants in the duct system. Performing routine preventative maintenance and keeping your duct system sealed and intact are the best ways to keep containments out of the air stream. If the ducts do become dirty or moldy, Goodway's duct cleaning systems and tools can bring your HVAC system to like-new condition and provide relief for people suffering with dirty air.
Next Steps