Legionnaires' Disease Strikes Again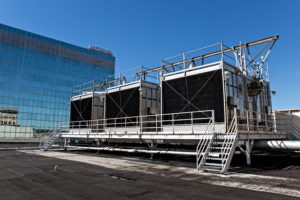 Legionnaires' disease is in the news again. Late last week, there were reports that 11 people in Manhattan were sickened. Then, over the weekend, more people were reported to have fallen ill. Many remain in the hospital. As the later report notes, "Health officials believe vapor from water cooling towers is spreading bacteria that causes the disease." Although treatable with antibiotics, Legionnaires' can also be fatal. In fact, 12 people died in the Bronx in 2015 as a result of an outbreak.
The best way to handle Legionnaires' disease is to stop it at its source. Goodway's complete line of cooling tower maintenance products help you keep cooling towers clean, and meet ANSI/ASHRAE Standard 188-2015, a standard for management and remediation of legionella in commercial building water. See how we can help keep your cooling towers clean and safe.