Top HEPA Vacuum Product Features and Differences for Radioactive Waste Cleanup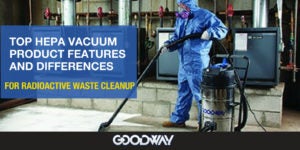 There are some cleanup jobs at power plants that require more than a wet vacuum. Plant operators are well aware that radioactive and other types of hazardous waste require a certified industrial vacuum cleaner. For five years, that has been the modus operandi for radioactive waste management teams at the ill-fated Fukushima Power Plant. Recently, Japan announced the completion of radioactive waste cleanup at the plant. Whether it's a huge catastrophe or a relatively smaller incident like the recent scare at a Idaho Falls Radioactive Waste Management Plant, your fleet of HEPA vacuums needs to be primed and ready.  
So if you're looking to upgrade or simply wish to verify you've got the correct vacuum model, below are key features and vacuum differences to consider.
What is HEPA filtration?
HEPA stands for high-efficiency particulate air. HEPA filters are capable of filtering out particles as small as 0.3 microns in size at an efficiency of 99.97%.
HEPA certification involves a rigorous testing process of filtration systems to ensure they meet the standard specifications. HEPA class filters will capture a variety of hazardous powders and particulates, including radioactive waste. A filter is classified HEPA at it's rated flow rate which is a function of the motor power creating the vacuum.
HEPA vacuum cleaners can be electrically or pneumatically operated. Choosing one over the other typically depends on the needs of the operator.
Why is HEPA filtration important when dealing with hazardous waste
Many instances of hazardous waste and particulates, in particular radioactive waste are characteristically small in size. Asbestos and radioactive waste are extreme examples which need careful containment and disposal. A HEPA vacuum cleaner and related products offer the ideal solution to cleaning a radioactive contaminated environment.
HEPA vacuum cleaners collect radioactive or hazardous debris in the collection container, making for easier and safer disposal. Inexpensive HEPA vacuum cleaners for radioactive cleaning operations may be designed to use until the collection container is full. Once full, the entire appliance is disposed of as radioactive waste. This approach reduces the risk of spread during emptying.
Top Features to Look for in a HEPA Vacuum Cleaner
HEPA vacuums come in different shapes and sizes and they are not all the same. The quality of construction and the efficiency of the vacuum cleaners vary across manufacturers. Here are some of the top features that sets the top performing HEPA vacuum cleaners apart from the rest.
HEPA Certification

– Choosing a Certified HEPA class filtered system ensures you're using a fully tested filter that is proven to deliver expected performance.

Robust Housing

– A stainless steel housing and attachment is durable and chemically inert therefore easier to clean.

Air Displacement

– Displacement of large amounts of air, measured in cubic feet per minute (CFM) are best for recovery of light particles such as bacteria, pharmaceutical dust, lead paint, sanding dust, and asbestos fibers. Make sure the HEPA filter is certified at the air displacement that the vacuum generates or it will not perform at 99.97% efficiency.

Powerful Static Lift

– Static lift of at least 90" ensures that vacuum power is maintained even as the contaminant collection bag fills up.

Disposable Bag

– A disposable particulate collection system.

Ease of Use / Portability –  

If you're working at remote locations, consider portable vacuums that are designed for easy access to filters and allow full bags to be replaced on location.  

Multi-stage Filtration

-Multiple-stage filter elements before the HEPA filter remove the majority of particulates prior to reaching the HEPA element increasing its life and reducing energy consumption

HEPA Filter Monitoring

–

Manometer or pressure differential monitoring devices

take the guesswork out of the filter replacement process. This feature adds a little to the initial cost of the machine but usually result in a lower long-term cost of ownership.
The construction and usability of the vacuum cleaner are also important aspects to consider. A HEPA vacuum cleaner may meet all the functional specifications above but if it is not user friendly. You should also look for a unit that is easy to move around and use for the cleaning operators.
Differences in HEPA Vacuum Cleaners
Now, moving on to the differences in the HEPA vacuum cleaners. You should now have a shortlist of the HEPA vacuums which tick the feature boxes above. What other questions should you ask yourself before picking one?
Wet or dry vacuum?

– most radioactive waste is dry but your environment may require a wet vacuum.

Electric or pneumatic powered

– some areas of your facility may require only air equipment and tools for safety reasons.

Air flow

– select the vacuum cleaner that provides the required air flow for the dust or hazardous material load in the particular area of use.

Drum capacity

– vacuum cleaners come in various capacities and you can choose from 9-gallon, 15-gallon or bigger.

Wall-mounted, portable or backpack

– a selection of vacuum sizes allow you to match your vacuum cleaner to the demands of the job at hand.

Explosion-proof or standard environment use

– choose between an explosion-proof or standard hazardous environment HEPA vacuum cleaner.

True HEPA vs. HEPA-Type Filters –

individually tested HEPA filters are certified to meet the 99.97% efficiency at 0.3-micron performance level. HEPA-type filters are not subjected to the same rigorous testing as true HEPA filters and range in efficiency from 85% to 95%.
Next Steps
It goes without saying that radioactive waste requires careful handling and containment. HEPA vacuum cleaners are used in a variety of industries including cleaning sites exposed to asbestos, active pharmaceutical material and radioactive particles.
Now that you know the differences between the various HEPA vacuum cleaners available on the market, you're in a better position to choose the best vacuum for your application. Here's some additional information to consider: