Why Disinfecting Schools May Require Industrial Grade Disinfectants
on February 8, 2018 in
HVAC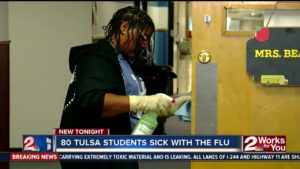 This flu season is one of the worst in over a decade, and our schools have seen the worst of it. Unlike previous seasons, the current strains of influenza are affecting seemingly healthy young people, even those that have had a flu shot. At least 9 schools in Texas have closed for at least one day due to the number of students absent with flu. Experts say cases likely ramped up in January due to children returning to school and estimate we have several weeks left in this flu season to go.
While getting your flu shot and washing your hands regularly are good practices when trying to stay healthy, limiting exposure is the best defense. But schools can only stay closed for so long and eventually we have to send our children back where they can come in contact with carriers of the flu. As a result, school districts in many states have taken action to stop the spread of the disease- beyond the typical cleaning procedures that only remove some germs, they are using disinfectants to kill them. In an effort to help curb the flu, the Tulsa Public School District, for example, has their custodial staff use hospital and industrial grade disinfectants, including Goodway's BioSpray, on surfaces of tables, chairs, door handles, walls and any other surface children put their hands on.
Flu season may still be going strong, but you can prevent the spread of it in your school or facility with good maintenance practices. Educating staff on how to properly disinfect furniture, equipment, and surfaces can go a long way to preventing the spread of any illness and keeping occupants healthy. BioSpray, Goodway's EPA registered disinfectant is a portable sanitation system that can be used to efficiently sanitize everything from schools to more sensitive environments such as hospitals. Contact the experts at Goodway to find out about their sanitizing products today.
Related to sanitizing for flu outbreaks:
Next Steps: