The Importance of Duct Cleaning for Indoor Air Quality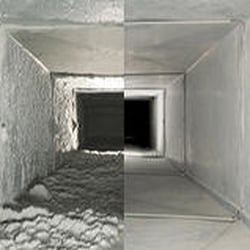 This winter could break temperature and snowfall records across the country. For most of us, staying inside is the only defense. Avoiding the outdoors may keep us safe from dangerous weather, but we face another danger from the inside. The air quality inside a building begins to worsen when there are less fresh outdoor air and an increase in people and animals. Poor air quality is not only uncomfortable but can be bad for your health.
With little fresh air coming in, indoor air must recycle through the HVAC system, spreading germs, dust, mold, and allergens. This recycled air moves through duct systems, adhering to the interior of the ductwork, especially in ducts with fiber linings. It's similar to dirt on shoes. If your shoes have treads, dirt and mud get stuck more easily, allowing you to spread it from room to room. But some of the dirt still sticks in the deep crevices of your shoes. Particulates can do the same in ductwork. This means in periods like winter, where a lot of particles are getting trapped inside, your system and ductwork can get pretty clogged up. While regular HVAC maintenance usually includes cleaning this dirt and debris from the air handling unit coils condensing pan, ductwork cleaning is often considered nonessential. This can be a mistake, especially if there is no facility maintenance schedule for changing dirty filters or incorrect filter sizes are used. This can cause dirt and allergens to build up quickly in ductwork.
If there has been any major event or evidence of mold, a specialist should test ductwork for contamination as well. Otherwise, when normal dust and allergens buildup during the winter months inside ducts, some will come loose periodically, spreading throughout the facility long after decontamination. But you also want to get your ducts looked at in or around the winter months because people aren't the only living things that come in when it's cold. Insects and rodents can also hunker down inside your ductwork, and definitely require professional cleaning to remove.
Cleaning and decontaminating ductwork requires specialized tools to dislodge dirt and debris stuck in your ductwork. After ductwork is inspected for large debris, like insects and rodents, and waste, caked-on buildup will be loosened, then vacuumed out with industrial vacuums equipped with HEPA filters. Evidence of microbial growth in your HVAC system or ductwork can require chemical agents to kill and prevent any further growth. If you are looking for professional advice and cleaning systems to clean out your ductwork, the engineering department at Goodway can guide you to the right products and the proper way to use them.
More information on when and how to clean ductwork: