How the Increased Use of HVAC In Winter Creates More Allergen Buildup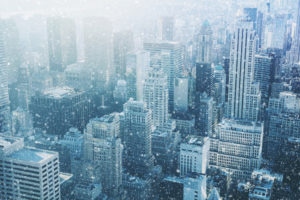 The results are in and according to groundhog legend, we're in for a few more weeks of winter. That's not welcomed news for some in this country as snowstorms have already extended into regions of the country rarely experiencing anything but the odd flurry. Hazardous weather keeps many people indoors for days and sometimes weeks, without any fresh air. This means HVAC systems and furnaces must work overtime to keep the air warm while maintaining indoor air quality.
With more people indoors, more allergens such as dust, pet dander, and pollen that clings to clothes are created or trapped, then recirculated through the air. Most systems have at least one filter to remove large particulates from re-circulating through the air, but this becomes more difficult in winter when less fresh air is circulated. Recycled air from indoors picks up particles from humans and things like furnishings and fireplaces. If filters are not changed frequently, or incorrect filters used, these trapped particles can build upon system components and cycle through a unit. As the heat continues to cycle on to counter the extreme temperatures outside, the allergens flying around inside will start to cause respiratory complications for those with asthma and allergies.
The inside of a unit, specifically the coils and ductwork,  can become clogged with dust and dirt as filters become clogged and begin to allow particulates through. If this happens, the buildup will also cause efficiency problems for your unit. If left for too long, dirty components can malfunction and even cause a system failure. On heat pumps specifically, this can be catastrophic. Which is why in addition to changing filters regularly in the winter, regular HVAC maintenance should be done prior to the winter, and not just the spring. This includes checking for a clean interior prior to and after winter months, cleaning coils (where needed) and making sure filters are changed. In a heat pump or split system especially owners will want to make sure seasonal maintenance is conducted before switching from heating to cooling.
After the long months of winter use, vacuuming and cleaning out the interior ductwork of your system will keep it running efficiently. Additionally, cooling and heating coils can also become clogged with dust and dirt, and should also be inspected and cleaned at the change of the season with a specialized coil cleaning system. Goodway has cleaning systems for any type of HVAC unit. They also have an onsite engineering department that can advise on products and proper maintenance and usage techniques. If you're concerned about the indoor air quality of your facility during the long winter months, give them a call to find the right cleaning solution for you.
Related to Indoor Allergens in Winter:
Next Steps: