What's Deferred Facility Maintenance Costing You?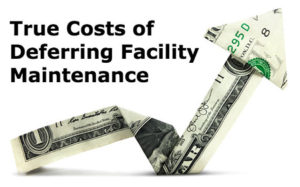 There's a growing deferred maintenance backlog in all types of schools across the United States and there's no end in sight. How bad may it get? Well, according to facility management software vendor,  eSpace, with the compounding factor of not spending $1 today,  costs can grow 4 fold as the deterioration continues. For example, the Wall Street Journal reported recently that universities in the U.S. have a total estimated deferred maintenance backlog of around 40 billion dollars collectively.
For universities where budgets have been cut and endowments are waning, the outcome for facilities could be catastrophic. And with enrollment continuing to decrease for brick-and-mortar institutions, there is no relief promised in increased future funding.
However, deferred facility maintenance can quickly become a mountain of maintenance issues for any type of facility. Minor maintenance gets deferred to address larger problems, but these small issues grow into larger, unavoidable headaches themselves. Eventually, systems fail and require replacement.
Facility managers must optimize every dollar spent on maintenance. This means finding more clever ways to address problems and provide long-term solutions. Many find they can stretch funds by using new tools, techniques, and technology that improve HVAC system efficiency and lifespans. New cleaning tools like Goodway's portable coil cleaning systems clean dirty condenser coils more effectively, which improves overall HVAC system efficiency and increases the time between maintenance checks. Chemical treatments such as Coilshine and Mold Control for HVAC & Air Ducts work with coil cleaning systems to remove dirt and debris such as mold and prevent further build-up. These tools and techniques combined with new technology, such as automated building management systems, can help facility managers control equipment maintenance more effectively and avoid an avalanche from mounting costs.
If your facility feels the pressure of growing maintenance costs due to backlog, it's time to make some changes. Goodway has a variety of industrial cleaning systems that address everything from HVAC coils to chillers and cooling towers. Maintenance backlog can become a thing of the past when using quality cleaning systems to keep facility equipment operating at optimal conditions.
Other articles related to deferred maintenance costs: