How Facility Managers Can Comply with Energy Benchmarking Laws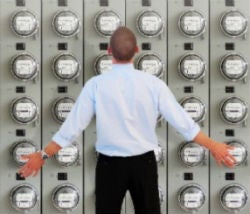 Energy and water conservation have become an industry focus. One reason is energy benchmarking laws that regulate a building's traditional energy usage and incentivizes for using renewable sources.
Today, it's more common for local governments to fine a facility for non-compliance with established energy benchmarks. Requiring facility managers to monitor energy and water usage has had a positive impact on overall consumption, encouraging facility managers to explore ways to lower energy and water usage.
How to Comply and Save
So, the question becomes, how do facility managers comply with regulations in a way that is both efficient and cost-effective for their buildings?
A survey of New York City facility managers completed by the National Electrical Manufacturers Association found that 84 percent of facility managers who benchmarked their building's performance in ENERGY STAR's Portfolio Manager, which measures energy and water consumption, had implemented no- or low-cost measures to reduce energy consumption.
The survey also found that 82 percent had installed new energy-saving equipment to improve the energy performance of their facilities. The most common of these included lighting, lighting controls, heating and cooling upgrades and energy management systems.
How to Make a Big Impact
One of the most cost-effective methods the facility managers used was retro-commissioning. This method allows facility managers to revisit their control systems in place and make changes to increase efficiency and maximize system potential.
For facilities that are implementing monitoring and controls for the first time, solutions such as cloud-based monitoring and control sequencing can be investments that see returns in energy savings over a few short years. However, an even more cost-effective way to see energy conservation improvements in existing equipment is preventive maintenance.
How to Keep it Simple
Keeping HVAC systems in good repair with routine preventative maintenance checkups is an easy way to keep them working at optimal performance conditions as well as prolong the life of the equipment.
Goodway suggests making a list of all facility equipment that requires maintenance and then going through each piece of equipment's preventive maintenance procedures. For equipment with coils that require cleaning clogs and mold buildup, Goodway's Coilshine-BC can be used to clean as well as prevent future build up.
For a detailed list of equipment checklists, check out the link on Goodway's website.
How to Learn More
Learn more about facility energy efficiency: