OSHA To Enforce New Standard Next to Reduce Exposure to Respirable Crystalline Silica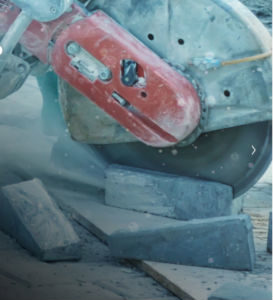 Construction work has always posed a risk to employee health but exposure to dust from concrete and stone has such severe risks that the Occupational Safety and Health Administration (OSHA) has passed a new mandate for employers. With the increase in instances of lung cancer, silicosis, kidney disease, and COPD on job sites due to prolonged exposure to respirable crystalline silica from concrete and stone, OSHA has issued a final rule that aims to protect workers and save employers money on healthcare costs. They will enforce this new standard on September 23, 2017.
What the New Regulations Will Do
It's estimated that over 2.3 million workers are exposed to respirable crystalline silica from concrete and stone each year, resulting in an increase in employee turnover and millions of dollars spent on healthcare. The new OSHA ruling will curb health-related issues due to exposure by requiring employers to limit employee exposure to respirable crystalline silica through the use of ventilation methods such as HEPA filtered vacuums. In addition to limiting exposure times for workers, vacuums fitted with fine HEPA filters can remove much of the harmful silica from job sites, reducing the amount that employees inhale.
New Ruling Will Have Big Impacts
OSHA estimates that each year the new ruling will save over 600 lives and prevent 900 cases of silicosis, a lung disease caused by breathing in tiny bits of silica, as well as lower costs for job-related illness by $7.7 billion. This improves the health and safety of workers and also benefits employers who are feeling the financial strain of work-related illnesses and injuries.
New Tools Needed for Job
Joe Nasvik, a member of the Decorative Concrete Hall of Fame, served as a Bomanite contractor in the Chicago area for 20 years. He was recently interviewed by Facility Executive Magazine about the fast-approaching OSHA deadline.
He explained that, come September 23rd, employers will be required to use tools and implement systems that limit worker exposure to respirable silica dust and use respirators as required. For example, vacuum dust collection systems and water-delivery systems.
Right Tools For the Job
To fully comply with these standards, you'll likely be purchasing new equipment. To minimize overall costs and maximize worker safety, it's important to purchase the right tools. For example, if you purchase a non-industrial vacuum cleaner with a HEPA filter, it's important to know that the filtering has not been officially verified and doesn't capture 99.97% of particles as small as 0.3 microns.
HEPA industrial vacuum cleaners deliver higher filtering performance and come in a variety of configurations to meet virtually any cleaning need. Additionally, non-industrial vacuums typically have cheap construction and deliver relatively poor performance. So the cost of continued replacement can be higher than purchasing an industrial vacuum in the first place. Heavy-duty vacuums are constructed for industrial use, have industrial warranties, true HEPA filtering and are field serviceable. It's something you should consider before you purchase any HEPA-filtered equipment.
Additional Resources
He also emphasized that specified exposure control methods are referenced in the OSHA Rule's Table 1. Why the emphasis? Table 1 matches common construction tasks with effective dust control methods for those tasks.
In the interview, Nasvik also provided a description of the table's three columns: the task or equipment being used; a second column describing the method for controlling dust; and a third column stating what type of respiratory protection is needed when performing the task.
Next Steps:
So while employers may incur additional costs initially for new engineering controls, such as purchasing  HEPA filtered vacuums, they ultimately will see returns on their investments in the form of lower employee turnover and a reduction in health insurance costs.