How Clean-in-Place Cooling Tower Solutions Reduce Hassle, Cost and Liability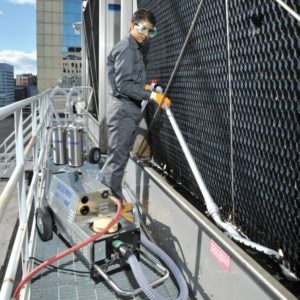 Every year about 25,000 case of Legionnaires' disease and 4,000 Legionnaires'-related deaths occur in the United States primarily due to poorly treated water systems. And your cooling tower's hot, grimy water is a key contributor, according to a consortium of water treatment experts.
Why? When a cooling tower's water reaches around 95 degrees in the hot summer months, legionella pneumophila, a ubiquitous aquatic organism, thrives.
Given such sobering facts, not to mention recent negative press, facility managers are certainly trying to be vigilant about cleaning their buildings' cooling towers.
In a podcast on how to prevent legionella outbreaks, Ray Field, Goodway's Liquid Solutions Director, says various studies strongly suggest 40% to 60% of cooling towers test positive for legionella.
However, facility managers often hire someone else to clean the cooling towers — or use outdated methods — because the job is such a pain in the neck. A typical cleaning process looks something like this:
Shut down cooling tower system

Drain system of thousands of gallons of water

Manually remove gunk and debris on bottom

Pressure wash the sides and bottom

Add thousands of gallons of new, freshly treated water
It takes one laborer roughly three days to clean a cooling tower this way.
But there's an alternative solution called clean-in-place (CIP) that allows one worker to clean a cooling tower while it remains on. This is an exponentially better alternative as it only takes roughly one shift to complete. It also helps meet ANSI/ASHRAE standard 188-2015 regarding managing and remediating legionella in commercial building water that includes recommendations for cleaning cooling towers.
CIP solutions are also more efficient and effective when compared to non-CIP solutions. For example, Goodway's TFC-200 Cooling Tower Fill Cleaner used with a ScaleBreak Gel Descaler begins dissolving scale and grime from cooling tower fill on contact.
This low viscosity acidic product is formulated specifically to adhere to and descale mineral deposits from cooling tower fill. Check out this video to see it in action:
Another option is the CTV-1501 HVAC Cooling Tower Cleaning Equipment that works to suck up dirt and debris from cooling tower basins, prime hiding spots for legionella growth. Used with Goodway's CTV-F2 Cooling Tower Filter System, it can clean the cooling tower water down to 5 microns and return the filtered water to the cooling tower for those who want to replace — instead of dump — water.
These innovative solutions decrease cooling tower cleaning time, increase overall HVAC system efficiency and help defend against potentially fatal infectious diseases. So as things begin to heat up this summer and those tiny legionella organisms begin to move in and multiply, remember this easy-to-follow and apply eviction notice … clean-in-place.