Why Removing Calcite (Limestone) from Landfill Leachate Systems' Lines Require Specialized Descaling Chemicals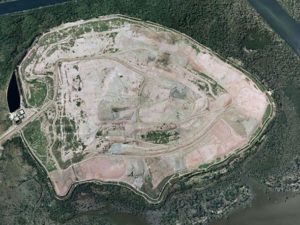 Calcite clogging is a major problem in the industry. This type of scale is typically associated with pipes, heat exchangers or other water handling equipment in general industry but it is also true that landfill channels can also become completely clogged with limescale. Typically the problem is ignored in landfills until it is too late and leachate channel systems become clogged resulting in back-ups of leachate flow. Ignoring the problem when signs of clogging are starting to happen only creates bigger headaches down the road. 
When it comes to cleaning calcite deposits in your leachate lines, there's no better option than an industrial strength, specialized chemical descaler.  According to Goodway's Director of Liquid Solutions, Ray Field, "It's well documented that an inhibited acid descaler is the product of choice in these cases." The main advantage to a chemical descaler is its ability to permeate throughout the entire leachate collection piping system. Alternatives like high-pressure water jetting may reach inside the first 75 feet of piping, but after that the scale down the channel is so deep that water jetting can't get to the worst areas of scale. It then becomes a pervasive problem within the entire leachate network in the landfill.
Other alternatives include commodity acids — for example, commodity grade and concentrated sulfuric acid. But this can make a limescale headache even bigger. When adding sulfuric acid to calcite-clogged pipes, you're going to end up turning your leachate lines into gypsum (or calcium sulfate). That's a million times worse than even the worst limescale problem!
Power plants (and any associated landfills) provide an additional challenge. Each involve massive amounts of water. What's more, they share a symbiotic relationship with regard to methane gas. Power plants pay landfills for their methane gas. When their leachate lines become clogged, methane metering from the landfill slowly chokes off — along with the amount of revenue going to the landfill from the power plant. That's a direct result of letting calcium carbonate build up and going unchecked in a landfill leachate collection system. 
Certain chemical descalers are not only safe, but also dissolve mineral deposits extremely fast. For example, Goodway's Scalebreak Liquid Descaler is biodegradable and dissolves calcium, lime, rust and other deposits from your systems. This particular descaler can be applied in a variety of environments that contain different materials, including steel, brass, copper, plastic and rubber. Thanks to Goodway's customizable capabilities, Scalebreak products include special formulas specifically for stainless steel, maritime applications and potable water systems. Goodway also offers alkaline neutralizing crystals which allows lowering descaling acidity to meet your needs.
 Not only will specialized chemical descalers make systems operate more efficiently in the here and now, they will also increase the overall life of your systems with efficient and non-interrupted operation.
In the end, removing calcite from leachate lines requires customizable chemical liquid solutions for descaling — and maybe an aspirin or two if you've put it off for a while.
Next Steps:
Subscribe to our blog to stay informed about the latest HVAC news and insight.
Order our FREE master catalog, packed with over 190 pages of the latest innovative maintenance solutions of HVAC, Power Plant, Food & Beverage, Maritime or Landfill Systems. 
Stay up to date on facility maintenance tools such as chiller tube cleaners, boiler tube cleaners, hose/pipe cleaners, descaler systems, industrial vacuums, commercial pressure washers, and drain cleaners.