The Dangers of Deferred HVAC Maintenance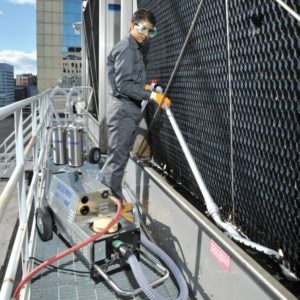 Companies are on the hook to cut costs; staff, services and technology all fall under the ax of balanced books. In an effort to minimize day-to-day impacts, many businesses are turning to deferred maintenance —putting off required repairs or upgrades on HVAC systems and cooling towers until they're absolutely necessary or the unit fails. The problem? As noted by a HealthCareCAN report, this is a "short term solution with long-term consequences unless additional resources are provided at a later date." Best case? Cooling towers fail and you're out time and money. Worst case? Killer infections. Here's a look at the pitfalls of deferred maintenance for HVAC units.
Big Savings, Big Problems?
At first glance deferred maintenance seems like a reasonable solution to an immediate need: If HVAC and other systems are still performing within expected parameters it's easy to put off maintenance until the "next budget." If the same scenario exists a year later deferring again only makes sense, right?
Check out this related content:
According to Facilities Net, however, deferred decisions eventually catch up to decision makers. For example, one company has a 300-ton chiller fail in the middle of summer without any backup cooling in place. Another had their 50-year-old air exchanger stop working in winter and yet another experienced burst HVAC coils leading to major flood damage.
Deadly Deferrals?
While replacing a chiller in July or a boiler in December is time-consuming and costly these aren't worst-case scenarios. Consider the plight of a high school that discovered failed HVAC dampers created a negative pressure environment and was drawing in sewer gas through non-energized exhaust fans. Over the long term, the health risk to students and staff is severe.
Of course, no HVAC maintenance piece is complete without mention of legionella. As noted by ACHR cooling towers offer the ideal environments for the development of legionella — all it takes is a combination of organic debris such as seeds, leaves, pollen or bird droppings and the relatively warm water of a cooling tower basin. Even if towers are regularly treated with chemical solutions, it doesn't take long for the bacteria to outstrip the effectiveness of these measures. And if maintenance is deferred to save money, companies may not know about the threat lurking in their HVAC system until it's too late. Anyone exposed to the bacteria through chiller or water dispensing systems may become infected — those with compromised immune systems or preexisting conditions are at risk of serious harm or death.
Deferred maintenance offers up-front cost savings with the promise of "getting back" to scheduled inspections or upgrades. But perfectly functional units can abruptly fail or develop a serious case of Legionnaires Disease, putting both profit and personnel at risk. Bottom line? Deferred HVAC maintenance is like rolling the dice: If you lose, it's game over.
Next Steps