Outdoor Air Quality: Laudable Effort or Legal Expectation?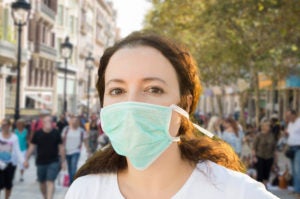 Are companies responsible for reduced outdoor air quality caused by infected or dirty cooling towers? As it stands, citizens have no legal expectation of clean air. With urban pollution rising and environmental litigation becoming a viable option, however, businesses need to think twice about the outside impact of poorly maintained cooling systems.
Urban Issues
Pollution in metropolitan centers has been on the rise for decades. Now, citizens and watchdog groups are taking action in hopes of improving outdoor air quality. It's a significant concern; as noted by the World Health Organization (WHO), outdoor air pollution contributes to 6.7 percent of all deaths.

Check out this related content:
In the state of Michigan, for example, air quality is ranked among the worst in the nation and has been shown to cause or exacerbate illnesses such as asthma, COPD, bladder cancers and even type II diabetes. Multiple Michigan counties received an "F" ozone grade in 2015 from the American Lung Association and the rate of childhood asthma in the state is 25 percent above the national average. Across the pond, UK watchdog groups like the Environment, Food and Rural Affairs Committee (EFRA) is petitioning government departments to take a stronger anti-pollution stance, especially in large urban centers like London and Birmingham. On a building-to-building basis, there's already some impetus for change: Many operators are now tasked with making sure their facility's indoor air is scent and smoke-free; Outdoor air quality is the next logical step, especially since dirty cooling towers can affect employees, customers and anyone in the vicinity.
The Private Problem
But matters of civil air pollution don't translate to corporate responsibility for maintaining outdoor air quality, right?
For the moment, no, but consider the effort of Dutch citizens last year who felt their government hadn't done enough to address climate change concerns. According to Popular Science, 886 people took the government to court — and won. The state was compelled to implement stronger greenhouse gas emissions controls to meet a 25 percent reduction target by 2020. It's also possible for individual citizens to now sue hotels, restaurants if they contract Legionnaires Disease or other illnesses from contaminated air linked to dirty cooling towers. According to Tim Robb, Vice President, Marketing and Strategic Business Development at Goodway, "last summer's Legionella outbreak in New York City was a wake-up call for building owners and the HVAC industry. It's time for private companies to take ownership of their outdoor air quality."
There's not much distance between a legal responsibility for indoor air quality and immediate outside air quality, especially in cities looking for ways to crack down on urban pollution. While part of the plan will undoubtedly take the form of stricter sanctions, motioning protocols and oversight, it's in the best interest of public lawmakers to download as much responsibility as possible onto private companies. Bottom line? What's merely a laudable goal right now could quickly become a legal responsibility. Better to get proactive, implement a regular maintenance plan and make sure cooling towers are spotless than run the risk of becoming a "test case" for outdoor air quality legislation.
Next Steps