Numbers Game: Plant Pollution And Zero Liquid Discharge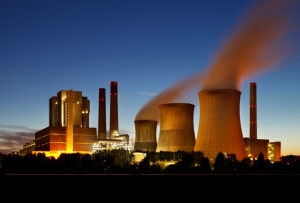 Power requires water—whether generated through coal-fired or biomass plants, or consumed by manufacturing facilities. Cooling towers are a prime example—in many cases they utilize more than 90 percent of a plant's water supply. And despite best efforts, the resulting "blowdown" is often dumped after three or four cycles, creating both efficiency and pollution problems. As noted by Water World, however, the rise of effective Zero Liquid Discharge (ZLD) technologies may now make it possible to create a closed system, reduce costs and ultimately improve environmental conditions.
New Approach
In the Indiantown cogeneration in Florida, coal-fired plant generates 360 MV and uses 2600 psi boilers to create a continuous "steam host". The result? Cooling towers operate at 4-7 cycles maximum before blowdown must be dumped or reused. Using a combination of Spray Drier Absorbers (SDAs) and brine concentrators the plant took on the challenge of moving to ZLD and reducing its wastewater output. Despite challenges—for example stainless steel contamination and corrosion issues and the design of a flexible cooling tower membrane system—Indiantown achieved the aim of ZLD and has consistently met performance goals for more than a year. In other words, moving to zero liquid discharge is a viable choice, even for coal-fire plants.
New Mandate
International corporations are also making the move to ZLD. According to Water Tech Online, for example, a coal-to-liquid fuel plant in Guangzhou, China had adopted new high efficiency reverse osmosis (HERO) technologies to eliminate their 55 million liters of wastewater per day. An aluminum manufacturer in Changzhou, meanwhile, is the first of its kind required to implement ZLD technology—a two-pass system recovers more than 95 percent of all water used and creates an ultra-pure product to be reused in cooling towers and other systems.
The takeaway? ZLD comes with big benefits. With virtually no blowdown, loss companies enjoy significant water savings, while the lack of dumped waste water results in limited environmental impact. Perhaps more importantly, however, is the move toward regulation of the ZLD industry; in the near future plants without zero discharge systems could face substantial fines or penalties. Challenges remain, however. The highly corrosive nature of blowdown and other water sources means that ZLD doesn't happen in a vacuum—leading-edge maintenance techniques are required to yield positive profit from zero liquid discharge.
Next Steps: