Product of the Year? TFC-200 Shortlisted by Plant Engineering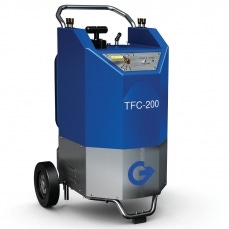 Every November, Plant Engineering rounds up the best of the best—equipment which stands out from the competition—for their "Product of the Year" program. This year, Goodway's TFC-200 Tower Fill Cleaner was shortlisted in the Maintenance Tools & Equipment category; following the November 12th announcement, Plant Engineering subscribers can vote for their favorites which will appear in the magazine's April issue. Undecided about who deserves your vote? Here's a look at the TFC-200.
Tower Power
Cooling tower maintenance is a critical part of facility maintenance, one which has been in the spotlight recently thanks to emerging legionella issues, with the bacteria causing a number of urban outbreaks in recent months. Simply put, dirty cooling towers lead to sick people and eventually sick buildings which demand significant time and effort to remediate.
Here's the problem: Any surface regularly in contact with water—liquid or vapor—can lead to biofouling the form of scale buildup or bacterial growth. Over time, this buildup creates a kind of feedback loop; anything coming out of the cooler is contaminated and any water used (and reused) in the cooling system may be fouled as well, perpetuating the loop. States like New York have mandated regular cooling tower maintenance checks, so it's no surprise that technology like the TFC-200 is now in high demand. 
Ahead of the Curve
What sets our product apart from other cooling tower cleaning tools on the market? It's an all-in-one solution: First, rinse with the integrated 3 GPM, 300 PSI pressure washing system, then apply ScaleBreak-Gel cleanser to start dissolving scale buildup. Rinse with the included turbo nozzle in high volume for a final scrub down and you're done. Calcium lime scale deposits melt away and dangerous legionella bacteria is safely eliminated, while cooling tower efficiency quickly rises. You also get the ongoing protect of TowerShine foaming cleanser; pair the TFC-200 with our CTV-1501 cooling tower vacuum for a total maintenance solution.
While the TFC-200 has a small footprint—meaning you can use it just about anywhere—it comes fully-equipped to tackle any job. You get a 25" chemical resistant hose, spray gun, two 36" stainless steel extension wands along with four nozzles: Turbo, foaming, 15 degree spray and 40 degree chemical all easily attached with our 45 degree quick connect adapter.
We're proud to be a part of Plant Engineering's Product of the Year shortlist. And we're proud of the care and craftsmanship that goes into every TFC-200—a critical part of our mandate to deliver the highest-quality cleaning and maintenance solutions on the market. Please vote here if you feel the TFC-200 deserves the product of the year award.
Next Steps: