Energy Opportunities: The Way Forward for Industrial Manufacturing?
on October 1, 2015 in
HVAC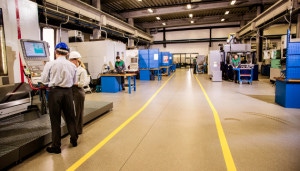 Manufacturing firms are familiar with the potential benefits of alternative energy sources such as solar, wind or even geothermal installations, but translating these new technologies into measurable savings often proves difficult. In part, the problem is cost: Moving to even partial solar production, for example, comes with a significant price tag. Integration with existing systems is also problematic—as a result, many companies are now looking to make better use of existing infrastructure to leverage new energy opportunities.
New and Improved
Consider the case of Schneider Electric's Australian manufacturing plant at Gepps Cross. Recently the plant achieved ISO 50001 Energy Management certification—one highlight of ISO 50001 includes a commitment to reduce total energy usage by 10 percent over the next three years.
But that's just the beginning; during the plant's EnergySTEP audit, 23 separate savings opportunities were identified to help reduce total energy consumption and in turn lower costs. For example, reduced air pressure set points and ultrasonic leak detection have improved overall HVAC efficiency, in turn reducing the amount of energy required to heat and cool the plant. In addition, the site identified which machines used the most energy, then created key performance indicators (KPIs) and installed monitoring equipment to ensure use targets were met.
An American Perspective
In the United States, meanwhile, the Department of Energy (DOE) just announced $70 million in funding for a new Clean Energy Manufacturing Innovation Institute focused on "smart" manufacturing. In large part the institute aims to reduce the cost of new technologies such as sensors, controls, and platforms which improve overall plant efficiency. According to DOE Secretary Ernest Moniz, "SMART manufacturing is a key information technology approach to unlocking energy efficiency in manufacturing." In fact, the DOE suggests that energy-intensive industries such as steel manufacturing could see total production costs reduced by up to 20 percent.
Too Efficient?
It's not all good news, however. Consider a recent article from The Guardian, reporting on a recent rise in asthma among British homeowners. The cause? Increasingly efficient homes which "trap" pollutants and increase the chance of respiratory disease. In a plant setting, this kind of lock-in won't pose a problem for workers with proper PPE but could easily impact overall energy use: Dirty systems which are constantly plagued by an influx of new pollutants but never properly cleaned lead to the opposite of the intended effect: Energy management strategies which actually drive up power costs and the total price of manufacturing.
The solution is two-fold. First, plants need to seize the initiative and adopt energy opportunities before they're energy regulations. Second is taking charge of plant cleaning procedures to ensure they're of a consummate level to any ISO or other certifications earned. Simply put, the goal of reduced energy use is only possible if plant systems are fully operational, clean, and regularly maintained. If not, this potential way forward is actually two steps back.
Next Steps: