Eating Demand: The Global Outlook of Food Processing Machinery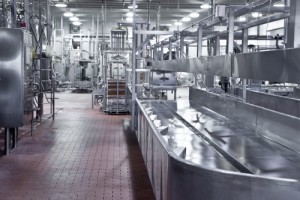 What does the future hold for food processing? According to a new study from The Freedonia Group, worldwide demand for this kind of equipment should rise 7.6 percent year-after-year through 2019. Some regional sectors, meanwhile, will see sale slumps over this period—is something in the industry leaving a bad taste?
Far and Away
The largest driver of this food processing growth? Countries like China, which will likely purchase 40 percent of all processing machinery in the next four years. Gleb Mitko of the Freedonia Group says that any nations "experiencing rising personal incomes will see a dietary shift to more processed foods which will in turn generate related machinery demand."
This shouldn't come as a surprise—increased financial freedom often comes on the back of longer work weeks and greater levels of personal responsibility, prompting both families and individuals to choose processed over home-cooked food as a way to save time. High-quality processing technology, therefore, is quickly snapped up by savvy manufacturers looking to corner the market.
In Western Europe, meanwhile, food processing growth is expected to rebound as companies look to replace aging equipment, but in the United States the future isn't quite so bright, with just a 2.2 percent increase forecast through 2019. Two trends help inform this shift; first, many U.S. businesses have recently replaced their technology and aren't due for upgrades, while a move away from processed foods to fresh alternatives is conspiring to curb the nation's overall appetite.
Safe Eats
For many U.S. Food producers, this market presents a significant challenge. It's not worth upgrading existing machinery, and demand has slowed enough that wear-and-tear won't prompt replacement for several years. In that time, however, food processing plants must keep their machines in top shape since consumers have no patience for contaminated batches or poor packaging.
And with other companies upgrading to more advanced processing lines and the online market prompting greater competition from overseas, it makes the shutdown and replacement of existing technologies even more daunting. If new tools don't live up to expectations or are unable to meet the demands of international shipping, companies may find themselves simultaneously left behind and overextended.
The solution? Safe eats. Companies in the middle of the upgrade and replacement cycle need to focus on current performance rather than future comparisons or past sales—clean, safe, and efficient food processing machines will help keep businesses in the black until it makes sense to opt for an upgrade.
World eating habits are changing, and the food processing equipment market is shifting to meet this new demand. In China and other nations with increasing personal incomes, this means more processed food. On American soil, companies need to focus on running lean and clean.
Next Steps: