HVAC in Laboratories: Special Considerations?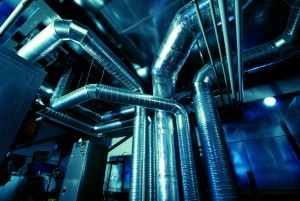 Every commercial building needs efficient HVAC; employees can't work and customers won't linger if heating systems fail in the winter or air conditioning units can't keep up in the summer. As noted by a recent CSE Magazine article, however, there are some facilities—such as laboratories—which have unique HVAC requirements far beyond those of a "typical" business. And while it's not worth replicating these systems in restaurants or office buildings, it's worth taking a look at more extreme HVAC examples as a way to improve performance and longevity for all air movement systems.
Above Average
According to the CSE article, one of the most important differences between laboratories and other commercial HVAC installations is the need for much higher exhaust requirements to ensure that hazardous airborne materials are quickly—and safely—evacuated from the building. Doing so not only requires a more powerful system but also much greater energy consumption, which can lead to questions about acceptable levels of contaminant materials and the speed at which these materials are removed.
As noted by Ian Marchant of CDM Smith, one way to offset this higher energy consumption is to reclaim heat from the laboratory exhaust stream, helping to limit the outside exposure of the system while actively reducing costs. But this kind of effort also speaks to the need for extreme attention to detail when it comes to cleaning and maintaining HVAC systems. If allowed to fall even just short of exhaust and recovery goals, labs could place HVAC units, critical experiments, or even personnel at risk.
Up and Running
So how do maintenance experts ensure that high-performance HVAC systems are always operating under ideal conditions? According to Plant Engineering, several steps are required. First, companies must make sure they have the right tools on hand to do the job. Using the wrong tools to address HVAC issues like impaired airflow or quality may do more harm than good; sub-standard tools can have the same effect. Next, companies must ensure that facility staff receive regular training on trends and improvements to HVAC maintenance, and that all employees are trained to recognize problems with an HVAC unit. Here, prevention is worth much more than a pound of cure; for some labs, it could be an entire population's worth. Finally, it's important to develop a detailed maintenance plan for HVAC systems, record all work completed and measure any efficiency gains to track progress. Anything else is just hopeful absurdity—and will catch up to labs eventually.
Running a lab? Then you know that HVAC maintenance, cleaning, and care are top priority. Other businesses could take a page from this book of special considerations—letting HVAC slide can have serious impacts on health and system performance, while staying ahead of the game limits spending, increases energy returns, and keeps the human side of your business happy, comfortable, and ready to work.
Next Steps: