Floating the Energy Boat—Japanese Solar Plants Take to the Water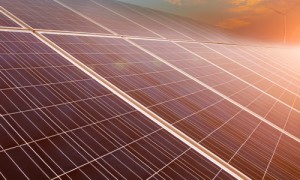 Is water the new way forward? While much has been made of wind turbines and geothermal energy in recent years, water-based efforts have been largely sidelined in part over concerns about pollution and in part thanks to government tax breaks for other forms of carbon-reducing power generation. Now, initiatives by both the Kyocera Corporation and device manufacturer Apple are looking to get things flowing again.
Making Waves
In Japan, energy companies are looking for ways to float giant nuclear reactors at sea, using ocean water as coolant in times of emergency. But these designs are in the early stages; according to Wired, however, the Kyocera Corporation along with Century Tokyo Leasing Corporation have now deployed two solar "mega-plants" on Nishihira and Higashihira ponds in Kato City, capable of generating enough electricity for 1000 homes.
Here, the idea is to marry the ubiquity of solar power with the safety of water: The plants are typhoon-proof and tap into water cooling for an 11 percent efficiency boost compared to land-based solar units. What's more, the shade produced by solar panels both reduces water evaporation and increases much-needed algae growth. The solar/water plants aren't entirely without issue—a recent report found that wind caused the panels to move unexpectedly and recommended improved moorings—but they're a step in the right direction.
Liquid Power
On American soil, meanwhile, device manufacturer Apple is touting the hydroelectric project it owns near the Haystack Reservoir in Oregon. This hydro plant supplies power to the company's Prineville data center, which they plan to build out to maximum capacity after a recent legislative amendment exempted data centers from a potentially costly state tax. Right now, the hydro project generates approximately 12 million kilowatt-hours of power, which amounts to around five percent of what a fully operational data center needs; the remaining energy demands are mostly met by wind power.
Once again water is the "also ran", taking a backseat to wind in this case rather than solar. But there's a common theme: Water is readily available, easy to utilize and when managed effectively has virtually no negative impacts on the surrounding environment. In other words, while it's not a hot-button green technology it offers the critical benefits of consistency and safety.
As the shine comes off other green technologies such as wind and biomass, water is gaining ground. For companies hoping to turn this tap and leverage liquid power, therefore, the are two considerations. First is a commitment to cleanliness; fouling can severely hamper the effectiveness of water-based sources. Next is realistic expectation—water won't provide enough to supply an entire data center, but offers a way to reliably cut dependence on fossil fuels.
Next Steps: