The Big Chill: Three Keys to Staying Cool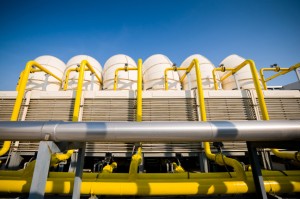 Many companies now rely on industrial water chillers to maximize heat exchange efficiency. But it's easy to fall behind on maintenance and upkeep because the system is "working as intended"—right up until it fails completely. Fortunately staying cool isn't so difficult a task, so long as you're willing to follow three keys for the big chill.
1. Update When Necessary
Sometimes chiller tube cleaning just isn't enough. As noted by Times Union, the State of New York recently updated 45-year-old chillers at its sprawling capital complex, each one roughly the size of a Tyrannosaurus Rex. With 950,000 gallons of water circulating through the facility every 90 minutes, it's essential that these chillers stay operational even when the temperature outside hits triple digits. That means investing in substantial upgrades to increase efficiency—as Ecoprenurist points out, the cost of a new chiller may seem prohibitive, but companies can quickly make back their investment thanks to lower maintenance and electricity costs.
2. Have a Plan
To keep existing equipment up and running, it's critical to develop a standard operating procedure; ACHR News recommends keeping a daily log that contains details about the unit's controls, any litter or dirt observed, linkage issues, overloads and includes regular checks for contact pitting and corrosion.
According to a recent Goodway survey, most companies are getting the message: 85.14 percent of respondents said they keep a daily log and almost the same number (82.43 percent) never defer the yearly cleaning of their chiller technology. This kind of regular maintenance coupled with a steady flow of data about chiller performance can help head off problems before they start and give companies a heads-up when the time for significant upgrades gets close.
3. Get More Data
Where some businesses still struggle, however, is in the area of gathering performance data. For example, the Goodway survey revealed that 72.89 percent of respondents said they do not visually inspect chiller tubes with a video scope, and 43 percent don't check tubes for flaws using Eddy current testing after each clean. What's more, over 60 percent don't measure efficiency gains after cleaning, while almost 50 percent don't monitor how much energy chillers use as a function of total energy consumption.
Bottom line? There's a lot of great data just waiting to be tapped that many companies skips because it may be time consuming to collect or because they've never measured it before. When it comes to long-term chiller performance, however, and being certain that cleanings have the desired effect, more information offers a significant advantage.
Don't want to get frozen out of efficiency gains and performance improvements? Follow the big three: Update when needed, have a plan in place, and dig deep into chiller data.
Next Steps: