Offshore Wind Power: US Faces Blowback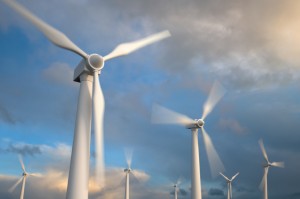 Offshore wind is among the most promising renewable resources available — along with solar and geothermal power, it represents a new frontier for the energy market. In the United States, however, the offshore wind power market is facing some blowback, according to Real Clear Politics. Is it possible for this project to get up to speed?
Blowhards?
Just off the coast of Maine is a first-of-its-kind technology: a floating wind turbine. The VolturnUS is a one-eighth scale model prototype, developed by a consortium of researchers called DeepCWind, and which includes the University of Maine Advanced Structures and Composites Center. According to Habib Dagher from the U of M, "we've had excellent results with the program" — in June 2013 the VolturnUS was hooked up to mainland power infrastructure and used to power several homes. But despite this success, the project is now facing significant resistance to its next stage: scaling up.
Some detractors claim that wind turbines alter avian migratory patterns and can kill large numbers of birds, while others say the floating turbines are an eyesore. According to US News, however, while wind power generators are responsible for some avian deaths — around 330,000 on the "high side," of estimates — oil, gas and coal power kill far more birds each year. As for aesthetics, there's talk of making some areas, such as Nantucket Sound, wind-power-free zones.
Hard at Work
In Europe wind power is already taking off, with many coastal ports revitalized by turbine developments, which both create jobs during construction and generate power when complete. The big difference, however? Subsidies from European governments which make building these turbines more cost-effective for corporations. Still, it's not all good news — there's significant debate over the cost-return models on these turbines, along with the long-term benefits.
Mark Rodgers, spokesman for the US-based Cape Wind offshore development, says that "just as we've seen the prices of land-based wind and solar drop dramatically as a consequence of greater economies of scale, we'll see that with offshore wind as well." Maintenance and cleaning technologies also play a role: if turbine blades become fouled or impacted by scale build-up, they lose speed, meaning less power generated.
Subsidies — while not as lucrative as in Europe — also play a role in the United States. As noted by the Wall Street Journal, "production tax credits" have been in place for wind power for the last 23 years, despite a 5000 percent increase in capacity and the transition from new technology to billion-dollar business. Offshore wind generation stands at the forefront of the industry, however, promising a way to harness almost perpetual sea breezes without taking up valuable farmland or residential space.
Wind power is changing. Some argue that offshore gives the best gusts for the lowest total investment, while others say the risk is too high. Too bad the wind from all this talk can't be harnessed; homes across the country could be powered on demand.
Next Steps: