Merry Moldmas? Christmas Trees Trigger Allergies This Season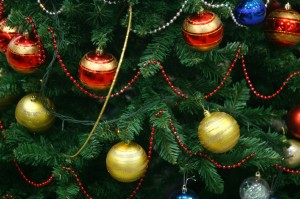 Could your Christmas tree make you sick? According to a recent Fox News article, live trees for sale across the country may come with more than green branches and that classic pine smell — some are infested with mold.
Not The Gift You Want
There's actually a name for this problem: Christmas Tree Syndrome. It happens at the start of December each year, when sneezing and runny noses become common in colder states. Most tree buyers chalk these symptoms up to a burgeoning cold, but they may in fact be the hallmarks of an allergy to tree mold.
While some people are truly allergic to trees — juniper is a notable example — most problems stem from reactions to mold. Trees are a moisture-rich environment for mold to grow, and when taken home and watered regularly, the fungus starts to spread. Within two weeks of bringing the tree inside you may develop classic allergy symptoms that worsen over the holiday season. If you have severe symptoms, it may be time for an artificial tree.
Waiting for February
Mold in your tree can cause mild to severe allergic reactions, but what happens when it's in the walls? That's the case for the Madeira Beach town hall, which is old, damp, and thoroughly infected with mold. The result, according to the Tampa Bay Times, is that city hall employees come to work feeling fine on Monday but get sicker and sicker as the week progresses.
"This building is going down really fast," said City Manager Shane Crawford. "It is bad." Built in the 1950s, the town hall has flooded several times and is perpetually damp, forcing the closure and quarantine of several offices.
Although it's too late for a Christmas gift, city workers will have a new building to call home in February, and are just trying to tough out the last few months without getting seriously ill.
Managing Mold
No one wants mold for Christmas, not in their tree and not in their building. Even the naughtiest children don't deserve mold in their stockings — at least coal is a fuel source.
Dealing with mold, however, is a challenge since the fungus commonly responsible for allergies and sickness thrives on moisture. This makes pristine-seeming Christmas trees and the walls of old city halls the perfect hiding place for mold spores; their effects, however, are often confused with problems like the common cold.
If you're buying a live tree this holiday and want to avoid problems with mold, spray it down with water and then leave it outside until it's fully dry. If problems persist, put it on the curb. For those stuck in office buildings that are equal parts festive and fungus-laden, the solution is more complex. Thorough cleaning with mold control equipment and inhibitor products are necessary to handle immediate concerns; if the infestation is significant enough, however, the best gift of all may be a relocation.
Skip Moldmas this year, and stay merry by watching out for the telltale signs of a fungal infestation.
Next Steps: