When Groundwater Goes Bad: How to Clear Leachate Systems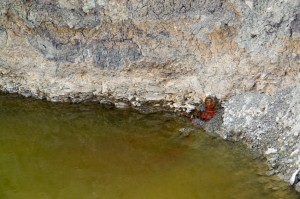 In Pennsylvania, the Keystone Sanitary Landfill is coming under fire for contaminating groundwater. A recent set of tests performed by the state Department of Environmental Protection (DEP) found "increasing concentrations of ammonia-nitrogen, chloride, nitrate, sodium, and total dissolved solids in one of the landfill's groundwater monitoring wells," according to the Times-Tribune. These rising levels indicate that the Landfill's leachate treatment system isn't working properly — and this isn't a one-time issue.
Over the last dozen years, Keystone has faced leachate challenges, a familiar problem for similar facilities across the country. With landfills already under heightened scrutiny and increasing public concern over accidental contamination, what's the best way to plug holes and stop leaks?
A Brief Lesson on Leachate
What exactly is leachate, and why does it pose such a problem? Chemistry Views describes it as a "dangerous liquid," and that's accurate: it can contain everything from heavy metals to pathogens, organic and inorganic materials and varies in composition from site to site and over time.
Leachate is created when landfill waste degrades and rainwater washes the resulting products away to form a black, chemical-filled liquid. To prevent this liquid from seeping into groundwater, landfills must direct it to treatment plants or disposal pipes. New advances in sanitary software programs can estimate the time it will take leachate to form, how quickly it will travel and its basic composition, along with an estimate of how landfill drainage system will perform. But this only catches problems with formation and drainage — what happens when treatment can't keep up?
Scale of the Problem
The biggest problem with leachate? Scale. It works like this: when chemical-heavy liquid meets water cooled or heated piping systems, scale deposits start to form. Limescale is the most common but it's also possible to encounter calcium, rust, or lithium carbonate buildups. Over time, scale can partially block or completely clog pipelines, causing backups and sending leachate out into groundwater. Pipe corrosion could also be responsible — owing to either the leachate's chemical makeup or a flaw in the system itself.
In Keystone's case, higher-than-average levels of acetone were detected in testing well water, indicating that at least some leachate wasn't making it to the landfill's pre-treatment plant. Even facility management doesn't seem to know why the system keeps failing — although they've been put under notice several times by the DEP, they continue remediation attempts in good faith. Ideally, Keystone would examine its piping system inch-by-inch to identify potential flaws, but a simpler first step is a high-efficiency chemical descaling liquid. Since most plants use a mix of steel, PVC, copper, and other piping materials, the most cost-effective solution is a material-neutral, low-foaming industrial biodegradable descaler that can thoroughly clean the entire system.
Landfill leachate is a dangerous, always-changing chemical compound that must be carefully handled to ensure groundwater is not contaminated. For landfills, preventing leaks is a better tactic than plugging holes after the fact.
Next Steps: